THE INNKEEPERS is the new one from Ti West, the guy that did HOUSE OF THE DEVIL. This one doesn't have the same retro trappings (I still believe if I came across HOUSE on cable and didn't know what it was I would think it really was made around 1980) but it has a similar attitude about taking its sweet time getting to the horror part. In this one I really appreciated that because I almost preferred just hanging out with the characters to watching them get scared.
There are probly less than ten speaking characters in the movie, and most of the screen time is just two of them: Claire (Sara Paxton from LAST HOUSE ON THE LEFT remake) and Luke (Pat Healy, not the character from THERE'S SOMETHING ABOUT MARY or the Strikeforce fighter but the actor of the same name who was in THE ASSASSINATION OF JESSE JAMES BY THE ETC.). They are the two employees running an old inn on its last weekend of business while the owner is vacationing in Barbados. Where the horror comes in is there are legends about the old building being haunted and they have a hobby of trying to record evidence. I like that it's more something they do for fun and to freak themselves out than a serious quest. There's a sense of fun in Claire's determination to use this last chance to find evidence.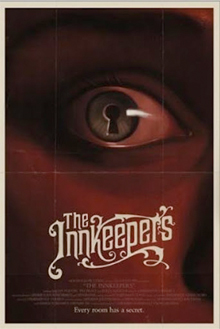 Claire (I looked it up, her dad is "distantly related to Bill Paxton") is a wide-eyed, pretty but gawky beanpole, her co-worker is older, more cynical, more fond of Schlitz. But they have little games they tease each other with, they know when to high five each other after dealing with a difficult customer, they toss each other shit but usually look out for each other. It's the kind of friendship that might be unlikely in most of the world but makes perfect sense for two people who've worked together for a long time, trading off shifts, with only each other's company during those times when their waking hours overlap. Either they'd get along like this or the job would be hell and somebody would have to quit.
The place is extra lonely because some of the rooms are stripped and only a couple are occupied. One of the guests is an actress famous from an old sitcom, she's played by Kelly McGillis. This is amazing casting because she's first shown in a towel with no makeup and it's kind of a shock. She has more of a Judi Dench type of "I'm okay being an older gal" look instead of the more common thing with veteran actresses where they try to defy age at all costs. So you see her and you're doing the math of wait a minute, how long ago was TOP GUN again? She looks so different, but then you see her eyes and recognize her just like you would this former sitcom mom. She's playing this famous person who's completely comfortable leaving the acting behind and moving on to the next phase of her life, and for all I know that's exactly what McGillis was before she took this role.
But it's not just fitting, it's a great performance. She's intimidating and then sort of reluctantly becomes warm and caring.
People always talk about how horror movies should care more about their characters, this one really takes that to an extreme. I really didn't care that much about the ghosts, it's more of a hang out movie about having this job. More about trying to get through the shift and go home than about trying to get through the weekend alive. Although that's important too.
I don't usually like ghost movies that much. It's probly 'cause I dissect these things so much when I write about them, but it's hard not to be conscious of the mechanics of those type of scares. Wait a minute, did I hear something? Long, slow walk through the dark. Noise. Simple thing happens involving furniture or musical instrument. Scream! It's such a simple, lo-fi type of scare, which is not a bad thing, but it doesn't work on you anymore if you start thinking about it too much.
When it comes down to it this is not that different from PARANORMAL ACTIVITY. Both movies are alot of naturalistic-ish buildup to a few very small supernatural things happening. There's no POLTERGEIST type show-offy special effects or nothin. But I think alot of people will agree with me that these two are more fun to spend the time with than the two in that one. Also, it's a good reminder of why professional camerawork can be more effective than the found footage gimmick even though we know it's more artificial. The camerawork is mostly pretty simple but there are a few gliding camera moves that got my heart beating a little. Sometimes creating a feeling with an image can be more important than just imitating reality.
Another unusual thing: they use the real name of the filming location, The Yankee Pedlar Inn, and it's still in business. They seem to be awfully understanding about a movie claiming there were dead bodies hidden in the basement and ghosts still haunt the place and will kill you. I don't think any of that's true. I looked up some reviews and they say it is "very charming" and "A wonderful stay!" but no mention of the murders.
THE INNKEEPERS is kind of scary, kind of sweet, pretty funny, very sad, very unique. It's interesting to me that while alot of the horrorists are always going after a more intense and fucked up experience than the last (sometimes successfully), Mr. West here is pioneering this weirdly subdued type of horror. I like it. Good job.
consumer products: