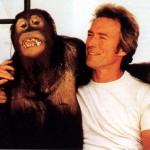 At first I was a little concerned about this sequel. Sondra Locke comes back, and that seems pretty fishy because she totally screwed Philo over in the first one. She was not a good person and nobody in their right mind would think "why didn't those two crazy kids work it out?" So I was a little disappointed in Philo for forgiving her, and maybe in Clint for casting her. It smelled like girlfriend nepotism.
But by the end I realized that this letting-bygones-remain-in-their-original-state-of-being-bygones business is the central theme of the movie and the reason why it's so enjoyable. It's about friendship and bonding and forgiveness, about enemies becoming buddies. When mustache-sporting tough guy William Smith shows up in town and goes jogging with Philo you know right away that he's gotta be the big mafia-sponsored underground fighting opponent Wilson coming to spy on Philo. That's easy to predict. What's not as expected is that they instantly like each other, and it stays that way. They help each other out and there's alot of talk of owing one and being even, but it seems to me that's all a front. There's just no animosity between them, nothing but professional respect and a shared disgust for the people they're working for. I didn't pick up on that at first. I thought Philo would outsmart Wilson and show him up. Maybe he could if he wanted to, but he respects him too much. When they finally do have their fight you're not rooting for one side like you traditionally do in a fight movie. They're not fighting for any kind of grudge or to prove anything, but just out of love for their sport of bareknuckle boxing.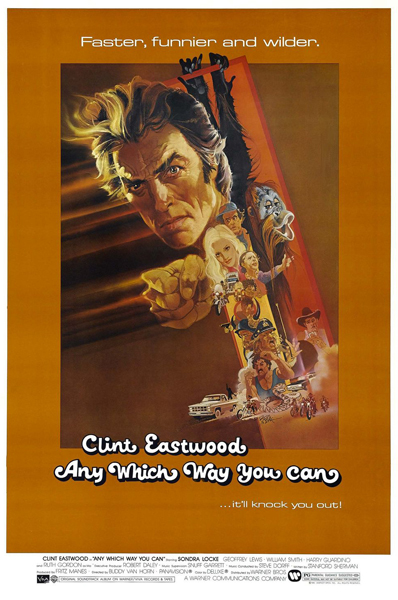 At the end (SPOILER) even the Black Widows, who have been at war with Philo for two movies and have been repeatedly humiliated (as well as had their property destroyed) decide they like Philo so much they endorse him for president. That's the real message of the movie, that anybody can get along, even if they've been punching each other in the face or tricking each other into being covered in tar. In retrospect I realize this is all established in the song over the opening credits, a country duet between Ray Charles and Clint himself (!) called "Beer's To You." The song is about how Ray and Clint are amigos because of all they've been through. They even reminisce about roughing up the locals at a bar in Tucson and then buying them beers all night. That's the philosophy of the movie.
I bet it's nurture, not nature. It's the community he lives in that fosters his Beer's To You attitude. Philo gets in alot of fights but I think he lives in a tolerant part of rural California, considering they let him bring Clyde in the bar. In fact, Clyde comes in on his own sometimes and most people know better than to bother him. And incidentally I want to mention that even regardless of their liberal orangutan policies this town has the world's greatest country dive bar, considering that Fats Domino himself performs there. No cover either.
There's a few things I want to discuss about that jogging scene. First of all, I'm surprised that Clint would run that many miles out into the desert wearing jeans. He should probaly get a track suit or some sweats like Shaft had when he went jogging before he went to Africa. I know Philo has his image to hold up but seriously, it would be more comfortable. Secondly, I like how when Wilson asks him if he can join him Philo says "Hell yes!" If he just said "Yes" that would be normal but for some reason he's being emphatic about it. Is it because he knows who he is and wants to use the opportunity to scope him out? I think it probaly is. Or maybe he has no idea and just likes the idea of jogging with a total stranger. Either one fits the "Beer's To You" philosophy. A random dude with a mustache wants to jog with me? Sounds great! Oh, he's the guy I have to fight who is possibly going to kill me? No problem, let's hit the road!
The director is an old Clint Eastwood buddy, Buddy Van Horn. He's a stuntman who doubled for Clint going back to COOGAN'S BLUFF. He was second unit director for MAGNUM FORCE and a couple other ones, then he directed this, THE DEAD POOL and PINK CADILLAC. I wonder if him and Clint started out as enemies and then became friends? If so it's not mentioned on his IMDB trivia.
I have to say though that Orville gets kind of screwed in this movie. He gets left behind a bunch and they even mention that he feels kind of left out since Philo is back with Lynn. And they don't mention it but Echo has disappeared since the last one and there is no new lady in his life. He's still the trusty sidekick but it seems to me like he doesn't get as much amigo acknowledgment as he ought to. It seems like Clyde and Wilson get all the credit as Philo's cool friends, but Orville is always there for him. Orville would and in fact does take a bullet for him in the line of friendship. So really that "Beer's To You" song I think should be primarily dedicated to Orville while also acknowledging the contributions of "Right Turn" Clyde and "We're Even" Wilson.
ANY WHICH WAY YOU CAN is broader and maybe a little sloppier than the first one, but I think I like it even better just because it has such a warm feeling to it. It makes me want to take a friendly swing at it and then help it up and buy it a drink.
This entry was posted on Thursday, February 19th, 2009 at 12:36 pm and is filed under
Action
,
Comedy/Laffs
,
Reviews
. You can follow any responses to this entry through the
RSS 2.0
feed. You can skip to the end and leave a response. Pinging is currently not allowed.