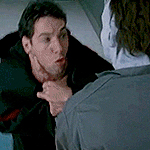 I've enjoyed rewatching this Jamie Lloyd trilogy of HALLOWEEN sequels. I never liked them, hadn't watched them enough to remember them very well, but they look better on Blu-Ray and this is the most I've ever enjoyed parts RETURN and REVENGE.
CURSE, though, is a tough one. This is just not a good movie. But worth discussing anyway.
It starts unlike any HALLOWEEN movie. A young woman is about to give birth. There's a medical staff pushing her on a bed down long hallways, beneath pipes, into some kind of boiler room type area, and eventually what doesn't even look like a hospital. Now they're in some place lit by candles and wall torches like the arena in BLOODSPORT, and she does not seem to be having her health care choices respected. This is actually supposed to be Michael's niece Jamie Lloyd, but she's now played by decent lookalike J.C. Brandy (WHAT LIES BENEATH).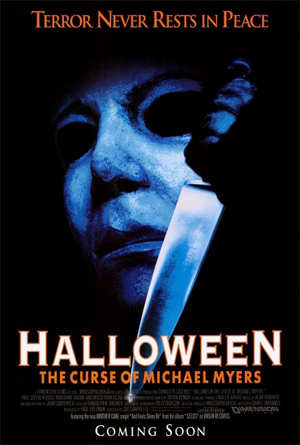 Check out the bonus features for an interview with Danielle Harris about why she wasn't in it. She wanted it real bad, but they didn't treat her respectfully. It sounds like a combination of needing to be ruthless about the budget and not thinking anything matters to the audience. This is hardly a new phenomenon in horror. I can think of a couple other young characters recast for their older versions – Tommy Jarvis in FRIDAY THE 13TH 5, Michael in PHANTASM II – but not any where it's for the better. I did really like Priscella Barnes replacing Karen Black because they wouldn't pay her more for THE DEVIL'S REJECTS. And ironically the star of HATCHET wanted a better deal for HATCHET II and was replaced by, yes, Danielle Harris.
Oh yeah, how's this for recasting: "Starring and introducing Paul Stephen Rudd" as Tommy Doyle, the boogie-man-fearing weiner that Laurie was babysitting when the shit went down back in '78. Apparently the producers did want original actor Brian Andrews, but didn't know how to get ahold of him. This makes it funnier, though, because we get to see a very young Rudd (who had actually already been in RUNAWAY DAUGHTERS, CLUELESS and other stuff, but was five years away from his breakout role in GEN-X COPS 2: METAL MAYHEM) delivering doom-filled exposition, Loomis-style. Also it's funny that his first movie appearance is as a dude standing with a camera watching the heroine undress through her bedroom window.
Somehow Tommy has stayed out of this for 15+ years, but now lives across the street from the Myers house and has the wall covered in newspaper clippings (plus a poster for Wim Wenders' THE AMERICAN FRIEND?) and he knows Michael is coming back and he's ready. By ready I mean he has a computer and knows how to look stuff up, for example that there's a Celtic rune called Thorn and something something evil and the cult chooses one person (Michael Myers) to perform sacrifices and there's a guy who protects him and I don't think the guy necessarily has to wear metal tipped boots and a black trenchcoat as part of the ritual but he's certainly allowed to. I hope the other cultists make fun of his spurs mercilessly though. Not once do we see him anywhere near a horse. What a fuckin poser.
Yes, you remember Part 5's Man In Black, who came and shot all the police and blew off the side of the jail to bust Michael out. In this one we see that they dragged both him and Jamie into a van like that time when Brad Pitt was kidnapped on Jackass. And as soon as older-Jamie gives birth that asshole struts in still wearing the same corny outfit and snatches the baby from her. A sympathetic nurse helps her escape with the baby and she flees to a hospital, but it's totally empty with a sign at the front desk saying "Back in 20 minutes"! Like a weird nightmare. Every member of the staff, every patient, every visitor – apparently they all went to Jack in the Box together or something. All of them back in 20 minutes.
Michael gets sent after her, and it's a weird moment like in EMPIRE STRIKES BACK when you realize that this Darth Vader character is really only the henchman. Michael is like the doberman they sic on her, the pet of The Man In Black and this cult. On one hand, it's hard to fight the natural instinct to think this Thorn Cult is a really stupid idea that completely undermines the previous movies and the scariness of one of the great horror icons.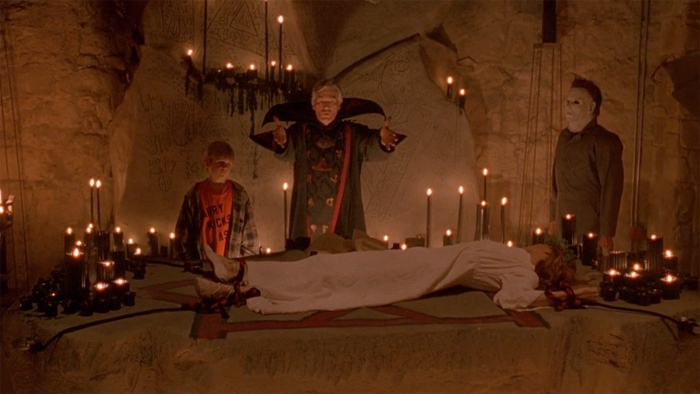 On the other hand, I sort of enjoy the reckless audacity of it. Seeing Michael Myers attending an occult ritual, just a dude standing there at the side, not even the focus of the camera, is kind of cool because it's like through some crazy mistake The Shape got moved into the wrong movie, some satanic cult type deal. It makes you want to see the series continue on in even more ridiculous directions. Make him have to be the reluctant partner to a cop when disaster strikes during a prison transfer. Or he could be one of several colorful assassins in a spy movie. A supporting role.
I think the writer, Daniel Farrands (THE GIRL NEXT DOOR), deserves some credit, because apparently they filmed the end of 4 having no idea what that tattoo meant or who the Man In Black was. Farrands came in six years later and at least came up with something that seemed planned. (But since he went with this Celtic thing I wonder why he didn't tie it into part III's Silver Shamrock? Maybe he's not a fan.)
Now is as good a time as any to mention that there are two very different cuts of HALLOWEEN 6. The version known as "The Producer's Cut" was a legendary bootleg until Scream Factory restored it in recent years. This is the preferred cut of producers Moustapha Akkad and Paul Freeman as well as Farrands. They thought it still needed work, but disagreed with the changes made by Dimension Films' Bob and Harvey Weinstein in the final version released in theaters.
In the Producer's Cut Jamie is sidelined kind of like Laurie in HALLOWEEN II, and eventually shot by Dr. Wynn. In the theatrical cut they just have Michael impale her on a corn thresher in the first 20 minutes. In both versions Tommy finds the baby hidden in a public restroom and hides her from Michael, who needs to sacrifice him as the last remnant of his bloodline. So Tommy's babysitting his own babysitter's grandson!
(Disgusting note: in the Producer's Cut they say Michael is the father. In the theatrical cut it is possible that he was a test tube baby?)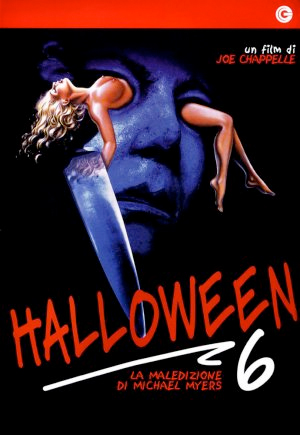 The new characters are not likely to be anybody's favorites. The Myers house is now occupied by relatives of Laurie's adopted family. Single mother Kara Strode (Marianne Hagan, STAKE LAND) has come with her six year old son Danny (Devin Gardner) to live with her parents Debra (Kim Darby, the original Mattie Ross in TRUE GRIT) and John (Bradford English, WOLF). What a nice tribute to Debra Hill and John Carpenter to name the Strodes after them, except that John Strode is a mentally and physically abusive asshole who you're supposed to enjoy seeing get killed by Michael. It does make for an interesting development when a domestic violence incident is thwarted by little Danny poking him with a big knife. But if they were trying to imply that Danny could go the way of Michael Myers they don't really do much else with that idea.
Haddonfield is in the midst of controversy over whether or not to celebrate Halloween, and super famous and edgy shock jock Barry Sims (Leo Geter, SILENT NIGHT DEADLY NIGHT) is coming to town to broadcast live, much to the excitement of Kara's brother Tim (Keith Bogart) and other Barry Bros. This is a weird subplot because it seems to only be there as an excuse for a cheesy radio broadcast that explains what's going on in Haddonfield. He gets to town and is quickly murdered and we never hear anybody mention that the celebrity everyone was excited to see is missing.
Loomis was supposed to be dead at the end of part 5, but they just say he had a stroke. Also he's gotten plastic surgery to get rid of the burns on his face. This was Pleasance's last film. He's obviously not doing great and his voice sounds weak, but I do like his first scene where he gets to giggle in delight about being retired. Then his old colleague Dr. Wynn (played by Robert Phalen in the original, now Mitchell Ryan from MAGNUM FORCE) comes to visit him. He's retiring and wants Loomis to come back to Smith's Grove (what? how is that fair?).
Farrands wanted Christopher Lee to play Wynn, which maybe would've given away that he's a bad guy. In fact, he's the Man In Black, having been secretly orchestrating shit with Michael since the '70s, I guess. And I think the occult birthing chamber is actually supposed to be beneath Smith's Grove. I wonder if he has a firepole to get down there?
I'm okay with there being some dude that wears that outfit who protects Michael, but having it be Dr. Wynn is a little befuddling. He has his regular Dr. Wynn outfits – wherre does he go to change into the boots and black whenever he meets with the cult or stands across the street spying on someone or blows up the jail? And if he's this doctor who's been around the whole time then why did he have to come into town on a Greyhound in part 5? Does he have along commute or something?
The Shape is played by part 4's George P. Wilbur (A. Michael Lerner in reshoots), with a mask by FRIDAY THE 13TH PART VII director John Carl Buechler. At times he doesn't really seem like the same guy to me. He impales a nurse and then stands back and looks at her more like curious Leatherface than emotionless Michael.
The Weinsteins added a bunch of Avid farts and gore to the theatrical version. I'm okay with the latter. Originally, Michael slammed John Strode into a fuse box and stabbed into it to electrocute him. In the theatrical cut it's the same except then his head explodes SCANNERS style.
The Producer's Cut is trying to be more atmospheric and creepy, and it follows through with the cult movie thing. There's a big ritual scene with hundreds of candles and cultists (plus Paul Rudd) in funny black sorcerer robes. Tommy does a spell using runes and blood from his palm to trap Michael in a circle. But by the time Loomis comes back and tries to kill Michael once and for all he discovers Dr. Wynn inside the costume – he switched clothes with Michael, who escaped in the Man In Black costume. Then Loomis discovers the thorn tattooed on his own wrist, cursed to replace Dr. Wynn as Michael's protector and cult leader. (Or as the new Michael, with Michael as the Man In Black?)
The point is, Obama won't even say the word "radical Thorn Cult murder sprees," so of course he can't stop it.
Test audiences didn't like that weird ending, so the Weinsteins ditched the whole thing and made a new ending where Tommy injects Michael with glowing green toxic waste and then beats him seemingly to death with a pipe. Since Donald Pleasance had died before the reshoots he's left out of the climax and then gets a PLAN 9 FROM OUTER SPACE style death where he makes a funny scream from off camera to imply Michael is killing him, seconds before ending the movie with a dedication to Pleasance. Maybe the classiest thing ever done in a movie in my opinion and I know alot about classy movies believe me.
So, as is now tradition in this series, there is a kind of crazy ending that some other pour soul would have to figure out how to get out of in the next one. That ended up being H20 and the way they got out of it was following up part II and denying the existence of 4, 5 and 6. It turns out Laurie is still alive and faked her death, but there is no sign of her having had a daughter named Jamie. She has a son played by Josh Hartnett.
The director was Joe Chappelle, who had only done an unreleased indie called THIEVES QUARTET. The Weinsteins seemed to love him and used him for PHANTOMS and the reshoots on HELLRAISER: BLOODLINE. He eventually escaped into television where he made amends for his shameful past as a producer, director and second unit director for The Wire.