WHITE BUFFALO opens with dread as John Barry's eerie horror score rumbles through a view of a huge white buffalo grunting and snorting like a demon in a spooky cave somewhere. It feels like a nightmare and it is one. It belongs to Charles Bronson. He not only wakes in fright, he wakes with two pistols in his hands and he unloads them into the ceiling of the train car where he's staying. Luckily nobody was upstairs and they let him off with a warning.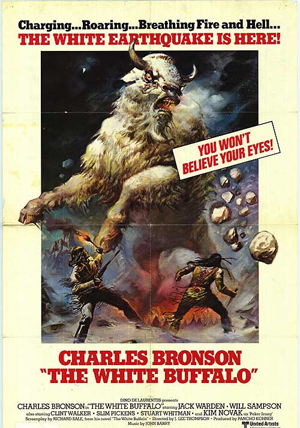 Although he's calling himself James Otis and hiding behind a big pair of rock star shades, plenty of people he runs into during the movie will recognize him as Wild Bill Hickock, including his old friend One-Eye (Jack Warden) and that mean old General Custer (Ed Lauter, later reincarnated to hassle Bronson in BREAKHEART PASS, DEATH HUNT and DEATH WISH 3). Bill gets in a shootout and some other trouble (you know how wild that guy gets) but his business is to go up into the mountains with One-Eye and kill the white buffalo that's been sighted over there. Only then can he get a healthy amount of rest without fear of sleep-shooting. (Seriously, it seems like a big problem of his. It happens again when he's sleeping over with Kim Novak, he wakes up and shoots at her decorative fake buffalo head until she dumps a bucket of water on him and says he looks like he's fighting the Apocalypse.)
Meanwhile another legendary historical figure, Crazy Horse (the Lakota war leader, not the Neil Young band), is having his own white buffalo problem, but a more serious one in my opinion because his is in the actual waking world. See, that white buffalo that people have been spotting pulls some running-of-the-bulls shit through the Oglala Lakota village, trampling a bunch of people, including Crazy Horse's daughter. When he finds out she's dead he lets out a cry that the elders or somebody declare makes him a sissy. They're so embarrassed by this sound he made that they won't let him use the name "Crazy Horse" anymore, and "James Otis" is already taken so they name him "Worm." Pretty mean. It's like how Dwayne Johnson wasn't allowed to use the name "The Rock" in is early movies unless he gave Vince McMahon a producing credit.
That's why Crazy Horse goes looking for that asshole honky buffalo. If he kills it he gets his name back. It's a real mythical type of story and everything, but kind of weird that he's avenging this beast not for killing his daughter but for causing him to make an effeminate noise. I guess it's one of those cultural deals. It's a Lakota thing, I wouldn't understand. You had to be there.
Of course (SPOILER) these two white-buffalo-haters are gonna cross paths. It should be called OTIS AND THE WORM. They gain each other's respect starting when Wild Bill comes across a bunch of Sioux or somebody shooting arrows at Crazy Horse. Bill's sympathy for the underdog trumps his anti-Native bigotry, so he helps out. It's not until later that they team up, and when they do don't worry, it doesn't turn into RUSH HOUR with them throwing a bunch of stereotypes at each other. I doubt the real Bill had a sense of honor that would cause him to be loyal to an Indian, but we all know Bronson would, so it makes a good story. They bond but they don't become best buds for life. They argue about "red truth" vs. "white truth" and it seems a little tense. They can't really let that baggage go, but at least they're more enlightened than fuckin One-Eye. That guy needs to cool it.
The treatment of Native culture is more respectful than in many westerns. For one thing, Crazy Horse is played by Will Sampson (ORCA), not some white dude. And when Wild Bill comes across that Native-on-Native squabble they're all yelling at each other in their own languages, and this goes on for a while, no subtitles. When Bill talks to Crazy Horse they do use simplified English, but combined with sign language and with Bill trying to show respect by using Native concepts, like he keeps asking him to "step into my council," whatever that means.
I also dig all the cowboy lingo in the script, they got some good ones. For example they barely ever use the word "buffalo," instead calling it a "spike." I never knew that word before but I intend to slip it organically into any future buffalo-related conversations I have. It might sound naive but I really think with the kind of influence I have here I might really be able to help that word make a comeback, as long as I figure out how to get young people talking about buffaloes.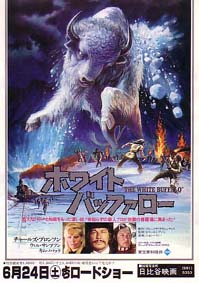 I like the movie for the drama, the relationships between the three main characters, but it doesn't hurt that there's a little bit of a monster movie in there too. I mean, don't let that poster up top get you too excited, that painting there is a load of spike shit. It's much more like this Japanese one to the left here, except not giant. Still, it's a Dino De Laurentiis joint, so he did get his boy Carlo Rambaldi (the guy who built '70s King Kong, the Alien with the mouth piece that comes out and E.T.) to build the galloping animatronic buffalo that they could shoot to make it look like it's running around. You can tell that the movements are limited by the way they keep using the same type of shots, but it's still pretty cool and never resorts to stock footage of real buffaloes.
The director is J. Lee Thompson (THE GUNS OF THE NAVARONE, CONQUEST OF THE PLANET OF THE APES, THE EVIL THAT MEN DO), the script is by Richard Sale, based on his novel. He also produced and wrote Mr. Belvedere – not the show you remember, but two of the movies from the 1940s as well as the 1965 TV series starring Victor Borge. I mention that in case any of you guys do pub trivia, maybe that will come up some time. Good luck.
This is a strange western, I like the vibe it's got going and I enjoyed following Charles Bronson on this adventure.
p.s. Something something Moby Dick