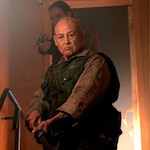 I keep having to write this same exact preamble, so here's the short version: yes, we all think we're sick of zombie movies, but here's another really good one. (See also: TRAIN TO BUSAN, THE GIRL WITH ALL THE GIFTS.) The fresh spin on BLOOD QUANTUM – a Canadian one that opened the Midnight Madness portion of the 2019 Toronto International Film Festival and got a surprise release on Shudder this week – starts with it taking place on a First Nations reserve (or Indian reservation as people here call it).
It has a vivid weird-day-unfolding feel, like a serious THE DEAD DON'T DIE, rolling out the odd characters in town through the point of view of Red Crow reserve chief of police Traylor (Michael Greyeyes, DANCE ME OUTSIDE, FIRESTORM, Fear the Walking Dead, True Detective). But it starts on his dad, Gisigu (Stonehorse Lone Goeman, a sturdy, bald old badass with no other acting credits) gutting a bunch of salmon he caught. The fucking things won't stop flipping around like they're in that Faith No More video.
Traylor is an immediately cool and captivating protagonist like you might get in an early John Carpenter movie. Dry and decisive. He doesn't know what's up when he helps burn the fish and a dog from his trunk that he already put down earlier, but he immediately says "Wanna come out of retirement?" and deputizes his dad.
Traylor's also dealing with this whole thing with his sons from different mothers Joseph (Forrest Goodluck, THE REVENANT) and Lysol (Kiowa Gordon, TWILIGHT saga 2-4) both being in the drunk tank. He's divorced from, but on decent terms with Joseph's mom Joss (Elle-Máijá Tailfeathers, director of a movie called THE BODY REMEMBERS WHEN THE WORLD BROKE OPEN), so they both go to bail them out.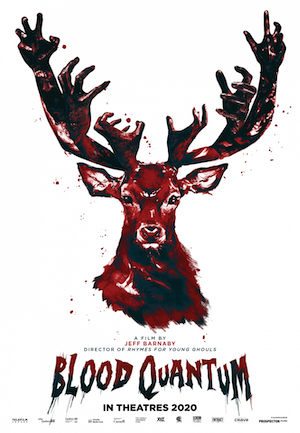 That's where we see our first human zombie incident. A prisoner in the corner goes from hideous coughing to projectile vomiting blood, and it's pretty clear that the movie's not gonna fuck around on the bloodletting. Even more clear when Traylor graphically crushes somebody's face with the butt of his rifle. The filmatists seem to be aware that The Walking Dead has harder-than-movies gore on most episodes and that it is incumbent upon them to put some elbow grease into the squirting and the spraying and the splattering. (GORE SPOILERS) They have two characters who go out pretty similar to Rhodes in DAY OF THE DEAD. There's a glorious head-chainsawing that would fit into TEXAS CHAINSAW MASSACRE 2 or early Peter Jackson. And the character who most deserves to get his dick bit off gets his dick bit off. So they earned my respect as a Fangoria subscriber.
But before that there are regular zombie bites, the old fashioned open up your coat, oh no, he got you, that looks bad, no I'm all right type of zombie bites. Joseph gets bit. Traylor gets bit. Damn, I liked him, I thought he was gonna be the hero. Didn't think we were gonna get to the "Don't let me turn into one of those things" stage so early. Joseph finds his pregnant, "townie" (white) girlfriend Charlie (Olivia Scriven, Degrassi: The Next Generation) at the abortion clinic, and she asks about his bandage. It's nothing, don't worry about it.
But after a while you realize he's still not changing. And Traylor isn't changing. And maybe I'm slow, maybe you got it before me, but at some point I realized oh shit, all these zombies are white people. In an homage to Steven Seagal's THE PATRIOT, the indigenous people seem to be immune to the disease.
Suddenly, it's SIX MONTHS LATER, and that's as long as it takes for civilization to plummet from NIGHT OF THE LIVING DEAD to four or five seasons into The Walking Dead. Honestly I was disappointed for a minute – I was really into that first movie, and it seems like we skipped to a sequel right in the middle. But I adjusted.
Coked out drunk asshole Lysol has embraced the apocalypse, wears a home-made skull mask with his dumbass painted leather jacket like he's in a fucking THE PURGE sequel. swings around some kind of junkyard halberd. Red Crow is on an island, so they've blocked the bridge and built a walled-off fort from shipping containers and oil barrels and shit, with Traylor still in charge and all his family members trying to get along.
Charlie is with them. She decided to keep the baby, and now fears it will eat her from the inside, on account of its white mother. But she's influenced the others to allow in white people who don't show symptoms, to quarantine in a hospital run by Joss. Some people, especially those named after cleaning products, do not approve. There's a great moment when James (Devery Jacobs, ANOTHER WOLFCOP) escorts a refugee in and yells at him for bringing a blanket. Even as she burns it I'm not sure he picks up on the historical context.
It's both a familiar setup and a fresh one. Yeah, we've seen the looter fortress and band of badasses on zombie patrol before. But this idea that most of the people inside don't have to worry about infection so zombies aren't that scary to them and they're able to hang out and get drunk and joke around, that's pretty cool if you've sat through many humorless episodes of The Walking Dead. It's my preferred horror tone: serious, but the characters can have a sense of humor, say funny things to each other, have a laugh.
That includes when they're chopping up zombies. Gisigu chooses to use only a sword, and seems to have studied samurai movies. Bumper (Brandon Oakes, PATHFINDER) uses a huge chain saw. There are some really funny disgusting things that happen when they're clearing out a building or when their crazy drunk friend Moon (Gary Farmer, POLICE ACADEMY, RENEGADES, DEAD MAN, GHOST DOG) clears off the bridge.
In case it matters to anyone, the zombies are of the fast/white eye variety, and they call them "Zed." Though there are no specifically memorable ones like in a Romero movie, they do look vicious, and the emphasis is much more on the characters anyway.
I could nitpick some of this. Traylor and Gisigu are so cool that it's kind of hard for less charismatic Joseph to hold up the movie when it focuses on him. Lysol is so obnoxious I wanted him to die before he went too far. It rings kind of false that no one tries to stop Gisigu from the samurai choice he makes at the end. But none of these things were dealbreakers for me.
Writer/director/editor/composer Jeff Barnaby previously did one called RHYMES FOR YOUNG GHOULS in 2013. He is Mi'kmaq and was born on a reserve in Listuguj, Quebec, where some of this was filmed. He cites as inspiration not only NIGHT OF THE LIVING DEAD, but a 1984 documentary called INCIDENT AT RESTIGOUCHE, about two police raids on his reserve to impose new restrictions on fishing rights. He actually witnessed the raids (which took place in 1981, explaining why BLOOD QUANTUM is set in that year), but seeing the documentary made him realize that movies could be a form of social protest.
It's really cool to see this popular storytelling form of the zombie movie told from a different perspective – a very good indigenous director telling a story literally about his community and thematically about the history of colonialism. And if you don't care about that you still win because it's a fun, gory, well made horror movie.