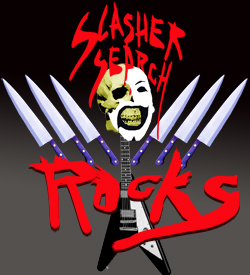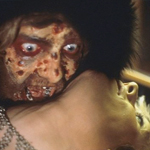 I noticed there are a couple still-only-on-VHS horror movies that are heavy metal themed, and that also seems to be a motif through some of the modern horror I've been enjoying like DEVIL'S CANDY and MANDY, so I decided to take a look at them in this special Slasher Search investigation (in association with Tape Raider). This first one is from 1985 and it's about a hair metal or whatever type of band who make two major mistakes
1) For some reason thinking that a remote mountain area is a cool place to film their new video
2) Choosing the remote mountain area that's protected by a family of anti-social brutes.
3) You know what, I'm gonna count #1 as two mistakes because why they hell did they think this would look cool in a video? It doesn't even look cool in a horror movie.
In the prologue, a mother kills her abusive, alcoholic husband in self defense and runs off with her four young sons. In case we can't make the connection between them and the killers later there's a brief, one-time-only explanation from a wildlife documentary style narrator: "For the next forty years the family hid out in the middle of nowhere. Now intruders are on their way."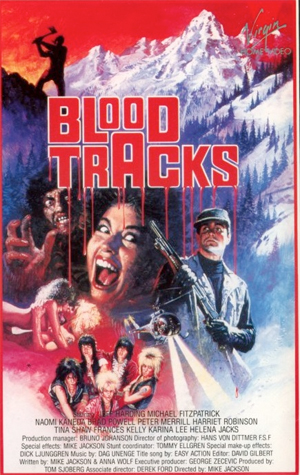 Said intruders are the super-famous band Solid Gold, played by Swedish glam metal band Easy Action. They're welcomed into town by a bunch of fans but then never bothered again. I'm not sure what the original plan was, but while they're there the director spots a condemned factory where, of course, the family are living, now looking like savage mutants.
Again I must emphasize that the interior of an abandoned factory in, say, the outskirts of L.A., would look about the same as the one on top of the mountain that's only accessible by helicopter. Also, I think I just figured out why the factory didn't continue to operate.
Disappointingly, the band, with their big hair and makeup and stuff, don't get to be the heroes. That's left to the normal people, like the helicopter pilot, the makeup lady and a guy who looks like Kenny Rogers. The band mostly just hook up with the poor video girls who have to dance in the snow in their lingerie ("I'm gonna freeze my tits off"). The most they do is dig one of their members and his naked girlfriend out when an avalanche buries them in the trailer.
The first guy to get killed is wandering around the factory with a boom mic recording natural sounds. I don't know why he needs that – does Solid Gold do Michael Jackson style short films?
There's alot of time spent analyzing footage and sound recordings for evidence of spooky shit. Also, the ol' trying to get the radio to work. I did not feel attached to any of the characters or remember who was who exactly, and that includes the villains.
One of the better parts is when one of the band members brings his fur-coat wearing lady into the factory for the ol' "they're coming to get you Barbara" scene where he is very half-assedly acting "scary" and she keeps telling him to knock it off. Then one of the savages pulls him around a corner and throws his bloody severed head over. Not sure what he does with the body. Maybe saved it to sell to the Hard Rock Cafe or something. Another Solid Golder gets killed while peeing naked.
One of the victims is unusually inquisitive when he comes face to face with the killers. "What did they do? Linda? Why Linda? Tell me. Why are you doing this to us?" I feel like most people, when attacked by feral berserkers, wouldn't try to ask about motive. To be fair, one of the family does know how to speak, and does know better. He says "They're animals, but they're still my brothers." Which is how shit like this happens. You gotta be able to put your family, your peers, etc. in line when you know they're in the wrong.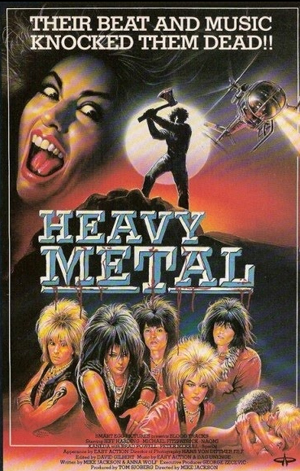 The end is kind of funny. One of the brothers gets his arm chopped off, and one of the survivors sees a crucifix in his hand, and she reaches down and takes it. (It must've belonged to one of the band members?) The survivors escape in a helicopter, like DAWN OF THE DEAD. But Susie or whoever whimpers "Oh my god, he's still down there." And we see the mutant holding a heated shovel to his bloody arm stump.
This represents the endless cycle of abuse. They'll fly far away and never come back, but she knows this guy is out there, alive, and she'll never be free of that trauma.
I mean, I'm assuming it represents that because it's too sad to think they might've thought they were gonna make a sequel.
There's a sticker on the VHS cover that says "FROM THE MAKERS OF A NIGHTMARE ON ELM STREET." That doesn't refer to Wes Craven or even New Line Cinema, but the financing company Smart Egg Pictures. The produced the first five ELM STREETs and they did CRITTERS the year after this one.
It was filmed in Sweden, with many Swedish-sounding names on the crew, and much of it seems dubbed, but IMDb says it's a UK production. It was director Mats Helge Olsson's followup to NINJA MISSION. Sexploitation vet Derek Ford (I AM A GROUPIE, SUBURBAN WIVES) is "associate director."
I cannot say I got much out of this one, but I recommend it to all Easy Action fans, which I assume after some research is a thing that exists. Turns out they released two albums on Sire Records, and the reason they only lasted about five years is that their guitarist, Kee Marcelo, quit to join the band Europe. They reformed in 2006 and last month they were on tour with Dinosaur Jr.
NOTE: I actually couldn't find the VHS on Amazon, and they do have a DVD, but it doesn't look very legit.