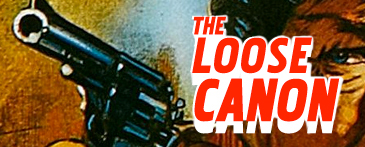 There are a few people walking the earth, or in our memories, who are so good at what they do, so unique in their talents, that we almost mistake them for gods or super heroes. You could be born a prodigy and practice all your life, striving for excellence with every breath you take, and still not match Muhammad Ali, James Brown, Mozart or Michaelangelo. It takes more than training, more than talent. It takes a whole lot of both of those things, plus a drive to be the very best, plus… something else. If we knew what that something else was then everybody would dance like Michael Jackson.
Well, I think we can all agree that Bruce Lee is one of those individuals. And WAY OF THE DRAGON (originally released in the U.S. as RETURN OF THE DRAGON to make it sound like a sequel to ENTER THE DRAGON) is my favorite of his movies. ENTER THE DRAGON is his most famous in the U.S., his most expensive, and his last completed work, so alot of people consider it the definitive Bruce Lee film. Well, it's a good movie. It has an impressive ensemble of badasses (Jim Kelly and John Saxon on Bruce's side, Bolo Yeung, Bob Wall and Sammo Hung as fight opponents). It's great to see Lee working with big production values (for example the epic shots of Han's kung fu army training) and towards the end he does alot of fighting and looks in absolute peak physical form. He even fits in a little bit of his philosophy (apologizing to his ancestors before going on the mission, training one of his students, and best of all tricking that asshole into getting off the boat as a demonstration of "the art of fighting without fighting.")
But still, ENTER is a Hollywood movie, based as much on James Bond rip-offs as martial arts tradition. While Bruce looks amazing and gets to use sticks and nunchakas, the majority of his fighting is RAMBO: FIRST BLOOD PART 2 style: dozens of guys running at him and he knocks them out in one or two hits. Shit, it's like a home run derby. Another scene is a big BRAVEHEART style brawl between 200 martial artists. I like it, but for my tastes that type of mayhem doesn't compare to the art of a well staged and choreographed one-on-one duel. There are some of those in ENTER, but mostly in front of a crowd who applaud politely after each pass.
And what about Bruce's character? He's bad as hell in ENTER, but he doesn't get as much personality as in his Hong Kong films. He spends alot of time sneaking around the property ambushing guards like he's still Kato. Meanwhile John Saxon gets a tour of the entire place, so Bruce isn't even uncovering secrets the audience doesn't know. And there are chunks of the movie, even after the one hour mark, where they just forget about Bruce for 10 minutes or more. Even his motivations are muddled: he's on a mission for the CIA to find the missing women, but only because Han disgraced the Shaolin Temple, but also by the way he just found out that O'Hara killed his sister. Hollywood didn't know how to write a martial arts movie so they had to flail around looking for one.
If Lee had finished GAME OF DEATH I'd probly be writing about that one instead. The scenes he did shoot are the best of his career, and it was planned as a very personal statement about his philosophies of martial arts. WAY OF THE DRAGON is not as deep, but as his only completed Badass Laureate work (he directed it) it stands as his purest expression. As awesome and as historically important as ENTER is, WAY is the most undiluted showcase for Lee's skills as a fighter, a choreographer, an actor and a storyteller. ENTER THE DRAGON is an introductory course in martial arts movies. WAY OF THE DRAGON is the advanced class.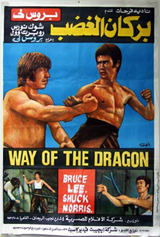 After starring in THE BIG BOSS and FIST OF FURY for director Wei Lo, Lee wanted to take more control of his movies. I don't know if it was because of his experience in Hollywood, but he had developed strong opinions about improving the standards for Hong Kong film, and sometimes if you want something done well you gotta do it yourself. So he became a director. This was not an actor's vanity project but an honest (and successful) attempt to raise the bar for martial arts on film.
Lee was very hands-(of fury)-on as a director, carefully planning the shots with his Japanese cinematographer Tadashi Nishimoto, insisting on watching the dailies in color (a first for a Hong Kong director), working with composer Joseph Koo rather than the usual canned music and even sitting in on the recording session and playing percussion. (Too bad he never jammed with Hendrix. Then maybe I would've gotten my dream of Bruce and Jimi on the Washington State quarter.) Bruce didn't like the usual Hong Kong dubbing of westerners so he did some of the voices himself, including a black dude. For the climactic fight they say he wrote 20 pages of script describing every shot and every move. From the precise visual storytelling – communicating so much with facial expressions and camera angles (even an ahead-of-its-time handheld Chuck Norris POV shot) – I believe it.
Bruce plays Tang Lung, a Chinese country boy who comes into the airport in Rome wearing a kung fu outfit and not knowing the language. Trying to order eggs at an airport diner (this was before Cinnabon) he accidentally orders six bowls of Campbell's soup, and plays it cool by eating all six. He's there to meet a beautiful young woman (Nora Miao) but he doesn't make a good impression, because the first thing he says to her is "Where is the shitter?" I'm pretty sure he could've figured that out himself, so obviously he just doesn't care. He's not ashamed of his bodily functions.
Tang Lung is in Rome in place of his uncle, who promised to help out his friend, the girl's uncle. They're having trouble because the mafia has been trying to get the girl to sell her restaurant, sending thugs to scare off customers. The wait staff have been practicing karate, but it's no good. Tang Lung of course knows many styles (Lee's Jeet Kun Do preached a style that has no style) including kung fu, which the karate guys say is too weak.
You could blame their distrust of kung fu on some cultural thing, that living in Rome has made them ashamed of their own heritage or something. Or you could just chalk it up to a natural skepticism about the claims of outsiders. They've been dealing with this mafia problem for a while and now this young kid from out in the boonies comes in and they're supposed to believe he's gonna make everything better? And because he likes kung fu better than karate? It seems ridiculous. Those would all be reasonable motivations to brush this guy off. But the simple truth of the matter is that they don't like him because of his shitting. Nobody takes Tang Lung seriously because he spends too much time on the shitter. He doesn't even know how to do it properly, because he's used to a hole in the ground back home so with these new-fangled Roman toilets he perches on top like an eagle. And the first time the thugs show up he fails to intervene because he's taking a shit, like Vincent in PULP FICTION.
But of course when he finally gets a chance to show his skills he amazes everyone. It's especially funny to see the look on the girl's face. She's been snapping at this guy the whole time but when she sees him do his kung fu she melts, then starts making the moves on him. But he doesn't seem to pick up on it any more than he did when the gay-stereotype right-hand-man to the mob boss was inappropriately touching him. (Things are different out in rural China.)
There's alot of literal finger-wagging in this one. The best is when Tang Lung beats up a bunch of henchmen and then scolds the mob boss. He wants to yell at him but only knows Chinese so he communicates with gestures, waving his finger and then holding up his fists and cracking them. Then he makes the guy nod that he understands. It's a good demonstration of how funny and badass can go hand-in-hand without canceling each other out.
Like THE BIG BOSS, WAY OF THE DRAGON is an early example of martial arts movies set in contemporary times, so it goes out of its way to explain why the bad guys don't just shoot the martial arts expert like Indiana Jones did to that showboating swordsman. The mobsters often mention their rule of not having guns out in the open. At one point Tang Lung asks about Rome's easy access to guns, as if he's thinking about getting one. But no, he's thinking he better carve some darts to take out the people who do have them. Guns don't kill people, darts do.
No, Tang Lung's not the gun type. He uses fists, feet, a pole. Surrounded in an alley he reaches behind his back and pulls out a pair of nunchakas. Then he reaches back again and pulls out a second pair. (Good thing those didn't fall out when he was taking a shit.) If you're one of those guys you should probly be wishing he did have a gun instead of those.
Of course this movie is best known as the one where Bruce fights Chuck Norris. Since Tang Lung makes short work of the local thugs the boss calls in an oustside consultant: the cocky, shades-wearing, pre-beard American karate champion. His name is Colt, like the American gun. He barely talks, just comes off a plane looking ornery. It's Norris's first credited movie role (he'd only had a walk-on in THE WRECKING CREW), and it's a funny novelty to see him playing a one-dimensional bad guy like this. (Years later Jean-Claude Van Damme would have a similar film debut as a last act opponent from overseas in NO RETREAT, NO SURRENDER, but instead of fighting Bruce Lee he fights a dorky kid supposedly trained by the ghost of Bruce Lee.)
The Lee-Norris fight is an all-time classic. Playing inevitably off of the Roman setting they stage it in the Coliseum (although the actual fight had to be filmed on a soundstage) and Colt initiates it by giving Tang Lung an imperial-style thumbs down.
Although Colt is a hired leg-breaker he has enough honor that the two are able to warm up before the fight (or, to quote Danny McBride in THE FOOT FIST WAY, he knows he's a warrior so he allows him "the basic right of stretching.") The weirdest touch is that a kitten sits and watches their battle. What does it mean? Is it like the children in a Peckinpah film, the innocent eyes that witness man's savagery? Or maybe some kind of reference to the lions and tigers that fought there in the gladiator days? Or did Colt bring it with him? Maybe he got some bad intel about Tang Lung being allergic to cat dander.
At first Tang Lung takes alot of blows, as he tries to use traditional kung fu with its set responses to the opponent's moves. But then he switches to Jeet Kun Do, dancing around, responding more fluidly, not predictably. And he starts to win.
Tang Lung takes Colt apart piece by piece. Since this is before the beard, Norris's most distinctive feature is his thick chest (and back shoulder) hair, the opposite of Lee's hairless body. So Tang Lung grabs a fistful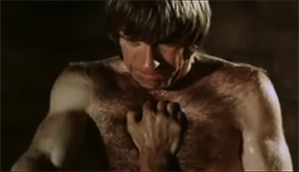 of it and yanks, then blows it out of his hand. At the end of the fight Tang Lung has broken Colt's right arm and leg, basically crushing one half of his skeleton. To his badass credit Colt toughs it out, somehow wobbles his broken body into upright, precariously balanced position, and tries again. It's both pathetic and awe-inspiring.
In one of the greatest moments in an all-time great fight movie, Tang Lung stares down Colt and just barely shakes his head, a sincere warning not to try it. But Colt does try it, and Tang Lung quickly snaps his neck.
Watching this fight you really get a sense of how Lee surpassed all other screen martial artists. It's not just that he knows how to perform a bunch of cool moves, it's that every single movement seems to be carefully planned and coordinated for maximum story impact. It's his posture, his expressions, the total package. I think this scene may have inspired one of those other legendary talents mentioned at the beginning of this piece, another artist who paid meticulous attention to every movement he made: Michael Jackson. There's a moment where Bruce stands in a ready stance and with his fingers he pulls up on the side of his pants, very similar to how Michael pulled up his pants as a suspenseful pre-moonwalk beat in his world-shattering "Billie Jean" performance on the Motown 25th anniversary special. Michael was also fond of wiping the side of his hand along his mouth, as if checking for bloody lips. He did it in the "Bad" video and Bruce does it in this fight. Not sure about Mozart or Michaelangelo though. They might've done it.
The moments just after the fight are as compelling as the fight itself. Tang Lung puts his shirt on and buttons it, looking like an athlete in the locker room after practice. Then he looks at Colt's body – and he mourns him. Even covers him with his jacket. When he takes care of the other villains he won't have the same misgivings, but this guy he has that warrior bond with. He respects him. Shame he had to break him.
The movie ends with Tang Lung walking away, the music sounding like a spaghetti western. We've never even seen him at home, we've only seen him come here to help. And he's probly not headed home now either because earlier his uncle sent him a telegram about someone else he needed to help. (It's gotta be a pain in the ass to keep getting these assignments from his uncle.) Had Lee lived longer it would've been great to have a couple more Tang Lung movies with him traveling aorund to different countries, helping his uncle's friends. Man, how does his uncle have so many friends all around the world? He must've traveled alot. Maybe he had to help his uncle's friends and met alot of people in the process.
Anyway, we never got to see RETURN OF THE RETURN OF THE DRAGON, but at least this ending sets it up in our minds, leaving him forever on the road headed for new places, new friends, new types of toilets to try out, new adventures.
This entry was posted on Thursday, May 20th, 2010 at 1:15 pm and is filed under
Martial Arts
,
Reviews
. You can follow any responses to this entry through the
RSS 2.0
feed. You can skip to the end and leave a response. Pinging is currently not allowed.