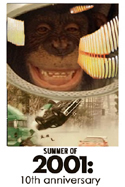 released June 8th, 2001
I skipped EVOLUTION in the summer of 2001 because it didn't look very good. Hey, what do you know, it turns out me-of-ten-years-ago knew what he was doing. But for this important scholarly work it was crucial that I not just view the 2001 movies people remember. To truly get a feel for the period I had to watch at least one movie that came out that summer and then nobody ever thought about it again.
In case you never thought about it in the first place, EVOLUTION is a sci-fi comedy by Ivan Reitman, accurately described on the DVD cover as "the director of Ghostbusters and Road Trip." (I would've gone for "the producer of Shivers and Space Jam.") David Duchovny and Orlando Jones play fuck-up community college professors who discover rapidly evolving microscopic alien life on a meteor. Seann William Scott plays the wacky hyperactive weirdo whose truck gets smashed by the meteor and who manages to somehow stay around for the rest of the movie. Julianne Moore plays the government scientist/passive love interest. Of course we all agree that she's a great actress for both drama and comedy, but I fucking guarantee you she was cast only because she's the Hollywood movie actress who most resembles Gillian Anderson.
This is a real half-assed attempt to do a "GHOSTBUSTERS but with aliens." I thought MEN IN BLACK was just above mediocre, but this makes that one look like an elegant labor of love. At least I can give this credit for being a less-obvious-than-it-could-be variation on the GHOSTBUSTERS template. Instead of New York City it's a small desert town; instead of being experts in a disrespected field they're losers who get involved by flaunting their "United States Geological Survey" credentials in an important sounding tone; instead of being ostracized for their unorthodox beliefs it's for being a sexual harasser and for giving everybody in the army diarrhea.
Jones is occasionally asked to call upon his powers of buffoonery, like in the scene where they decide the way to catch the alien bug that's crawling under his skin is to reach up into his ass: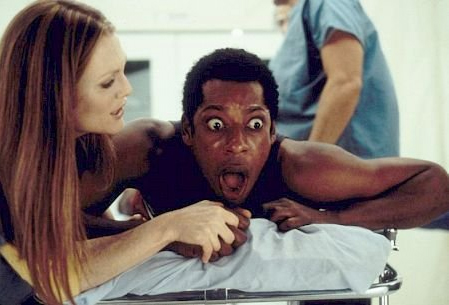 but for the most part Duchovny and Jones take the right deadpan approach. Some might say they're putting no effort into it, I think they're just playing it purposely laid back. But the movie itself sure is lazy, so it seems less like an absurd joke and more like a screenwriting short cut when Duchovny casually reveals that he used to work for the Pentagon. I mean it almost comes across like they thought of this after they'd written the beginning and didn't want to bother rewriting those earlier scenes.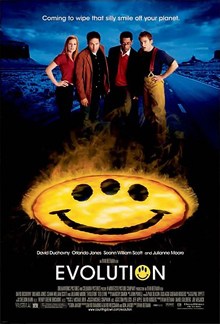 There's really no reason why these guys should be the heroes. It's not one of those things where nobody believes them so they have to handle it themselves, and it doesn't seem like they're necessarily the most qualified for the job. They just lucked into it and then lie and sneak around and the local cops are stupid and fall for it. But I'm not sure why somebody else more capable isn't working on this whole "alien monsters are getting loose and attacking the locals" problem. Or why the government has such lax security in the miniature alien habitat they're growing in a cavern. And there aren't enough jokes to keep me distracted from how little this stuff makes sense.
The movie is shot in a very plain and cheap looking manner, which only seems like it could be an intentional artistic choice in one of the better scenes, the one where they have to shoot a flying monster in a shopping mall. It's funny though, the one thing that does look good is the digital monster effects. I think we finally have an explanation for the terrible creatures in THE MUMMY RETURNS: Ivan Reitman was hogging the computers they needed.
There's a couple pretty funny jokes and alot of really terrible ones. Jones's character is named Block, but a white guy accidentally calls him "Black," get it? And he gets a bug inside his hazmat suit so he says "There's a fly in my suit." Instead of soup, you know? Hilarious! They make two attempts to do "funny singing" scenes – Scott doing bad karaoke to attract the "alien bird," and a singalong in a car. But neither has any logical reason to happen, they're very forced, like some clueless producer demanded two "funny singing" scenes and they had no choice but to put them in there or lose their jobs.
I guess the equivalent to the GHOSTBUSTERS "he slimed me" scene is the part where Jones gets stuck up a giant blob monster's butthole. It's weird that that didn't become a big thing, with t-shirts and stuff. Maybe they overdid it by having them get farted on first.
* * *
legacy: Writers David Diamond and David Weissman went on to write OLD DOGS, WHEN IN ROME, and apparently POLICE ACADEMY 8 (details only on IMDbPro). Duchovny continued in movies but has stuck with smaller, indie type movies other than the X-FILES sequel. Scott continues to play basically the same character in most of his movies. Reitman has directed two movies since (MY SUPER EX-GIRLFRIEND and NO STRINGS ATTACHED) and continues to talk about doing a GHOSTBUSTERS 3. But not an EVOLUTION 2. I guess there was an EVOLUTION cartoon, but I'm sure it was more of a "no turning back now" situation than a "let's keep going with this."
would they make a movie like this now? I hope not, but you never know.
This entry was posted on Monday, June 20th, 2011 at 11:52 am and is filed under
Comedy/Laffs
,
Reviews
,
Science Fiction and Space Shit
. You can follow any responses to this entry through the
RSS 2.0
feed. You can skip to the end and leave a response. Pinging is currently not allowed.