Remember the excitement we had when we came across MARTYRS, written and directed by Pascal Laugier? A genuinely unpredictable, unformulaic horror movie. One that was brutal and unpleasant enough that I was hesitant about recommending it to people, but great enough that it's become pretty much universally respected as the must-see horror movie of recent years. Probly of the decade. The pinnacle of modern euro-horror, the most respectable extreme-horror.
When there's somebody who made something that unusual, that pure, obviously Hollywood knows what to do: string 'im up. Bring him to the U.S., make him speak English, put him on a HELLRAISER remake. Waste his time in idiotic meetings, showing him that he's not allowed to do whatever he wants. He must compromise. Show him who's boss.
So he quit HELLRAISER. But he still made an English language movie starring Jessica Biel. I heard a long time ago that it wasn't that good, I forget if it was at a film festival or somebody saw a test screening or what. But I believed it. It sounded about right. He was making HARD BOILED, we don't want to see his BROKEN ARROW.
But the reports were wrong! This is more like his FACE/OFF. It was accurate to say "it's not as good as MARTYRS" but that should be followed with "but it's damn good." I'm gonna go ahead and recommend that all horror fans see THE TALL MAN, preferably not knowing shit about it, like I did. It didn't punch me in the balls like MARTYRS, but it certainly impressed me. This guy has made two in a row that don't at all follow a horror formula that I can recognize. I don't know how he does it.
It's not what we call "extreme horror," or trying to be. It's not a watered down version of that either, it's something different. Some painful bits, not alot of blood. Like in MARTYRS there's a woman screaming a whole bunch at the beginning – but it's because she's giving birth. Not the same thing.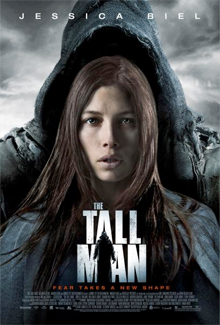 But it's a whole lot like MARTYRS in the less superficial ways. It does that Brian DePalma or EYES WIDE SHUT thing where it leaves you guessing what it's even gonna be about. It lets you get comfortable in the narrative just to spin you around until you're dizzy and trip you down some stairs. It plays with your sympathy, your identification, your morals. It plays a trick on you unlike I've ever seen in a movie. And leaves you with a hundred questions to ponder. Good ones.
I'm gonna be spoiler free in the main part of this review, but I honestly recommend not even knowing anything at all. If you need an explanation I'll just tell you that Biel plays a nurse at a free clinic in an impoverished former mining town where young children have been kidnapped in huge numbers. There are legends about a "tall man" who takes them into the woods or something, and the police can't figure out what the hell is going on.
Everyone in town knows her – some seem to hate her, but mostly the assholes – and she's always helping out people in trouble. So she's gonna get mixed up in something bad.
Biel must've really believed in the movie, because she's a producer on it. She's really good in the role too, playing a strong woman firm in her beliefs, not afraid of men who get in her face, willing to scrap, to be chased, to chase back, to hide, to face extreme danger to her life and freedom. It's a physical role but also emotional and layered. She gets muddy and bloody but that was probly the easier part.
The town is a little like Silent Hill, but mostly because that same girl Jodelle Ferland is in it. They call it Cold Rock, Washington. The mountain highways lined with tall evergreen trees do look like parts of this state, but I knew they were filming in Canada because in the diner there's a sign for the "washrooms." You can't fool us, Canada. We know the tells.
I won't say anything more specific about what happens, but like in MARTYRS there are unbelievable secrets beneath wholesome surfaces, sinister conspiracies with unexpected motives, elite groups that don't necessarily respect our right to life in the same way we do, events that entirely shift our perspective of what's going on and leave us dizzy. But not much in the way of torture. I don't think there was any torture in this one. Kinda refreshing.
I paid to see this one on the video-on-demand (a second for me – the first time was EL GRINGO). It comes out September 25th if you want it on a disc. Come back and discuss it after you've seen it.
THE END UNLESS YOU'VE SEEN THE MOVIE
in that case highlight this part to make it more readable
Takes you for a spin, huh? I love how it seems like a pretty normal horror movie for a while and you don't know it's sneaking up behind you. And then even horror cliche stuff like The Entire Town Is Conspiring Against You gets turned on its head.  It's original enough that I couldn't resist looking at some of the IMDb message boards to see what kind of infuriating reactions it inspired. My favorite were the people arguing that it has misleading advertising (because the trailer doesn't give away the surprises) and the guy arguing against the movie's "liberal" pro-kidnapping message.
I guess the type of people who write on there could be confused by their own shoelaces, but these reactions are a symptom of what I like about the movie – that it's layered and complex and thought provoking. I love that the movie left me not 100% sure what to think about this character and what she's done, or what Laugier thinks about it. I mean, I'm pretty sure he's against it. The final narration (which is maybe a little too much) tells you that you can't for sure take it as a happy ending. We know nothing about this third mother. And how much does she know about where this kid came from? Can we trust her if she's okay with that?
Common sense tells us that just because she seems to have more money than the real family doesn't necessarily mean she can offer a better life.
But maybe she can. I don't see an abusive male figure around. We know her life was bad. She wanted out. Better this than running away and turning tricks in Seattle. I've seen STREETWISE.
It's so harsh, but in a completely different way from how MARTYRS was harsh. It makes you contemplate an uncomfortable idea: what if she's kinda right? Who are we to judge, when we're not doing shit about it ourselves? We know there is this cycle, if these kids grow up this way then certain patterns are gonna repeat. What if forcefully taking the kids out of there would save them? What if going too far works?
And we're forced to see a parallel with the aid work that these people apparently did overseas. I mean, hopefully they're not taking African kids away from their families, but they're trying to help these impoverished communities to live better lives. If it's heroic to do it there then how far can she go in an American town where nobody has jobs?
Is it classist? Is it condescending? Is she not giving poor people enough credit? Yeah, I think so. But then what the hell am I doing? Sponsoring one Guatemalan kid named Mario. That's it. This lady's trying harder than I am. Part of me respects that.
I mean, this bitch is crazy, but separate from her controversial activities here she's also a saint. She's literally bringing these kids into the world, without proper equipment. There's at least one baby that is born dead, and she gives it life. And when it comes to that other thing she martyrs herself, allowing everyone to believe she's a mass murderer so that the kids can live their new brainwashed lives without people looking for them. This is more important to her than making people understand that she believes her motives to be pure. More important than not getting rocks thrown at her head.
And the last scene gives you an extra spoonful of sugar to help it go down, since this girl figured out what was going on and asked to be taken away. And she seems to like the situation, in fact it finally helped her to talk, something she could never do in her old life. But even she's left unsure what to think. And what was that bit where Biel warned her about the horrible things "The Tall Man" would do to her if she told anyone? Was that just a machievellian thing, I gotta scare her into compliance, or was it a real threat? Because even though the girl drew a spooky silhouette I think "I saw him" just meant "I know what you're up to" and not "I saw the mythical Tall Man who comes out of the woods and steals the babies."
And you know what, even though I think what this lady's doing is wrong, there's something tragic about her even before her operation goes south. She becomes a "second mother" to these kids and if all goes right then they get taken away and she never sees them again. If it goes wrong, the kid she was just playing with remembers his real mom again and becomes scared of her and runs away. I mean I'm sure it's fulfilling work in other ways, but it's gotta be hard on her emotionally. She's Mary Poppins from Hell!
I hope you guys liked this one as much as I did. If not, at least be happy that Laugier's doing his own thing and not some remake or reboot. That said, be sure to stay after the credits for when it finally does show Angus Scrimm and the silver balls that were only implied in the rest of the movie.