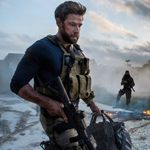 13 HOURS: THE SECRET SOLDIERS OF BENGHAZI is Michael Bay's movie about the deadly September 11th, 2012 attacks on the American consulate and CIA outpost in Benghazi, Libya. That sounds like a terrible joke – one of Hollywood's most bombastic, least thoughtful directors tackling a recent (and highly politicized) tragedy. And I'm not totally sure whether he's thinking of this more like a cool action movie or his version of a BLACK HAWK DOWN/ZERO DARK THIRTY. (I'd guess the second one.) But I have to say he did a better job than I thought he would.
John Krasinski (JARHEAD) plays Jack Silva, a former Navy SEAL hired to help out a small group of special ops guys working at a secret CIA base in Benghazi to snatch up grenade launchers and other weapons floating toward the black market after the fall of Gaddafi. Five weeks after he gets there the consulate about a mile away is attacked by a mob of militants, and Jack and friends want to help. And sort of feel like they have to, because there's no one else to do it.
The appeal to Bay, and of the movie, is the portrayal of these soldiers, their professionalism and heroism, their drive to use their unique skills in a hugely uphill battle, even when they're (according to the movie) told to stay out of it. From THE ROCK to the TRANSFORMERSes, Bay has always had a fascination with these types of elite soldiers. He's good at casting big, manly looking dudes and having them throw out the lingo and sling the hardware around and seem like they've been doing the job forever. Krasinski is buffed up (he has one scene to really showcase his six pack) and everybody has a shaggy beard and a sweaty forehead, of course.
What sells them, though, is their camaraderie. Some of these guys were old friends, others just have similar experiences that create instant brotherhood. There's a good scene where Silva arrives and is introduced to everybody and you can see who's real boisterous and who's more laid back but get the idea that all of them are formidable.
(I should mention that they include Max Martini [CSI, CSI: Miami], James Badge Dale [Law & Order: SVU, CSI, CSI: Miami, CSI: NY], Pablo Schreiber [Law & Order, Law & Order: Criminal Intent, Law & Order: SVU], David Denman [CSI: Miami], Dominic Fumusa [Law & Order, Law & Order: Criminal Intent, Law & Order: SVU, CSI: Miami, CSI: NY] and Toby Stephens [Law & Order: UK]).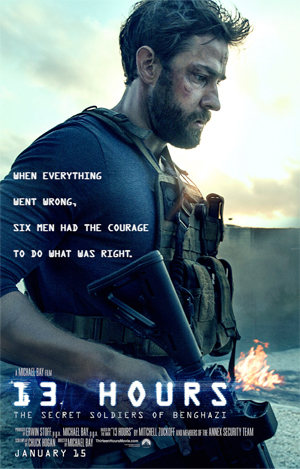 Throughout the harrowing experience there's all kinds of dread and some tragedy and crying but they deal with the stress through gallows humor. There's one guy whose thing seems to be calmly asking about disquieting observations: Did the chanting just stop? Does it seem to you guys like everyone else knows what's going on but us? And remember how on The Office something preposterous would happen and Krasinski would turn to the camera and make an "ain't I a stinker?" type face? Here he has a much darker version of that. Someone asks him a question and it's more powerful for him to just give them a grim look than to say anything.
I'm amazed to be saying this, but Bay handles that tone just right. The humor feels organic, it helps us get through the heaviness of the movie just as it helps them, without seeming like inappropriate comic relief. As much as I've hated Bay's approach to action in most of his movies, by far the worst part of his filmography is his terrible sense of humor and completely haphazard placement of jokes. So this is a major achievement on his part.
The action is not standard Bay style. It's chaotic, but in a completely appropriate quasi-documentary sort of way, mostly just disorienting in the way it would be if you were there. It's not about cool moves and shots, but a nightmarish impression of machine gun fire and muzzle flashes all around, flames in the distance, sometimes a spray of sparks, splinters, blood. His image of Libya is not the digitally yellowed look of most of the other Middle East war films, it has more color and contrast and beauty to it. When the black smoke that will kill Ambassador Stevens (Matt Letscher, CSI: Miami, CSI) rolls under the door it's so picturesque that it makes it more horrible.
But there is one show-offy shot, a very cool one if divorced from context, where the camera follows a mortar as it's loaded, shot into the air and then drops on the roof of the CIA base. Bay did this for the bombing of Pearl Harbor and now the real life death of an American serviceman. That's pure Bay right there I guess. I don't agree with that choice in this movie.
Mostly, though, he's just presenting what feel like pretty realistic versions of what happened. An intense chase/shootout through narrow alleys struck me as possibly having some FURY ROAD influence, but without seeming exaggerated. Bay has plenty of chances to go overboard. After building up Glenn Doherty (Stephens, who was the young version of Clint in SPACE COWBOYS), an old SEAL buddy of Silva coming all the way from Tripoli to help, his death is sadly, pathetically anti-climactic. It might even be forgivable to give him a slow motion hero shot, but Bay didn't take the bait.
(trivia: the real Glenn Doherty was one of the guys shooting the pirates through the tiny windows of the boat in the incident that CAPTAIN PHILLIPS is based on)
The worst case of Bay falling back on his usual tendencies is in the portrayal of the CIA chief "Bob" (David Costabile, Law & Order, Law & Order: SVU), who he shows as one of his snobbish, elitist egghead bureaucrats who ruin everything and don't understand that a man needs to do a man's work like a man does because he's a man. Bob condescends to the soldiers, insults them, makes fun of them for working out, is a wimp. When the shit goes down he forbids the soldiers from helping, tells them to "stand down" more than once, yells at them like an asshole boss.
Just playing devil's advocate here, but I see a possibility that "stand down" would've been a reasonable position. The claim is that someone high up didn't want "a Black Hawk Down situation," with the implication that they didn't want to be embarrassed by a mess. But shouldn't they also want to avoid causing the mess, making the matter worse? In the movie we've been told that this CIA base The Annex is totally secret, that they are illegally in the country. Maybe exposing this base and thus ending their mission would have further-reaching repercussions than we would immediately think of. "Bob" has also been told that the ambassador is in a safe room, so he has to consider that sending soldiers in could be needlessly exposing them to danger. Following orders from high up instead of disobeying them like in an action movie could actually be the wiser choice in an explosive international incident with so many lives at stake, couldn't it? I couldn't say. I'm not presumptuous enough to think I know the best thing to do in an impossible situation like this.
But the movie thinks it knows, because Bay has Costabile play the guy like a total dick, obviously wrong and petty and cowardly. Much later he gets Put In His Place, told he has to follow the orders of the soldiers now, and suddenly out of the blue he does take charge and presents a detailed plan of how the staff is going to get out of there. Now suddenly he's a brave and experienced man who knows his shit and knows how to lead. I didn't really feel the transition. I'd like to see more of this later version of Bob.
Bay claims the movie is apolitical, because he doesn't go into any of the stuff that Republicans and conspiracy theorists fixate on about Secretary of State Clinton being at fault for the security failure or covering something up. But having the CIA chief telling them to "stand down" is a point of contention. From what I've read, the official report found that this did not happen, and the chief in question adamantly denies it, but at least one of the surviving soldiers still insists that's what happened. Again, I won't pretend to know. And I think it's fair for Bay to include it since he takes it from the book, 13 Hours: The Inside Account of What Really Happened in Benghazi by Mitchell Zuckoff "and the Annex Security Team," adapted by Chuck Hogan (writer of the novel that THE TOWN is based on). It shouldn't be a surprise that from their point of view what they wanted to do was right and what the higher ups told them was wrong.
In real life the ambassador and consulate had requested more security and never got it, for various reasons. Maybe if they had it would've prevented this tragedy. The movie does underline this, with many comments about how exposed they are, what equipment they don't have, how much more backup they'd have in Iraq. But I don't think it comes across as pushing an agenda. The situation sucks, and people doing dangerous jobs can complain. I think if they did have more to work with they'd still be grousing, and with good reason. Even with more people and resources, fending off an attack by 125-150 gunmen wouldn't have been a walk in the park.
Maybe a more significant accidental message is the us against them narrative it reinforces. The Americans are the good guys, the local militias and police they work with are completely inept and likely to betray them, very few Libyans in the movie are not there to attack them. As far as the drama and the situation they're in it's accurate, but it contributes to this myth of Americans being in opposition to all of the Middle East. In the end, when a card (well, a blippy computer readout) tells us that 30,000 Libyans attended a memorial for Ambassador Stevens, this is pretty much out of the blue.
Despite some misgivings I think 13 HOURS is best at what was probly Bay's primary goal: paying tribute to the people who died in this horrible incident. The ambassador comes across as idealistic, well liked, sincere. The soldiers come across as courageous, likable, heroic. I don't feel like I come out with much more understanding of what happened or why or what it means, but I don't think I should. Sometimes you just have to realize that shit is complicated. Life is complicated. Even my feelings about Michael Bay movies can be complicated. This is one of his best, I think.