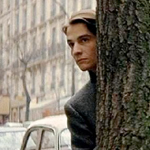 STOLEN KISSES – or as I would have retitled it, 400 BLOWS III: THE SHADOW AGENDA – is the story of Antoine Doinel, an ex-military private eye hitting the streets for a case that will change everything. Or whatever.
This is the one that brings Antoine into the worlds of adulthood and color photography. It's also the most Cannon-like so far because it opens with him as a soldier in an army jail, much like Joe Armstrong found himself in AMERICAN NINJA, except he's reading The Lily In the Valley to show off that he loves books and instead of getting out when ninjas come to attack him the guards just let him out and he's told he's being kicked out of the army.
In real life Truffaut, after being rejected by the girl who Colette was based on in ANTOINE AND COLETTE, attempted suicide, then joined the army, deserted, went to military prison, etc. So this is autobiographical again.
Antoine can't hold in all his impish smiles as the commanding officer reads the list of every place he went AWOL and lectures him for willingly enlisting but then not even trying to do a good job. This is not a "punched out the commander for giving him a command he couldn't follow" type of situation. No, he just sucks at his job.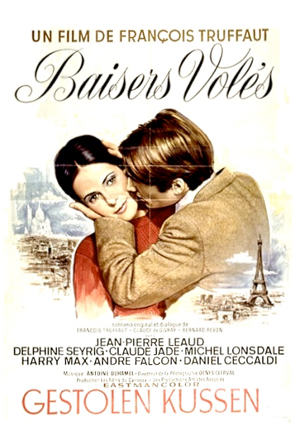 This is something we're gonna have to face now: that kid from THE 400 BLOWS grew up to be a true fuckup. Does this mean his teacher 400-blew it, singling him out too much, causing him to act up all the time, derailing his life before he even had a chance? Or does it mean his teacher was right, that he's no good, he'll never amount to anything? I bet his buddy Rene can at least hold down a job for a while. Not true of Antoine, as we'll see here.
(Speaking of Rene, he's not the only person in this series who has a thing for his cousin. There's a scene in this one where Antoine's older co-worker tells him a story about fucking his cousin in the attic after a funeral. Nice motif there, Truffaut.)
When Antoine is discharged he literally runs through traffic directly to the prostitutes. He walks out on his first choice after she won't kiss him and then picks another one he spots on his way out. Next he stops by his apartment and then to see his old girlfriend, but she's not home and he visits with her parents. I actually thought this was Colette's place at first, because his relationship with the parents is exactly the same, but actually it's a new old girlfriend named Christine (Claude Jade, who later worked with Truffaut's hero Alfred Hitchcock in TOPAZ). Colette actually has a cameo. He runs into her with her husband. She married that dude that she went out with when he tried to get her to go to the concert! That's cold.
Christine actually likes Antoine, but just like with Colette he exhibits behaviors now associated with internet stalkers. He can't understand why she didn't write him back while he was in the army sending her letters, but she says she did until she couldn't keep up because he flooded her with 19 letters in a week. "And they weren't always nice letters." Now they're supposed to be just friends, but he tries to kiss her in the wine cellar and she has to fight him off. (I guess that would be one of the titleistical stolen kisses.)
That's actually immediately after a scene where he just starts following a woman on the street, being extremely obvious about ducking behind his newspaper and trees, until the woman gets a police officer and then he has to run off.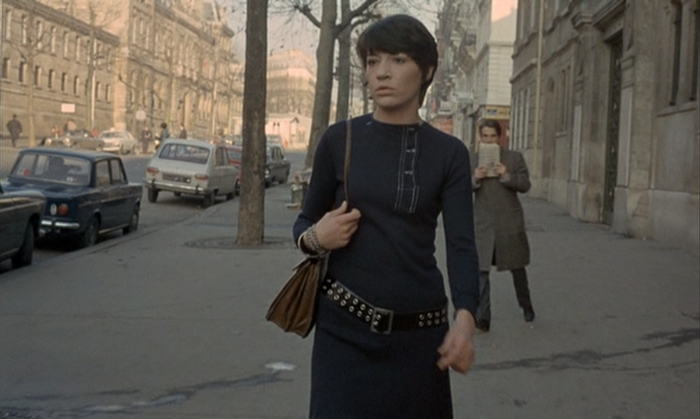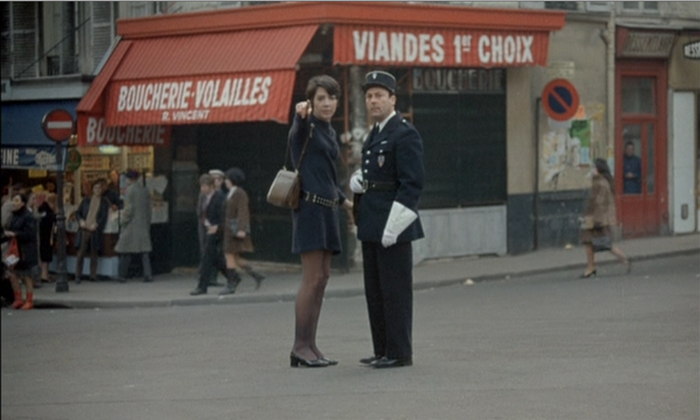 Is this a cute scene in a quirky movie, or is it a story we read about as a missed warning sign after some guy gets caught with people chained up in his basement?
Christine is an appealing character. She has kind of an unobtainable beauty but a normal person smile and sense of humor. Antoine is a dummy not to treat her better. As nice as her parents are to him (they even care about his health enough to send him vitamins) there's a little moment where they talk privately and I get the idea that although he doesn't say as much her dad has noticed that Antoine's not a good boyfriend. He does hook him up with a desk job at a hotel, though. He gets fired immediately.
To be fair Antoine really wasn't fuckin off this time. He just fell for a private eye's trick to get him to let him into a room. The detective feels bad for getting him canned and finds him a job at his agency. This is finally work that Antoine gets excited about and puts some effort into. There's even a part where he uses a detective trick to help out Christine's boss with something. He impresses everybody and gets to be proud of himself. Wouldn't it be cool if this one turned into a noir, with him solving a murder mystery? But that doesn't happen.
See, he's really the opposite of an American Ninja. Instead of having these mysterious skills beyond expectations he never even has the basics of the job. A soldier turned detective could be a real force to reckon with. Jack Reacher, for example. But they don't know what to do with Antoine. His job is mainly following people around, and this is not something he's qualified for. At first I thought it was just a goofy movie thing, "ha ha, if this was real they would totally notice him" because he's so obvious about walking right behind people, or blatantly hiding behind a tree or something. But when a guy gives him the slip his boss actually tells him he's terrible at following people.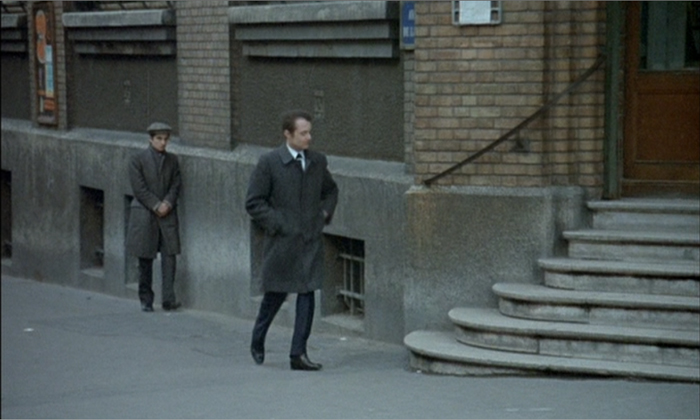 Luckily the agency gets a weird case that they can dump off on Antoine: the rich owner of a successful shoe store (Michael Lonsdale, RONIN, MUNICH) senses that everyone hates him and wants to know the reason why. So Antoine goes undercover as his new stockboy. Now he even gets chewed out for doing things wrong in his fake job!
This store looks small and has a surprisingly large staff, all women. Antoine tries to glean for them why they don't like the boss, who they call "the old dinosaur." But he gets distracted when he meets the guy's beautiful wife Fabienne (Delphine Seyrig, LAST YEAR AT MARIENBAD, THE DISCREET CHARM OF THE BOURGEOISIE, THE DAY OF THE JACKAL). He treats her as an object of worship, and practices English just because she speaks it. She's clearly intrigued when she overhears the other employees talking about Antoine's crush.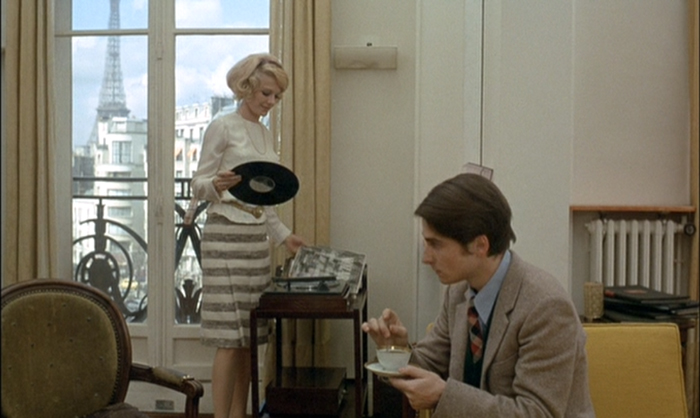 Of course if this were a normal mystery movie she would be part of the solution, and she'd be trouble. Either she's setting a trap for him or he's setting a trap for himself by falling for the client's hot wife. But it's not about that. Somehow Antoine has grown up into this little failure guy who women throw themselves at.
When he realizes she's making a move on him he flees in panic and writes her a letter about why he can't see her anymore. She shows up at his apartment, disagreeing with his interpretation of a book he referenced in the letter. She seems so out of place in his shitty bachelor apartment with the crooked photo of Christine on the wall, but there she is.
While Fabienne is in the apartment, Christine comes looking for Antoine, and she's being followed by some guy, who runs into the detective who's following Fabienne. Everybody has a tail. This is a theme.
We've seen this guy following Christine for the whole movie, but it turns out he's not a detective, he's her own Fabienne, her older, classier person who's interested in her. At the end he finally approaches her and makes a dream offer. There's a statement about the difference between Antoine and Christine, and maybe men and women, that comes out in the indecent proposals they receive and how they respond to them. Fabienne comes into Antoine's apartment and offers to screw him for a few hours and then be gone and they'll never see each other again. He does it. For Christine, the man basically offers to give her everything she wants and be totally dedicated to her for life. She and Antoine just sit there politely and listen to his whole speech…
…and when the guy walks away Christine turns to Antoine and says: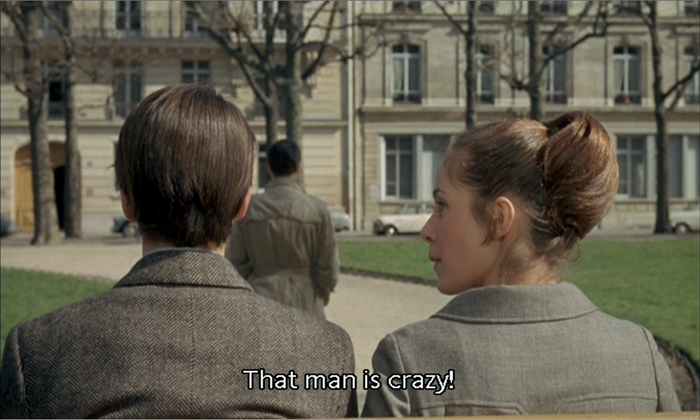 She's a little more reasonable than him. And her fan there is more romantic than he is with his strangers that he follows. Antoine still has alot of skills to learn, but there's no ninja training camp for relationships.