Watching JAWS 2 for the first time I was thinking maybe man is actually worse than shark. Because would shark make a sequel to JAWS? I don't think shark would. I think they'd know to leave it well enough alone. But then I thought well, the shark in this one, Jaws 2 we'll call him, is pretty much sequelizing what Bruce "Jaws" Shark did in part 1. He sees that Bruce caused a splash (get it?) eating people at Amity Island and he thought you know what, I will do the same thing but not as good and with a higher body count.
So I guess man and shark are the same. Sharks swarm when there's blood in the water, men when there's money to be made. We're creatures of pure instinct.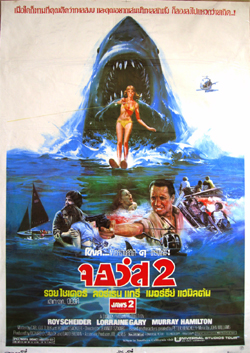 Roy Scheider returns as Chief Brody, still chief of police and with even more pressure to not scare anybody because they're opening a bunch of condos there. Unfortunately for everybody another shark (Jaws 2) does show up and start eating people. And once again Brody is the only one who believes it's a shark, and he embarrasses himself with a false alarm on the beach, and everybody thinks he's crazy. De ja vu. Must be a glitch in the matrix.
Some divers and water skiiers get eaten, and even an orca. This was the year after ORCA, which had an orca headbutting a shark as a "fuck you" to JAWS, and this is their "no, fuck you" to ORCA. I gotta side with ORCA this time though, it's a way better movie than JAWS 2. Sorry, JAWS 2. Just tellin it like it is. I'm trying to have an open and honest relationship with you.
(And come on man, we're not stupid. We all read the scientific journals. We all know there's at least one case where an orca in California killed a shark, ate its liver and scared the other 100 or so sharks in the area so bad they all turned tail and hauled ass to Hawaii like a bunch of tadpoles.)
Brody's son Michael is a teen now (the new actor jumped ahead 5 years in age), so there's a whole bit about horny kids trying to go boating together, and sneaking out when they're grounded, and all that type of teenage shit. More like a summer camp slasher movie.
When the shit hits the fan Brody does try to call Hooper (Richard Dreyfuss's character) but he's out to sea where radio can't afford him. Er, I mean reach him. So it's a solo act this time. So it's kind of like a band playing without all the original members.
The filmatism is better than I expected, though. They try to re-create Spielberg's naturalistic approach, his atmospheric sound design, and they got John Williams back on the music. But it's not that fun to watch a rehash with the best parts taken out. It has an approximation of the basic monster thriller elements but it leaves out some of the extra things that made JAWS different. I mean what is JAWS without all the tension and the camaraderie between those three men on the boat? That's the part of the story they don't retread: the best part. I guess it could be even worse if they tried to do some equivalent to Quint's classic U.S.S. Indianapolis speech, but still. You notice the difference. Less greatness, more teens in peril. It's a good way to show why JAWS was so special.
And this one's not special at all, but as far as sequels that shouldn't exist go it does have a couple enjoyable parts. My favorite would have to be when Jaws 2 is attacking a woman in a boat. She tries to bash him on the sharkhead with the nearest heavy object, which happens to be a big tank of gas. And you're not gonna believe the bad luck she has but she ends up spilling the gas all over the place. And then she tries to fire a flare at the shark and, well, you can guess how that backfires. What's great is the shark catches on fire too. Then the boat explodes into a big fireball, and you see it from the point of view of an old lady watching the whole thing from her porch. That's the beauty of these houses with ocean views. If a shark catches on fire you're gonna be there to see it.
So Jaws 2 has burns on his face. This could be why he continues being an asshole for the rest of the movie. Facial mutilation like that can really mess people or sharks up, like the Phantom of the Opera or Two Face for example. The injuries scar their psyches as much as their skin. Jaws 2 might not be hungry, he might be lashing out in anger over his disfigurement. He's asking God (who looks like an old shark with a long white beard) why me? Why do I have to suffer? How unlucky does an underwater creature such as myself have to be in order to catch on fire? I mean what are the chances? I don't stick my head out of the water that often. He's confused and he's depressed and he's not getting any answers, so he eats a helicopter.
So I give him credit for the scarring and for taking out a helicopter, even if GRIZZLY beat him to that one. Also I gotta give credit to Ann Dusenberry, the actress who played the young blond girl. Her portrayal of being in shock and barely able to speak was surprisingly credible.
Roy Scheider of course gives it his all, does a good job again and at least gets some tender moments with his wife (Loraine Gary also returning). But he must've felt like kind of a chump going through all that again. I bet some of the thrill was gone the second time. But maybe I'm projecting.
The director was Jeannot Szwarc. Like Spielberg he started as mostly a TV director, doing episodes of "Night Gallery" and some TV movies and stuff. Unlike Spielberg he went on to direct SUPERGIRL and SANTA CLAUS: THE MOVIE and now is back to just doing TV episodes.