There are two movies I had been wanting to see for a while but they were Apple TV+ exclusives and maybe I was gonna get a free preview to check them out or something but I never got around to it. But recently due to a housesitting situation I had access. So, Spike Jonze's BEASTIE BOYS STORY is a really great "the story of the Beastie Boys as told live on stage by Mike D and Ad Rock" documentary that made me cry from both laughter and the other kind. The humbly told autobiography of an all time great band and a moving story of friendship. I don't really want to review it though, just want to say if you love them try to find a way to watch it, you won't regret it.
The other one is Sofia Coppola's ON THE ROCKS (2020), and this one I can write a little about. Also, it's one you can watch without subscribing or housesitting, because they just put it out on regular old blu-ray and DVD. It stars Rashida Jones (COP OUT) as Laura Keane, an author in Manhattan trying to work on her new book while her husband Dean (Marlon Wayans, DUNGEONS & DRAGONS) is launching a new company. (A "tech startup" they call it, so our suspicions are up.) He's been doing all these business trips and she sees how he's surrounded by all these young attractive women, and then a couple weird things happen like she finds a toiletry bag in his luggage that he admits belongs to his co-worker Fiona (Jessica Henwick, UNDERWATER). And at a work party she sees Fiona touching him, and the other women get real quiet and awkward around her when they find out she's Dean's wife. It doesn't look good.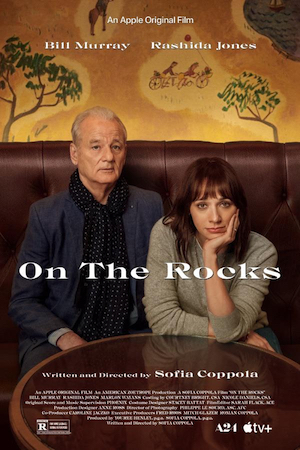 Laura's actually pretty good about not jumping to conclusions, but after she tells her dad Felix (Bill Murray, OSMOSIS JONES), a very-well-off art dealer and life-long playboy, he becomes obsessed with proving that Dean's cheating on her. It's partly protectiveness and partly a low opinion of maledom because of his own sins and sexist philosophies. She tries to rationalize it all, but as he quizzes her he's able to pick holes in all the stories. Like, he knows the hotel he stayed in on one of his trips, where it's located in relation to where he'd be going for business, why this would be good for an affair, etc. He even knows guys who work at the hotel and calls them for intel.
On her birthday, Laura tries to keep herself out of shenanigans and just stay home and be depressed. But Felix has Dean followed by private investigators, finds out some more eyebrow-raising details, and eventually pushes Laura into joining him on a stakeout of Dean and his co-workers. Real inconspicuous like, in his 1959 Alfa Romeo convertible. And it gets more ridiculous from there.
So there's your comedy premise, but this is largely a hangout movie. I think for both Felix and Laura this adventure is as much about spending time together as it is about her marital issues, and for viewers it's about getting to hang out with these characters, and these actors. Full disclosure: I have historically had a celebrity crush for Jones, and in this movie she wears both Run-DMC and Beastie Boys t-shirts, so it's hard to be objective. But I think I can objectively say that they're both very likable people with a good chemistry. I also love them together in Coppola and Murray's A Very Murray Christmas, which I watch every year now. In fact, this reminds me quite a bit of what I love about that special – it's very funny, but with a real sense of melancholy, tempered by the feeling of sad people getting together to spend time, talk, laugh, have some drinks. And of course it has Coppola's beautiful visuals (cinematographer Philippe Le Sourd also did her THE BEGUILED – and THE GRANDMASTER!) and that aspirational quality of amazing New York locations I can't picture being able to go to, ranging from her amazing apartment to the same bar from A Very Murray Christmas – Bemelmans (no apostrophe) Bar in the Carlyle Hotel, where they sit surrounded by murals depicting Central Park in all four seasons, painted by Madeline illustrator Ludwig Bemelmans in 1947.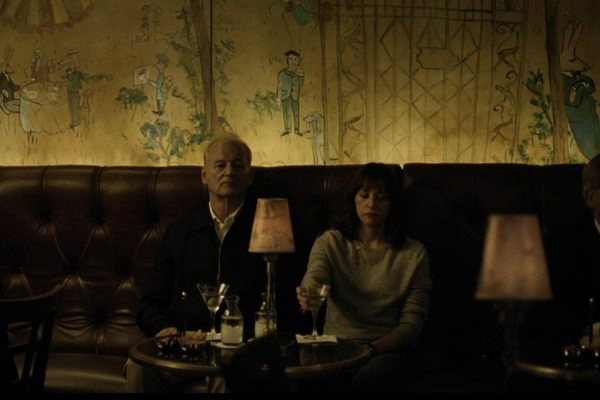 (According to its websight the bar "draws socialites, politicians, movie stars and moguls with its extensive drink menu and live entertainment." Probly better for me to enjoy vicariously because I'd have a hard time enjoying a $36 cheese plate and $26 Negroni even if there wasn't a $35 cover charge. I saw Prince for less than that.)
And it's fun just to watch Murray joke around with everyone he meets, or play with the grandkids, though there's an underlying discomfort as we recognize Laura's resentment that everyone is so delighted by him without having to ever have been failed or disappointed by him. Or that he can swoop in every once in a while and be adored by the kids despite his own failings in being there for Laura when she grew up.
So much of the humor of this movie is in Jones's eyes as Laura listens to people and fails to hide her feelings, realizing that the person isn't paying attention to her anyway. She spends so much of her life either rolling her eyes or half-assedly feigning interest in people's ramblings. Every day when dropping her daughter off at school she half-listens and nods her head to another mom (Jenny Slate, VENOM)'s rapid fire monologue about her dating life drama and feelings – really funny shit that I wonder if Slate improvised. I love the dynamic of Slate's character being so convinced Laura has been dying to hear all about this while Laura keeps looking around trying to figure out when she can escape. It's so ridiculous and yet so relatable.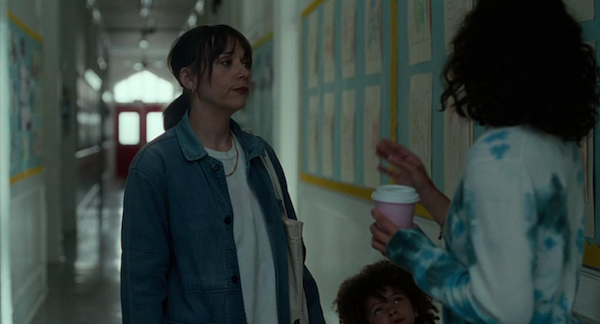 But the movie is primarily about her relationship with her dad, and with him it's a different look that's about 90% annoyance and 10% being begrudgingly charmed. Her sister (Juliana Canfield, THE ASSISTANT) questions how she can stand to have him in her life, and that latter portion is part of the answer. And we get it more than her sister because we're watching a movie and that's Bill Murray, and that's how most of his characters are – we know he's an asshole but also he makes us laugh and want to hug him.
So she can roll her eyes at him knowing every waiter by name or using ballet knowledge to flirt with the kids' dance instructor or getting pulled over for his reckless driving and then talking to the cop about his father and grandfather and getting out of it. And we understand why she both knows it's funny and wants to fucking strangle him. Sometimes it's just because he's this art dealer and schmoozer so he knows people all over the city, but he can even go far away and do it. There's a scene where she arrives at the bar at an outdoor beach resort in Mexico only to find her dad goofily singing "Mexicali Rose" with guitar accompaniment and a small, enraptured audience. She stands and watches long enough for her look of horror to melt into an actual smile.
But part of the journey of the movie is getting to a place where she can (EMOTIONAL SPOILER) unleash on him about all the ways he hurts her, the things his charm has protected him from, a sort of FIRST BLOOD climax where maybe nothing is solved or changed but at least something is exorcised by her finally being able to voice it.
Coppola's movies often have what seems like an autobiographical component to them. She's been married for ten years to Thomas Mars, the singer for the band Phoenix, who provided the score to the movie. I'm sure it's easy to jump to conclusions when your spouse is a rock star on tour. You could also imagine having a dad who directed THE GODFATHER, CAPTAIN EO, etc. could be like having Felix for a dad, but her parents have been married for almost 60 years! So I doubt it's too much about ol' Francis Ford. But it feels very true.
Another thing I really like about this movie is that (BIG ASS ENDING SPOILERS) she ultimately finds out that it actually was a misunderstanding, she should've fuckin talked to him about it and it would've been all right. And she has to kinda eat shit/face the music when he realizes not only all the ridiculous shit she did spying on him, but the fact that she thought that about him. He's rightfully upset about it, but also forgives her. It's a movie that's honest about complicated familial relationships (particularly father-daughter), but it's not cynical about love or marriage.
I love most of Sofia Coppola's movies, so I'm not surprised I loved this one too. I hope being exclusive to, like, the fourth or fifth place streaming service for so long doesn't keep this out of reach for most people. I'm glad they figured out some people like their movies round.
This entry was posted on Wednesday, November 3rd, 2021 at 9:51 am and is filed under
Comedy/Laffs
,
Reviews
. You can follow any responses to this entry through the
RSS 2.0
feed. You can skip to the end and leave a response. Pinging is currently not allowed.