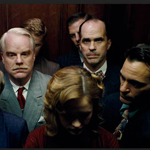 As I start writing this I haven't read any reviews or comments on THE MASTER yet, but I'm betting there's alot of this:
1. It's a masterpiece, if you don't get it you're dumb, why don't you go see some mainstream movie like whatever that one movie is called, the one that you like, I don't know the name because I don't watch that kind of crap or know what it is
2. It's pretentious nonsense that is pretentious, if you like it it's Emperor's New Clothes. It's totally meaningless. Boring. The critics! Fuck!!!!!
Probly heavier on #2.
I would like to propose a third view, which is B. Kind of in the middle of the two. But in a separate column I think.