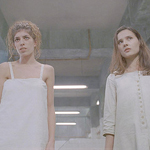 a.k.a. SAINT ANGE
When I watched THE TALL MAN recently I thought it was writer/director Pascal Laugier's first English language picture. Turns out his one feature before MARTYRS was also in English. Coincidentally this was produced by Christophe Gans, whose CRYING FREEMAN I reviewed recently too. Laugier was apparently Gans's assistant, and director of the BROTHERHOOD OF THE WOLF making-of documentaries. (I wonder what kind of crazy unpredictable plot turns those had?) I guess he also appears in the movie itself, playing the assistant to Machemort, whoever that is. I wonder if he's friends with Mark Dacascos?
HOUSE OF VOICES isn't bad, but it's the normal horror movie Laugier had to make before figuring out how to slice the genre's face off and wear it as a mask. It's the learning-the-rules-before-breaking-them part of his career. It's got many familiar elements: period piece in proximity to a war, big dilapidated building where something bad happened, innocent sounds of children used in spooky context, people talking in English with European accents, pretty young newcomer trying to uncover horrible secrets, older woman hiding the truth who speaks in her mother tongue so you don't know what she's talking about, something supernatural going on inside or behind the mirrors… It's basically in the same subgenre as THE DEVIL'S BACKBONE and THE OTHERS, although not as good as either of those.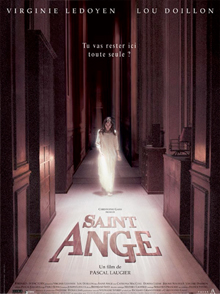 Virginie Ledoyen plays Anna, the new employee at the abandoned orphanage Saint Ange. I'm not really clear why they still have a couple people there cleaning dishes other than that there's one orphan left, a big-toothed adult woman named Judith (Lou Doillon) who's crazy but friendly.
Anna starts to notice strange things around the orphanage, so she starts snooping. Something bad happened here – not just the prologue where a kid fell to his death, but something during the war where a whole bunch of kids were dropped off here and there weren't enough doctors to take care of them. She finds artifacts, photos, files, she tries to ask about it, but the women who were there don't want to talk about it and get mad that she's asking.
Because of some of the ghost movies I've seen, and Laugier's penchant for unexpected turns, my mind kept looking for tricks. Her boss Helenka says, "I see you met Judith," I'm thinking oh, Judith is actually a ghost and Helenka is just joking around and doesn't know that Anna really sees her. But don't worry, it's nothing like that. (OR IS IT?) (Keep you on your toes.)
The more unique touches are mostly subtle. I like how the prologue seems to show definitive proof of ghostly activities, but the kids in the scene don't actually see it, and a little boy falls not from the ghosts themselves but (as far as we know) from being startled by lightning. So it's like the haunting is almost irrelevant.
I like how we identify with the girl but she starts to get kinda crazy in her quest to uncover the secrets of the past. She seems to almost delight in causing further trauma for Judith, and "finding the truth" seems to mostly mean making Helenka relive a horribly traumatic tragedy from her past. (And at the end SPOILER didn't we find out that Anna actually killed the cats? I didn't get that. Maybe I missed something.) That's one hint of the Laugier that will be – a fondness for playing with the language of cinema to mess with you, making you identify with a character for a long time before making you wonder if maybe you're on the wrong team.
I kinda liked HOUSE OF VOICES, but wouldn't really recommend it except for completists trying to see where this MARTYRS/TALL MAN guy came from. According to this interview Laugier felt the movie "was not understood or liked" and it created an anger that led to him making MARTYRS. So it was a necessary step. I'm glad he took it.