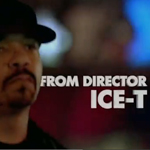 "The Art of Rap is the first Ice-T film." –first line in Ice-T's first film The Art of Rap

Some of you may know Ice-T as a kangaroo man from TANK GIRL, or a Lo-Tek in JOHNNY MNEMONIC. Some may know him for his appearances in whichever Law & Order crime drama it is. For others he's the guy for some reason you always confuse with Ice Cube even though they look and sound totally different from each other. But you may have also heard that before all that he was a pioneering west coast rapper. I still bust out his albums Power and O.G. – Original Gangster every once in a while, and they hold up well.

Well, now Ice-T is also a documentarian. He says he got tired of how interviewers always ask him about money and girls and cars and feuds but never about lyrics. So he decided to make a movie where he just interviews rappers about "the art of rap." He narrates and appears on camera in conversation with various rappers, mostly legendary ones. It's not a history of the music, or even of each career. It's rappers talking about how they write, what inspired them to start, what rhymes they love from other rappers, what "wack" means to them, stuff like that. "This isn't a game, this is the art of rap," Ice says near the beginning and again at the end. I like that, because so many rappers (including Ice) always refer to rap as "the game" and talk about it like it's a sport. I like that he's acknowledging that it's an art.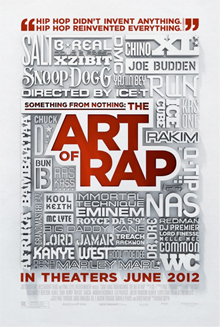 The first guy he talks to is Lord Jamar from Brand Nubian. At first I thought it was an odd choice, but it ends up being one of the best interviews. He even accidentally makes up the "Something From Nothing" part of the movie's title. (I like to think the double title is in the tradition of Ice's third album, The Iceberg / Freedom of Speech… Just Watch What You Say. He couldn't decide between two titles so he used them both.)
Jamar laughs about his first failed attempt to rhyme to an instrumental of "The Breaks" and gets Ice reciting old rhymes from a group he had called "The EPA – Eliminators Pimpin' Association." He also makes a good point about how it used to be more common for young black people to play instruments before budgets started getting cut from the schools. Then some people figured out a way to make turntables into an instrument, to the point where they exist today more for that use than for the original one.
There are some questions that Ice seems to ask all of his subjects, but he doesn't then edit them together and jump between interviews to draw parallels. It's done more like a road trip with Ice interviewing a bunch of rappers in New York, then Eminem in Detroit, then everybody else in L.A. (I guess movies have brought alot of East Coasters to California: MC Lyte, Common, Kool Moe Dee.) To make it comfortable he talks only to people he's friends with and in their homes or studios. Doug E. Fresh does his in a soul food restaurant he owns. That's one of the best. He beatboxes, recites favorite rhymes by Kool Moe Dee, brilliantly describes the differences in rappers' lyrical styles.
It would be cool if in just one of these interviews Munch was there too asking a couple of the questions.
In between there's all kinds of nice digital footage of the cities, mostly helicopter shots of the buildings. It visually emphasizes the importance of regions and environments to hip hop. Ice also leaves in a little bit of the making-the-movie shit: he gets annoyed by people walking into the shot while he's interviewing Q Tip on a street corner, Ras Kass helps him get in touch with Xzibit, etc.
One thing I love is when he gets them to recite favorite rhymes from other rappers. I wish he could've included more, but I'm sure they didn't want to go broke on the publishing. Alot of times it's a song Ice loves too, and he'll smile and join in. In the case of Immortal Technique it's Ice's own "New Jack Hustler," and you can tell he's flattered.
They also do freestyles or verses from their own songs, always acapella. To me that never sounds as good, because a big part of rhyming is interacting with the beat, but it fits Ice's mission of shining the spotlight on the words rather than the sound. In his interview with Pepa they talk in horror about people (including their own spouses) who say "I don't listen to the lyrics."
I kinda wish they got more technical about it, but at its best the interviews really do get into the art, or at least the craft. Rakim explains how he literally graphs out his rhymes. Ice asks Eminem about his complex rhyme structures: "Do they come complicated, or do you complicate them?" Some talk about keeping rhymes in their head, others make fun of that idea. We see lyric sheets laid out in front of some of them. Chuck D's are typed up and show his background in design. We even get to see a couple of them sit quietly writing down lyrics, mouthing lines to themselves as they work them out.
I don't think this is really accessible enough to recommend to non-rap people, but all the better for the rest of us. There are so many highlights: Nas launching into en epic in-character rant about people who resent rappers, KRS lecturing about the pitfalls of asking the audience to say "ho" before winning them over with rhymes, Ice admitting to faking microphone troubles when he forgets a lyric, Chuck D talking about being heckled by the one and only Melle Mel.
Many old school legends are highlighted, including Afrika Bambaata, Melle Mel, Grandmaster Caz, Run DMC, Kool Keith, Rakim, Big Daddy Kane. It's interesting to see how they've all aged. Kool Moe Dee got pretty fat, but he's earned it. Dre, if you haven't heard, turned into a muscleman.
Some of them I think prove that they still have it. Ice Cube kind of seems like an ex-rapper these days, and when I saw him live a year or two ago I was horribly disappointed. But the verse he spits here shows that that brain that wrote all those classic rhymes for himself and Eazy E is still in shape. Caz, best known as an uncredited writer of "Rapper's Delight," gets maybe more screen time than anyone and shows off some great lyricism. But it made me uncomfortable that his freestyle used the n-word at the end of every rhyme. I had to turn it down so the neighbors don't hear it. #whitepeopleproblems
(Note: Ice-T's song "Straight Up Nigga," co-written by Melle Mel, might use the word even more times. This is probly Ice getting stuck in the middle of an ongoing battle between pioneers.)
Busy Bee is only on the extras. Biz Markie and LL Cool J are suspicously MIA. Of the newer people, I'm surprised he didn't get Jay-Z on there, but maybe he doesn't know him very well. And he's been in a couple docs already. Raekwon is the only Wu-Tanger in the movie, which is weird. I think Ghostface and GZA are some of the best lyricists and could offer unique insights. Maybe he'll make a part 2. "The Art of Rap 2 is the second Ice-T film."
But it's okay that not everybody's on there because the one big problem with the movie is that there are so many people interviewed that none of them are very in-depth, almost all of them seem way too short. Speaking of which, Too Short himself was cut entirely out of the movie, but is seen in some outtakes included on the DVD. Some of those are pretty good. I liked the part where Ice-T and Ice Cube talk about their methods – T sits down for a couple hours to write a rap, then has to immediately go to the studio to record it. Cube likes to write the first two verses, then let it "marinate" before he writes the third verse so he can end as strong as possible. Ice talks to King Tee (who is very humble about Notorious B.I.G. citing him as an influence) and Tash of the Alkaholiks (whose mom calls him during the interview and he puts her on speaker phone to tease her about when she had a crush on Ice-T).
This is not a masterpiece of documentarianism, but it's a valuable addition to the slowly expanding library of hip hop docs, and I hope Ice-T will continue directing and getting better. Alot of people probly assume that SOMETHING FROM NOTHING is Ice's second documentary, after ICE-T'S PIMPIN' 101:
but he didn't actually direct that one, that was directed by Tony Diablo. Still, since he's done one about pimping and one about rapping you gotta assume the next one will be about the kangaroos in TANK GIRL. So I look forward to it. And I ain't got no reason to lie to you.
note: at the end, before any credits, there's an "RIP" list of deceased rappers. Before you're like me and get surprised to see Malik B on there let me assure you that I looked it up and the Malik B who is an on-again-off-again founding member of The Roots is still alive.
And I didn't see Rammelzee on there.
This entry was posted on Wednesday, September 19th, 2012 at 2:26 am and is filed under
Documentary
,
Music
,
Reviews
. You can follow any responses to this entry through the
RSS 2.0
feed. You can skip to the end and leave a response. Pinging is currently not allowed.