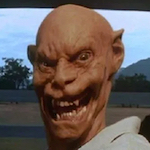 A rare movie-watching phenomenon that I love: rewatching one I saw decades ago, and have always believed sucked, but discovering that I really like it now. It happened with THE MANGLER, Tobe Hooper's crazy adaptation of a Stephen King short story, and it's happened again with SLEEPWALKERS, the first movie written by King that's not based on a previously published work. Maybe it's something about King's stories, but more likely it's that my tastes in horror have evolved since I was a teenager and saw this in the theater.
The mythological premise is established with a little text at the beginning: there are these fuckers called sleepwalkers, they are nomadic shapeshifters who are like vampires but instead of blood they suck the lifeforce of "virginal females," and instead of sun or garlic or whatever they're susceptible to cat scratches.
It's a Stephen King thing. Just go with it. (read the rest of this shit…)
VERN has a new action-horror novel out called WORM ON A HOOK! He has been reviewing movies since 1999 and is the author of the film criticism books Seagalogy: A Study of the Ass-Kicking Films of Steven Seagal and Yippee Ki-Yay Moviegoer!: Writings on Bruce Willis, Badass Cinema and Other Important Topics as well as the crime novel Niketown.