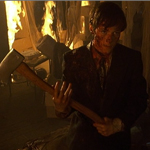 Many horror movies, maybe even most, teach us that no matter what life throws at us, we can get through it. We can survive. Some of us. Hopefully. Most of the time.
But the practice of sequelizing in horror has taught us the more pessimistic lesson that in the long run shit really doesn't get better. Maybe for a minute it does after the bad things happen and then the evil leaves for a while. But a couple years later maybe some new people come along and the evil comes back and does the bad things to them. And usually not as cool as the first time. The shriveling circle of death.
And so it is with PET SEMATARY II*. Released in 1992, three years after the first one, it's once again directed by Mary Lambert (MEGA PYTHON VS. GATOROID), with new screenwriter Richard Outten (JOURNEY 2: THE MYSTERIOUS ISLAND, uncredited rewrites on GREMLINS 2: THE NEW BATCH) and no Stephen King book to base it on.
*VERY IMPORTANT TITLE NOTE: The posters and other advertising materials spelled it out as PET SEMATARY TWO, a rare practice that I'm a big fan of. However, I try to follow the rule of using the title shown on screen in the actual movie, which in this case uses the Roman numeral II.
The good news, though: Look at this fucking logo! The movie itself is fun but the logo is the best thing in it!