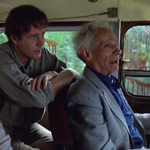 A RETURN TO SALEM'S LOT is Larry Cohen's weirdo theatrically-released sort-of-sequel to Tobe Hooper's TV mini-series of the Stephen King book. But really it just takes the location – the tiny town of Jerusalem's Lot, Maine – and the idea of doing a vampire story there. It's not the same vampire or the same type of vampire. It doesn't connect, from what I remember. But I like that.
Joe Weber (Cohen's muse Michael Moriarty) is an anthropologist working on a CANNIBAL HOLOCAUST type documentary when he finds he has to come home to look after his troublemaking teenage son Jeremy (one-time actor Ricky Addison Reed, who IMDb claims was cast to play Robin in Tim Burton's BATMAN in scenes that were never filmed). Joe brings his son to the old, recently-inherited fixer-upper in his birth-town of Salem's Lot (as some but not all abbreviate it).
The kid is that '80s archetype of the smug cool kid who's supposed to be real smooth and savvy – think Mackenzie Astin on The Facts of Life or Dennis Dugan in TOUGHEST MAN IN THE WORLD. He wears what Joe refers to as "designer clothes" (in other words, tries to dress like Miami Vice), helps outslime a used car salesman, un-self-consciously smokes and curses in front of his dad and drives him around even though he's too young to do it legally. And now he has to live in this backwards Mike Pence of a town where everybody seems one generation out from the Pilgrims. Trying to act streetwise in a place with dirt roads.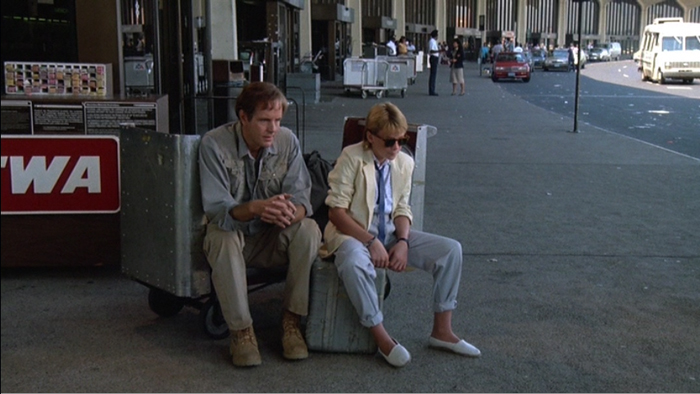 In the first one there was a guy who was a vampire. This time it's almost the whole town. All but the familiars (they call them "drones," but some consider that an offensive term) who protect their coffins during daylight. This comes out in a popular '80s horror movie way: a group of punk rocker types get pulled over driving through town, then attacked. This movie often plays with the image of harmless looking old folks swarming on people and biting them – and the extras seem to be having a great time. Later there's a scene where we see a grandma re-applying lipstick after sucking blood. But that first scene with them is taken to the next level because there's also a big blue bat monster watching from the bushes. He's like the Kareem Abdul Jabbar of vampires 'cause his hands are so big he can palm two human heads at a time.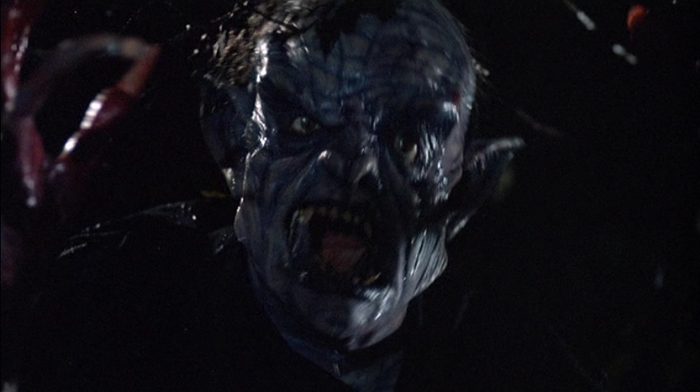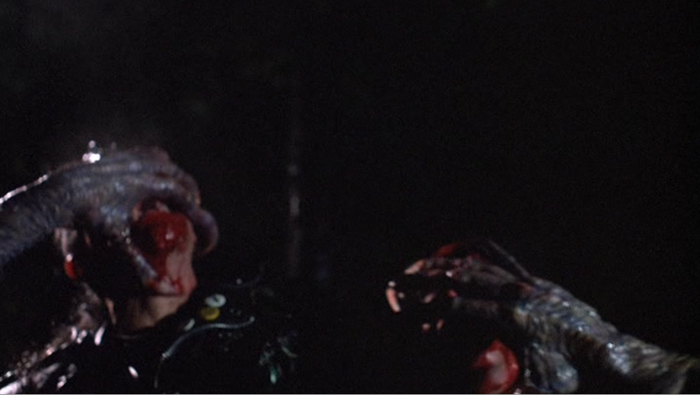 And it's not only the elderly swarming on motherfuckers in this town. There's also a scene with these two itinerant drunks at a campfire who get approached by some little girls. Disturbingly, they are happy to see the kids until some little boys show up. The situation quickly escalates into a killer kid movie, so we have a full cradle-to-the-grave range of vampirism on display here.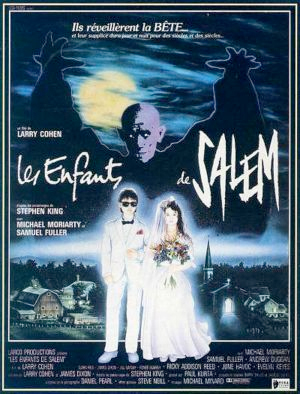 Anyway, one of the punks, Cathy (Katja Crosby, IT'S ALIVE III), gets away and runs to hide in the church, where Joe finds her and decides to help by bringing her to the Judge Axel (Andrew Duggan, LBJ in Cohen's THE PRIVATE FILES OF J. EDGAR HOOVER, Eisenhower in a different one called J. EDGAR HOOVER). It's pretty late but it seems like half the town is over at the judge's house, and they all get lured into the weird Salem's Lot town activities. Like, there's a little girl named Amanda (Tara Reid [JOSIE AND THE PUSSYCATS] in her first role) who Jeremy is immediately smitten with, and he goes with her to a wedding – between two other kids.
Meanwhile, Joe gets a tour. They're pretty open about their lifestyle, showing him that they have cows that they raise for blood because "now a days it's not good for you what with drugs, alcohol, hepatitis and this AIDS virus going around." They know about his work as an anthropologist, and they try to recruit him to write their Bible. After all, he did the movie about cannibals and he didn't try to interfere with what they were doing. And I mean, it's a pretty interesting gig, so he doesn't turn it down outright.
Also, you know, some of them seem like nice enough people. They wear pajamas and everything.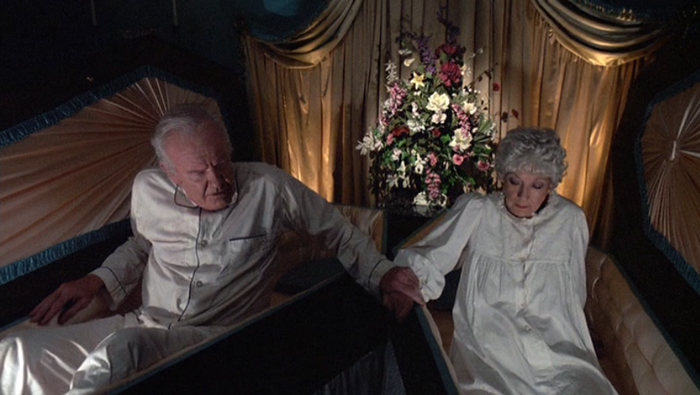 And there's this other thing. It turns out his teenage crush Sherry (Jill Gatsby, IT LIVES AGAIN, MANIAC COP, VAMPIRE'S KISS, CLASS OF 1999) is still here and also is still 17 because she got bit at that age. So, you know, she, uh, welcomes him. I think there's a hypnotic seduction type thing going on, but maybe he's just exhibiting the male weakness. Later he forbids Jeremy from going to the vampire classroom, but then leaves him behind to go have outdoor sex with his teen girlfriend.
It's weird seeing kids in a classroom at night, and also running around playing. But maybe you get used to it if you live there.
The movie gets real exciting when the great director Sam Fuller drives into town. He's lost, and Jeremy seems to think he's a pretty cool old man, and he invites him to stay at his house. He's actually in town to kill the judge, who he thinks is a Nazi. But when he finds out what's going on here he's pretty open to switching from Nazi hunter to vampire hunter. Before long there is a great sequence where the two of them run around in the daylight, going from house to house to pound stakes into the coffins.
When a drone cop catches them in the act and points a gun at them, Fuller suddenly screams and is pulled into coffin. But then it turns out he's faking it to set up this trick shot: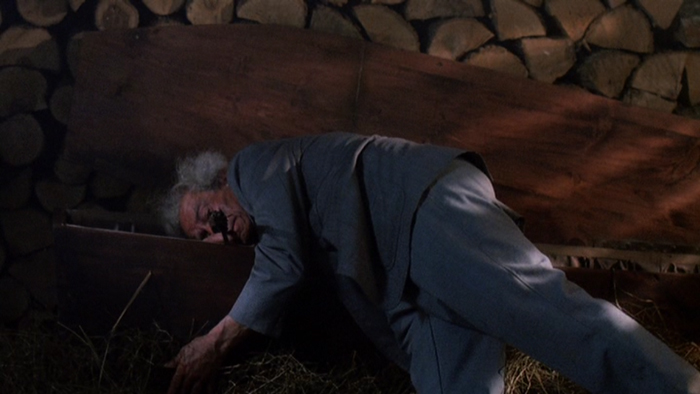 Most action heroes would have too much pride to do a silly fake out trick like that. Not the director of WHITE DOG. I love it.
There is some escalation. There are some good fire stunts. The judge turns into the bat monster and they have to fight it. Jeremy finds a pretty good weapon to use against him: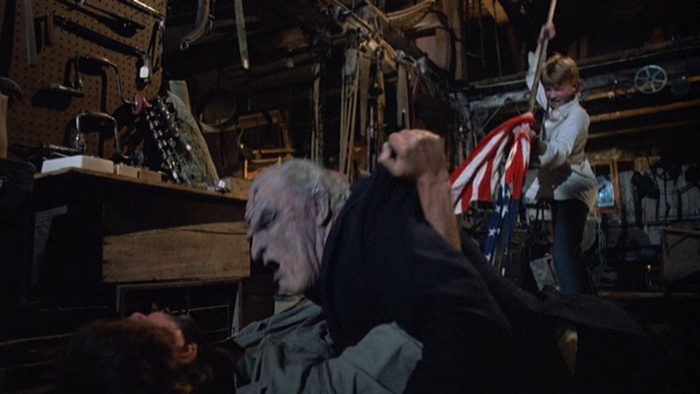 The vampire pulls the flag to his face as he shrivels up, catches fire, turns to ash and explodes. (SPOILER.)
In the end, our heroes drive away in a school bus, a swarm of vampires failing to stop them because of the sunrise. It's one of those nice moments where some characters smile in a way you can only smile if you have bonded by making it through some horrible monster or action related ordeal together. There had been some business I didn't mention with the son being tempted to become one of the vampires and stay a Don-Johnson-idolizing kid for all eternity. But now that he's met Samuel Fuller he knows it's cool to become an old man.
There's an odd little touch as they drive away – we see the bus pass a field of cows, and it honks. Like, "Hey guys, you don't have to have your blood sucked anymore." Or something.
For the most part it's a fairly standard, unremarkable looking movie, but there are a few really nice shots, like this one: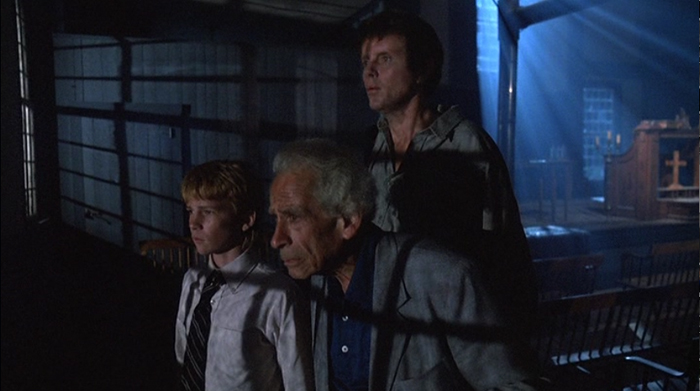 and especially this one: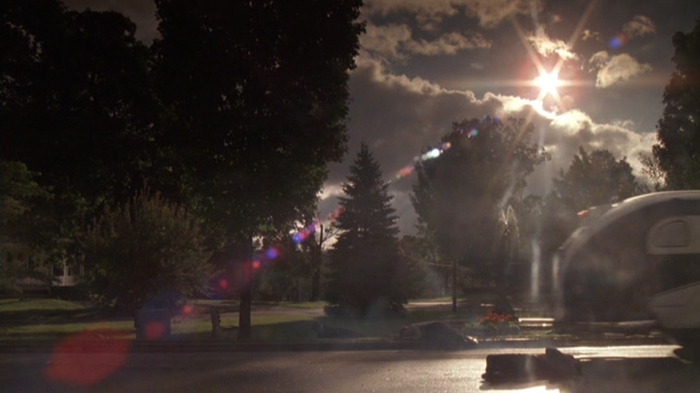 …that make alot of sense when you see the credit for director of photography Daniel Pearl, famous for the original TEXAS CHAIN SAW MASSACRE (and also the remake).
I recommend this goofy, little-known, hard-to-believe-it-happened sequel. Hat tip to the Shock Waves podcast, which convinced me to watch it on the episode where they interview Larry Cohen. He explains how he ended up making the movie and how he got Fuller to be in it, among other great stories. An absolute must listen episode if you enjoy Cohen.