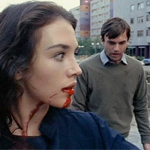 I've been meaning to see POSSESSION – the 1981 French/West German co-production from Polish director Andrzej Zulawski – for years. I've heard superlatives from its devotees, knowing little of its plot, just a description of its strange, arty vibe. But holy shit does it live up to the hype!
It's a crazy fuckin horror movie. It's a crazier fuckin relationship drama. Mark (Sam Neill right after OMEN III: THE FINAL CONFLICT) comes home to Berlin from a business trip, meets his wife Anna (Isabelle Adjani, THE DRIVER) outside their apartment, is frustrated that she hasn't made a decision yet. It seems things are not working, they don't know what to do, and are doing a bad job of faking it in front of their young son Bob (Michael Hogben). Anna is manic and indecisive, and Mark finds out she's been sleeping with some guy he doesn't know named Heinrich (Heinz Bennent, THE LOST HONOR OF KATHARINA BLUM). (read the rest of this shit…)
VERN has a new action-horror novel out called WORM ON A HOOK! He has been reviewing movies since 1999 and is the author of the film criticism books Seagalogy: A Study of the Ass-Kicking Films of Steven Seagal and Yippee Ki-Yay Moviegoer!: Writings on Bruce Willis, Badass Cinema and Other Important Topics as well as the crime novel Niketown.