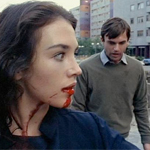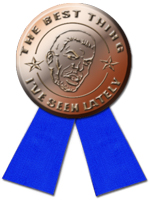 I've been meaning to see POSSESSION – the 1981 French/West German co-production from Polish director Andrzej Zulawski – for years. I've heard superlatives from its devotees, knowing little of its plot, just a description of its strange, arty vibe. But holy shit does it live up to the hype!
It's a crazy fuckin horror movie. It's a crazier fuckin relationship drama. Mark (Sam Neill right after OMEN III: THE FINAL CONFLICT) comes home to Berlin from a business trip, meets his wife Anna (Isabelle Adjani, THE DRIVER) outside their apartment, is frustrated that she hasn't made a decision yet. It seems things are not working, they don't know what to do, and are doing a bad job of faking it in front of their young son Bob (Michael Hogben). Anna is manic and indecisive, and Mark finds out she's been sleeping with some guy he doesn't know named Heinrich (Heinz Bennent, THE LOST HONOR OF KATHARINA BLUM).
Mark is understandably frustrated, angry, jealous, impatient. But he's far from blameless. He seems to have abandoned her for whatever his job is. (We later see that he's some sort of spy, which seems to only be there to make the story more weird until it becomes setup for a stretch where he does some crazy on-the-spot MacGyvering. Not that I need that set up.) He's quick to vindictively refuse to visit their son. When she hits him he hits back, repeatedly and hard, then chases her down the street with blood all over her nose and mouth. It's scary.
Their breakup is a feverish back and forth. Lashing out at her, then trying to make amends. Stepping up to take care of Bob when she starts disappearing, trying to track her down, talking to her friend Margit (Margit Carstensen, THE BITTER TEARS OF PETRA VON KANT). He finds Heinrich, who turns out to be a bizarre older man who lives with his mother (Johanna Hofer, VERONIKA VOSS), preaches some kind of free love and doesn't seem to even understand why Mark cares about the infidelity. During their first face-to-face confrontation he practically makes a pass at Mark, then does some weird modern dance martial art on him.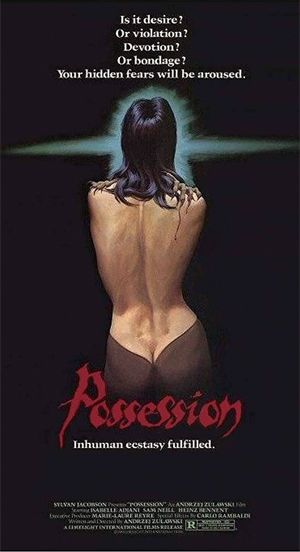 For 45 minutes it's this stuff, this heightened, surreal marital spat, which is engrossing on its own. But the opening credits made a strategic promise: creature by Carlo Rambaldi. (This was probly right before he did E.T.!) So we wait for it, wondering how the fuck a creature is gonna fit into all this. When we finally see it it's still shocking.
By this point Mark has hired a private detective (Carl Duering, A CLOCKWORK ORANGE) to spy on Anna in her new apartment. The p.i. pretends to be a building inspector and "checks the windows" in every room, thinking she must have a boyfriend in one of them. And I guess she does, if The Creature can be considered a boyfriend. We see it from outside a dimly lit room as we look in through the doorway. It feels like something we're not supposed to be seeing. And we're not quite sure what exactly it is we're looking at. Our eyes don't believe it.
The best scene is the next day, when the detective has disappeared, so his boss (Shaun Lawton, CLOUD ATLAS) goes looking for him. He tries the same inspector shtick, and Anna doesn't bother to try to hide it this time, just tells him "He's in there." And he walks in and sees it laying on the bed – a gooey blob with squid-like tentacles, glistening in slime and blood, vaguely almost sort of human shaped, writhing hornily.
"He's very tired," Anna explains. "He was making love to me all night."
Even before it starts getting really nuts, there always seems to be something odd going on in every scene to keep it from being boring, or to make it feel a little off. Like when Mark goes to hire the detective he goes into his office and sits down in the chair and starts swiveling it right and left as he talks. At first it seems like the nervous energy of a guy who can't believe he's hiring somebody to spy on his wife. But he keeps doing it until it becomes the focus of the scene.
In another one they have an intense talk, and she answers his questions with nods, but she never faces him, and is using a loud electric knife and meat grinder the entire time. Then she suddenly slices her own neck with the knife, and he knocks it out of her hand and drags her into the bathroom to bandage her and talk her down. Then he goes back into the kitchen and makes three small slices in his arm with the same knife. When things have calmed down they talk again and he's sitting in Bob's tiny chair at his tiny desk.
I mean, you talk about having too much drama in your relationships! This is pure undiluted maximum drama drops straight into your eyeballs. Fights, fits, screaming, self mutilation, cheating, leaving, disappearing, shacking up, abuse. The kind of couple that meets in a restaurant and sits at separate tables around a corner with their backs turned as they talk and they still end up chasing each other around the place screaming and throwing furniture and the kitchen staff has to turn into bouncers. Causing a scene in my opinion. Not as much as if she brought her tentacle toy in there, of course. Who knows what kind of inappropriate PDA they'd be making?
Neill is outstanding, but Adjani is otherworldly, carefully ratcheting the full range from natural to mega like Nic Cage in MATCHSTICK MEN or FACE/OFF. It's a dual role too, by the way, but that has nothing to do with what makes it so impressive. There's one single scene that obliterates the entire filmographies of most normal human actresses. In a sequence of long takes she walks alone in a subway terminal, upset, then shaking, then spasming, then completely flipping out, spinning and slapping against the wall, smashing her grocery bag against it, splattering an unbelievable amount of eggs, cream and yogurt and shit that she smears and then collapses and rolls and slides around in, jerking madly, screaming and whimpering, until she's sitting on the ground, a river of goo pouring from between her legs, some monstrous miscarriage.
(Luckily no other commuters ever walk past her during this. That would be awkward for everybody.)
POSSESSION is some kind of deranged masterpiece – relatable, horrendous, deeply uncomfortable, bizarre, hilarious, tragic, cynical, unlike anything I've ever seen, or thought of seeing. It's amazing. Bring a date.