With THE LAST STAND, Arnold Schwarzenegger officially kicks off his Old Man Period, sort of following the Clint Eastwood precedent. And I'm all for it. Alot of people love nothing more than shaming actors, especially action stars, for failing to conquer time and science, and instead succumbing to the biological changes that occur as a result of human aging. They love jokes about John McClane on a walker or Rambo wearing Depends. Ha ha, I bet when you were Mr. Universe you never guessed that your cells would change in tandem with the passage of time and you would end up with a different physicality that would lead to new health challenges! Serves ya right, grandpa! (And when I say "grandpa" I use it in the sense of "old men are the worst thing there is" and not in reference to my actual grandfather, who we call "Pa-Pa.")
Of course, real fans of Badass Cinema put Lee Marvin, Charles Bronson and Clint Eastwood on a pedestal. We know that a mug with some miles on it always trumps a babyface. Grizzled veteran beats young hotshot in pretty much all cases except maybe Bruce Lee. So we welcome Old Man Arnold.

In THE LAST STAND it's just an acknowledgment that he's aged, it's not a theme of the movie like Clint's IN THE LINE OF FIRE or BLOODWORK. He plays Ray, who enjoys being sheriff of quiet Sommerton, Arizona after an action-packed career in L.A. that he left after a big shooting incident. That's not a theme either, just something we hear about in a Just How Badass Is He? speech by Forest Whitaker.
Old Man Arnold is still a muscle man and a skilled user of many guns. I think the difference is he can get knocked down and then when he gets back up he groans a little. Also he wears boat shoes in one part. Otherwise he has the same powers as Young Arnold. He could still take most people. The only reason this villain has a shot is because he knows Brazilian Jiu-Jitsu. But that would've worked on Conan too. Barbarians didn't know the counter moves to that shit.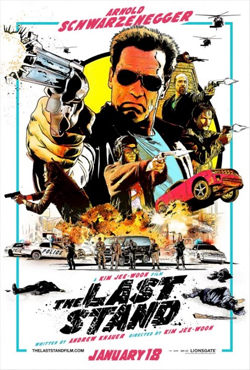 The plot is like a western. An outlaw (Mexican druglord Cortez, played by Eduardo Noriega) has busted out and is headed for the border. The marshall (FBI agent John Bannister, played by Forest Whitaker) who's after him calls ahead to warn the sheriff what might be headed his way. The town is mostly empty (big football weekend) so the sheriff takes his three deputies (Jaimie Alexander, Luis Guzman, Zach Gilford) and deputizes two more (jailed war vet Rodrigo Santoro, "funny" gun collector Johnny Knoxville) and tries to block off access to the border. But first the outlaw's men come to town and shoot everybody, the townspeople get involved, etc.
Always a worthy set up, but it's the touches of modern ridiculousness that I like best. Cortez's initial escape involves a giant magnet. His getaway vehicle is a super-powered Corvette stolen from an auto show that goes so fast it's mistaken for a low flying jet. We learn that in addition to being a cartel leader he is an experienced race car driver. There is a semi truck with a bulldozer attachment used to clear a roadblock for him.
Luckily Schwarzenegger's jokes in THE EXPENDABLES 2 were so bad that the broad comedy in this one is semi-forgivable. There was one guy out of the 7 in my theater who thought it was hilarious when an old lady wearing a bonnet pulled out a shotgun. Get it? Because old ladies aren't supposed to have shotguns, that's why it's funny. The unexpected and what not. Kind of an homage to that lady from POLICE ACADEMY 4 I guess.
I like Johnny Knoxville, and I don't remember him being terrible in The Rock's version of WALKING TALL, but here the whole joke is that he wears funny hats and pajama pants and loves shooting giant guns. At some points it seems like he's maybe supposed to be mildly retarded, but probly not. It's kind of an inopportune time to try to bring back the '80s "people loving giant guns is hilarious!" thing, but it comes off as more dumb than offensive. And I guess it leads to some decent shoot outs. The over-the-topness of the action (Ray's PREDATOR style helicopter gun in the back of a schoolbus) is most of the appeal.
For the most part the tone is what I look for in a non-TERMINATOR Arnold movie: purposely ludicrous but straight-faced. I like the part where Ray and Cortez are in a Camaro and a Corvette, hidden in a cornfield and can't see that they're only a few feet from each other. Ray starts driving very slowly, like he's tip-toeing. Later he drives slowly again, with a prisoner chained up to the back, just like if he was riding a horse.
In one scene it almost seems like the villain is gonna have a sex-scene-during-high-speed-chase, which might've been the first since Adam Rifkin's THE CHASE, but it doesn't happen. Instead there's the traditional villain-mistreats-his-woman-to-show-how-evil-he-is, which complements the aforementioned Just How Badass Is He? scene.
My favorite supporting character is Peter Stormare as Burrell, Cortez's right hand man who comes into town and kills a bunch of people to prepare for his boss's arrival. What I love is that he talks in his usual thick accent but I'm pretty sure he's trying to play a redneck. He wears cowboy clothes and I swear there are a couple points where he's attempting some sort of drawl. Good shit.
There's an appearance by Harrry Dean Stanton (FIRE DOWN BELOW), possibly playing the same character from THE AVENGERS. The best cameo has gotta be Sonny Landham, but I didn't even realize it was him at the time. If you see it, I guess he's the asshole who has his car parked in the fire zone at the beginning. [UPDATE: Or that's what somebody said. Where is he? He's supposedly in there somewhere.]
The climactic fight is pretty good, despite too many closeups and obvious green screened background. I don' t know, I like the idea of these two all by themselves in the location where they are, and of Arnold really having to use his brute strength on the guy, not just guns.
I still like seeing Schwarzenegger on screen, and he seems more invested here than in his EXPENDABLES appearances, but I hope he has better characters still in him. He does pretty good, but not a Clint level of humanity or a younger Arnold level of badass iconography. He's part way there, I think. I have faith in him. In fact this is kind of a step up for him in my opinion. I know he's been away from movies during his governorhood, but if you look at what he was doing beforehand, this is better than most of them. I'd say it's probly more fun than ERASER, definitely way better than COLLATERAL DAMAGE. I don't even remember if I've seen THE SIXTH DAY, so I'll have to abstain on that one. And it's probly not fair to include BATMAN AND ROBIN. TERMINATOR 3 I like better but this has the advantage of not having to live up to the real TERMINATOR movies.
On the other hand it's a big step down for the director, Kim Je-Woon. After loving I SAW THE DEVIL and BITTERSWEET LIFE I had high hopes for him working with Schwarzenegger. I figured this wouldn't have the emotional and thematic heft of his South Korean work (it definitely doesn't), but I hoped he'd be able to bring Hollywood his pure cinematism. Those movies have crisp, clear action sequences, strong atmosphere, and they make the pretty boy actor Byung-hun Lee into a classic stoic asskicker. If Jee-Woon could've applied that style of action to this movie, that type of characterization to Arnold, and that quality of visuals to the Arizona desert, this could've been a spectacular movie. But it doesn't seem like he was able to translate much of his talent to the Hollywood filmmaking system. I don't think I could've guessed from this movie that the director had made anything great before. I think maybe this is his BROKEN ARROW.
For that reason maybe it's for the best that this thing pathetically opened in ninth place at the U.S. box office, three slots below a found footage farting ghost comedy in its second week. At first this was disappointing news to an action fan that still thinks of Schwarzenegger as one of the biggest movie stars in the world, and who would like to see him keep making different types of movies and working with interesting directors, not just making unwanted TERMINATOR sequels. But if the trade off is that Jee-Woon will keep making great movies in Korea and not wasting his time here than there will be a plus side to the deal. Plus, Arnold's already got a couple other ones in the can. The fuckers can't pull the plug on him yet. He'll be back.
.

(That is a reference to the movie THE TERMINATOR starring Arnold Schwarzenegger, also he used the line in like 4 or 5 other movies also, that is why I said that line at the end.)