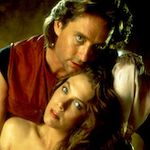 I don't think I've seen ROMANCING THE STONE since the '80s. I've been curious to rewatch it forever because it's one of those things that was huge at the time that hasn't survived as much in the cultural memory as other things. Like, maybe I didn't study the crowd scenes enough, but I didn't notice Kathleen Turner's character Joan Wilder in READY PLAYER ONE. I suppose because this appealed a little more to the parents of the kids now in charge of the world's nostalgia. But it's directed by Robert Zemeckis, who I tend to like, so when I heard that my friends at the podcast The Suspense Is Killing Us were doing a Patreon bonus episode about the ROMANCING THE STONE/JEWEL OF THE NILE duology it prompted me to finally get to it.
Kathleen Turner (who'd only been in BODY HEAT and THE MAN WITH TWO BRAINS previously) stars as Joan Wilder, Waldenbooks Romance Author of the Year winning author of Love's Wicked Kiss, who we meet just as she's completing her latest novel, as depicted through a re-enactment with her first person voiceover. She imagines her heroine Angelina as March 1981 Playboy Playmate of the Month Kymberly Herrin (GHOSTBUSTERS blowjob ghost, BEVERLY HILLS COP II, ROAD HOUSE, ZZ Top "Legs" video), but our glimpses of the rugged hero who rescues her look suspiciously like Michael Douglas. (read the rest of this shit…)
VERN has a new action-horror novel out called WORM ON A HOOK! He has been reviewing movies since 1999 and is the author of the film criticism books Seagalogy: A Study of the Ass-Kicking Films of Steven Seagal and Yippee Ki-Yay Moviegoer!: Writings on Bruce Willis, Badass Cinema and Other Important Topics as well as the crime novel Niketown.