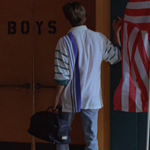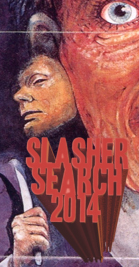 "Shouldn't you be bouncing a ball somewhere?"
CUTTING CLASS is the slasher movie starring Brad Pitt. It's one of his first couple movies, so I figured he would just be a supporting character, like, smaller than Johnny Depp in A NIGHTMARE ON ELM STREET. But he's actually one of the three leads. There's Final Girl Paula (Jill Schoelen) and two serious suspects for a series of murders that are going on around her school: her jock boyfriend Dwight (Pitt) or Dwight's childhood best friend Brian (Donovan Leitch, THE BLOB), who was just released from a mental hospital after being blamed for the murder of his father. The movie does a good job of leading you back and forth about which one of these guys is the killer. Or if you want you can go ahead and believe the parts where the creepy janitor (Robert Glaudini, writer of the one movie Philip Seymour Hoffman directed, JACK GOES BOATING) acts suspicious.
And just a quick note on that topic: I know this is supposed to be a cool pose to do with a pool stick, but who the fuck does it with a dirty mop?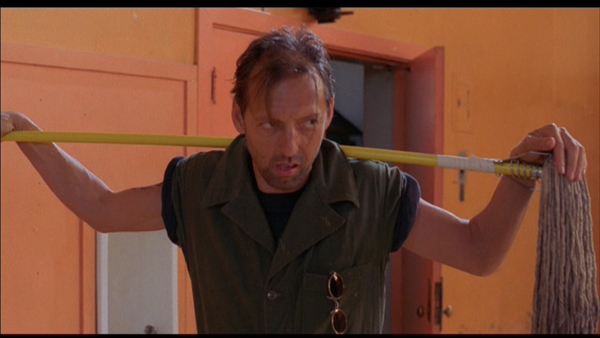 I'm sorry, but it doesn't look that cool, man.
The first victim is Paula's father (Martin Mull), who was the district attorney who got Brian locked up. He goes on a hunting trip at the beginning and gets hit with an arrow, so it seems like he's the Janet Leigh. But then the arrow doesn't kill him, and he spends the whole movie not far away, knowing who the killer is and slowly crawling back to civilization where he can tell somebody. This is played darkly humorous. At one point bloodhounds search the same field for who the police believe is the killer, and a dog comes across dad but doesn't get him help. A science teacher leading his class on a field trip actually steps on him without noticing him. And Mull isn't exactly playing it straight, so it's got that weird "this is mostly straight horror, but there is some comedy" mix that they did more in the '80s.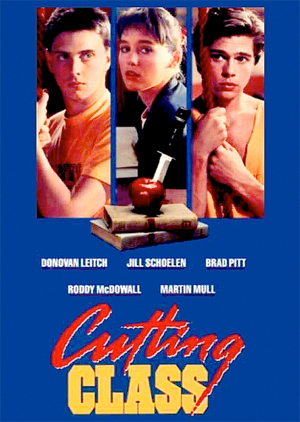 It's not about the gore, like a FRIDAY THE 13TH. It kinda feels more influenced by the high school movies of the era than by the slashers, focusing on this girl having mixed feelings about two guys and about the broken friendship between them. But there are variations on the classic slasher themes. Like Laurie in HALLOWEEN, Paula is the responsible girl in her group of friends. She works with the teachers and is trusted with keys to the building. She also denies Dwight sex, so there's that virgin idea that SCREAM popularized. But she's not necessarily a virgin, she just tells him she won't do it until his grades improve.
She's a very nice girl, who wants to help these boys, even when she thinks they're the killer. She's a little bit passive for a Final Girl, because nobody even knows about the murders until almost an hour into the movie, but she does uncover a little bit of information and starts questioning what's going on.
And then there's murders and then she gets chased through the school and she discovers that some of her friends are dead when their bodies fall out of a closet. You know how it is. Weirdly she's terrorized by rock music being played over the intercom into the specific rooms as she enters them. I say weirdly because I don't know how the killer knows.
It's all school related terror, so they try to use things they learned in chemistry, or the math teacher has to answer a story problem or get an ax to the face, stuff like that. The climax takes place in the auto shop, with a pretty elaborate power tool fight. This scene is well done and could fit into an action movie just as well as a horror. It's the second movie I've watched in a row where a guy gets his head stuck in a vise, but this is the better one.
Another classic slasher theme is voyeurism, the thing of having innocent scenes going on and then a dude is creepily standing there watching from across the street or through a window or in the shadows. Usually the dude is Brian, either because he's stalking them or because he's a weirdo who correctly believes people are talking about him and suspecting him of murder.
Jesus, you talk about the male gaze, this is all about it. The camera definitely participates in the usual way, for example one locker room scene is viewed through a window and begins with a girl's boobs hanging right in front of the window. And the characters participate: the best friend purposely takes off her panties before cheerleading. Some nerds in the crowd, the principal, and her boyfriend beneath the bleachers when she sits down all enjoy the view.
But it's also a theme that the men, especially the adults, are all perverts. The principal (Roddy McDowall) not only hand delivers Paula her new cheerleader uniform and lustily tells her he looks forward to seeing her in it, he also puts it on the floor, makes her bend over to pick it up, and looks up her skirt when she does it. (I mean, how do you even justify putting it on the floor?) The art teacher uses her as a figure model and finds excuses to touch her when explaining musculature to the class. The gym teacher leans right up against her when helping her in archery. During the climax, when she's running through the school when it's closed, the math teacher runs into her and for some reason says "Paula! This is a dangerous place for a pretty girl like you." What the hell does that even mean? Why would it be dangerous in the school, and why more so for a pretty girl?
And there's the scene where she's in her panties bent over the bath tub washing her hair, and someone sneaks up on her. We're supposed to worry it's the killer but we have a pretty good idea it's an innocent kid coming to ask for her help. Still, we watch a long shot of the shadows of his hands making their way across the light beam on the floor, then up her back. The shapes of hands fondling her soapy, wet flesh.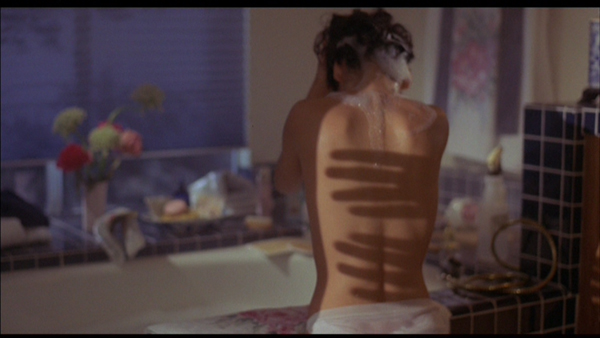 Even at the end right after the killer is killed the janitor weirdly hits on her and checks out her ass.
Unfortunately the ladies are dealing with the same bullshit attitudes in this 25 year old movie that they are now. At the end the killer is convinced that he's a good romantic guy who's been getting the shaft for being a nice guy. "Last night I was a perfect gentleman. I minded my manners," he says as he gets all rapey with her. (Men complaining about women not liking them because they're "too nice" is the sexist's version of "Not to be racist, but…") So it's real satisfying when she (SPOILER) slams a hammer in his head and yells "No more fucking around with my emotions!"
Schoelen is really likable and cute, making up for a somewhat bland character. She's kind of an unsung '80s horror star because she had already been the stepdaughter in THE STEPFATHER and went on to star in POPCORN and THE PHANTOM OF THE OPERA with Robert Englund. She was also in WHEN A STRANGER CALLS BACK. Apparently she was engaged to Pitt for a few months during filming.
I always thought Pitt started as a bland pretty boy and didn't really get to be manic until KALIFORNIA. But in this movie he's full of Brad Pittisms: random eating during scenes, weird eyebrow tricks and gestures. He goes kinda mega at times. He throws a fit in the gym that involves bouncing his gym bag off of a trampoline, randomly touching the American flag and then karate kicking a door opened. It seems like a funny improv but actually I'm sure it's scripted since it foreshadows the first-person-POV flag/trampoline impalement scene that follows. Not a bad kill, by the way. Also, hats off to the head-smashed-against-a-copy-machine one. I know I've seen this at least a few times but I don't think I've seen one where then there's an assembly and the parents angrily hold up photo copies of the dead body.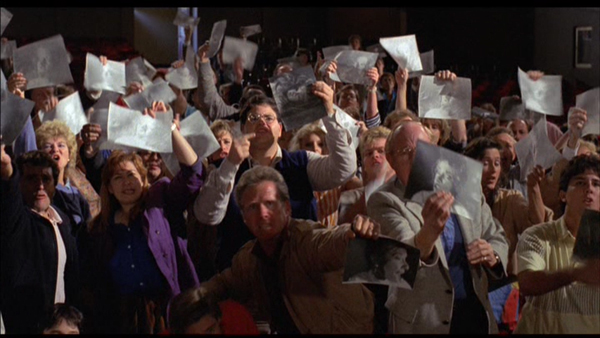 The aspect that he's most grown in since this role has got to be physical grace. He's able to move like an action star in MR. AND MRS. SMITH and movies like that. In this he's supposed to be a jock but he moves like kind of a spazz. This is noticeable in a scene where he chases Brian through the halls and not only waves his arms around crazy but does a goofy move where he pushes himself up on a guy's shoulders to try to push through the crowd. He looks like a little kid on too much sugar. Also I want to mention the big scene where he blows the basketball scholarship by missing a big shot and then punching a guy. You'd think he'd already have lost it when the scout saw him moving like this: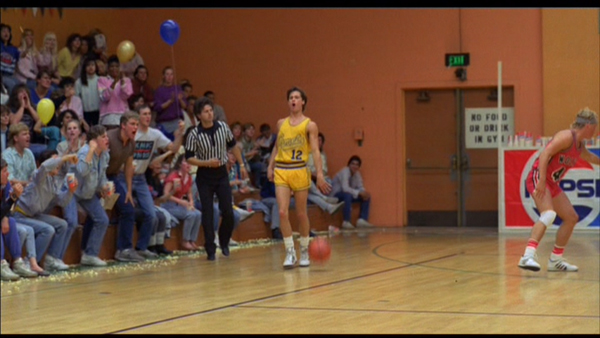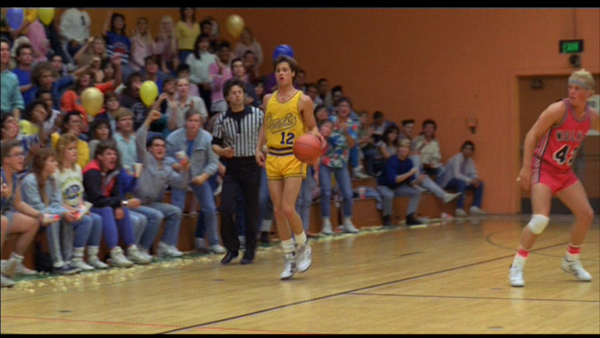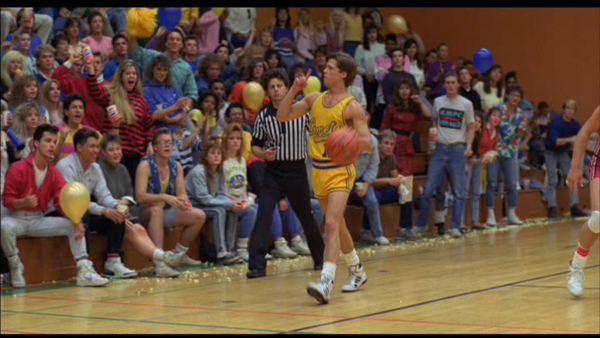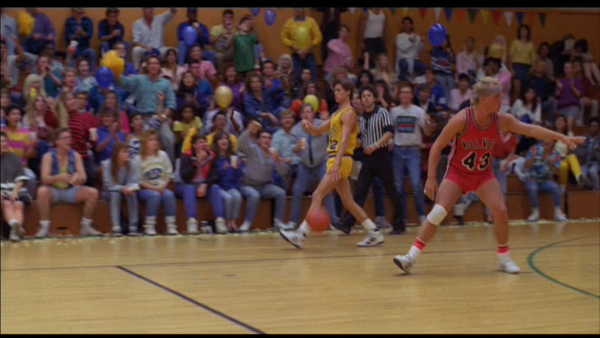 To be honest, when I watched it I thought Pitt was just really bad at basketball, but now that I'm looking at the instant replay here it seems like he's being intentionally goofy. Right? He looks like Jim Carrey. But it's hard to know in this movie.
The tone is weird, I don't think it quite works, but it's kinda what makes it interesting. It's serious overall but full of intentionally humorous touches. McDowall's principal character, for example, is never going for drama. He's being ridiculously sleazy to girls or condescending to parents or doing some weird fetishy thing like he keeps a sock over his intercom microphone and he sniffs it when he takes it off. In one scene Brian bumps into the principal, who is alone inside the costume room wearing a funny wig. And of course he asks Brian "What are you doing?"
Also, Brian dresses different from the others and is kind of this cool misunderstood outsider archetype, yet he rides around on a bicycle with a banana seat and handlebar streamers.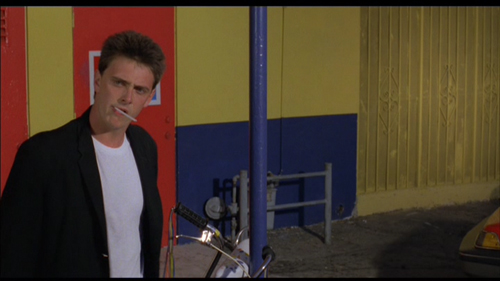 It almost feels like the director Rospo Pallenberg was hired to make a serious movie but didn't want to and was trying to subvert it at every turn. But it's not cheesy. It's well acted, well shot and has a pretty good score (by Jill Shaver) with echoey, kind of vaguely surfy electric guitars played by Greg Arreguin, who apparently is in K.D. Lang's band.
It's Pallenberg's only directorialation. I think he mostly did rewrites for John Boorman. He's a credited writer on EXCALIBUR and THE EMERALD FOREST, and "creative associate" on DELIVERANCE and EXORCIST II. IMDb says they stopped working together after Pallenberg got mad at Boorman for casting his son in THE EMERALD FOREST. His legendary unmade scripts (or "Jodorowsky's Duneses" in today's slang) include George Romero's movie of Stephen King's The Stand and Boorman's version of Lord of the Rings that maybe would've starred The Beatles. His last produced script was the 2001 Christopher Lambert joint THE GAUL.
Writer Steve Slavkin debuted with this, then went on to work exclusively in children's television, including Salute Your Shorts, Extreme Ghostbusters and Power Rangers DinoThunder, which I believe is the show where the Power Rangers use a sort of thunderous dino power for their mighty morphing. But I get alot of those mixed up so I could be wrong.