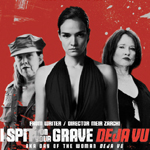 Last year, Jamie Lee Curtis returned as Laurie Strode in the new HALLOWEEN, exploring what life might be like for a horror heroine 40 years after she faced down evil. But did you know there was another late sequel to an iconic slasher film from 1978? I SPIT ON YOUR GRAVE DE JA VU (full end credits title: "I SPIT ON YOUR GRAVE DE JA VU a.k.a. DAY OF THE WOMAN DE JA VU") is a writer/director Meir Zarchi's direct sequel to his infamous rape-revenge film, with Camille Keaton (WHAT HAVE YOU DONE TO SOLANGE?) returning to her role as feminist writer turned violent avenger Jennifer Hills. It was filmed in 2015, but not released until disc and VOD last April.
Things seem to have turned out all right for Jennifer. She's an author and counselor for rape victims. She doesn't treat her violent past as a dark secret – in fact, she wrote a new best selling book about it. As the original film's famous tagline predicted, "No jury in America would convict her!" And she's close with her daughter Christy (Jamie Bernadette, MORTDECAI), a world famous model who's thinking of retiring. (read the rest of this shit…)
VERN has been reviewing movies since 1999 and is the author of the books SEAGALOGY: A STUDY OF THE ASS-KICKING FILMS OF STEVEN SEAGAL, YIPPEE KI-YAY MOVIEGOER!: WRITINGS ON BRUCE WILLIS, BADASS CINEMA AND OTHER IMPORTANT TOPICS and NIKETOWN: A NOVEL. His horror-action novel WORM ON A HOOK will arrive later this year.