Well, I don't think it's gonna last too long in theaters, so I wanted to hurry up and say a few things about JENNIFER'S BODY. That's the new-a-couple-weeks-ago horror movie directed by Karyn Kusama (GIRLFIGHT and AEON FLUX), written by Diablo Cody (JUNO), and starring Amanda Seyfried (MEAN GIRLS, MAMMA MIA). You may be saying wait a minute, number one you said horror but those are all girl names, what in the hell is going on here, and #2 I never heard of a movie called JENNIFER'S BODY that came out in the '70s or '80s, so what did they remake this from? Is it a comic book?
Nope, it's not an adaptation of anything, and it's a little different from most of the other horror pictures that come out now because it's from a girl point-of-view and it's about relationships between girls. It's not about something easy to sell like isn't it fucked up how there is no hope at all or remember how there was a movie that had this same title before, well I know you never saw that one but what about seeing this guys, thanks. So Fox Atomic (who I thought got closed down already) panicked and aimed all of the advertising at male boners, basing it entirely around the other star, Megan Fox. The implied tagline is "get out the lotion fellas, it's Megan Fox." They didn't even have Diablo Cody's name on the trailer, let alone "from Academy Award winning screenwriter Diablo Cody." So don't blame her for the movie not selling tickets.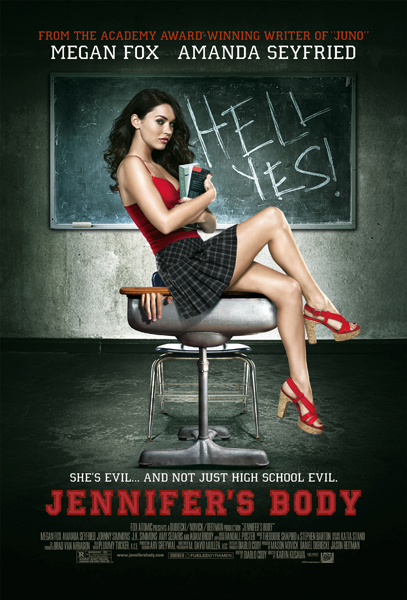 Not that it's all that great. I don't think it really works as a whole, but it has enough good stuff that it deserved a better shot. You know how there's still not equality in women's salaries, well it's the same with horror movies because there are plenty of way worse ones that made more money.
Seyfried plays Needy, a bug-eyed high school misfit (one of those hot-but-with-glasses girls they got in movies) whose life-long best friend Jennifer (Fox) grew into the hottest, most popular girl in school. Needy's a sympathetic protagonist even though she's introduced bloodying an innocent woman in an insane asylum. She's not some type like a goth or something, she's not trying to rebel or to get popular. She's happy and she has a boyfriend and everything. But she's been best friends with Jennifer since they were tiny and is kind of worshipful of her. Then after Jennifer leaves a club with some corny indie rock band she returns as a demon who has to eat people to survive, and it works as kind of a metaphor of the changes in their friendship. It's hard to still hang out with somebody when they change that much. Needy is not comfortable with all the cannibalism and everything.
I don't completely get the Megan Fox mania that has swept the male portions of the nation. I mean I agree that she looks hot alot of the time, but in the TRANSFORMERS movies she sounds like she's reading off a card – I figured she was dumb as a sock full of gravel. Doesn't that ruin it a little? And I mean, I don't know if you've ever noticed this before, but most of the women who make it in Hollywood look like models, so why the fascination with this particular one? Why is she so much more exciting for them to talk about than Naomi Watts or somebody who's clearly talented and intelligent? Or I'm sure there's some twentysomething equivalent.
Well, I don't know the answer to that but it's not Megan Fox's fault and I'll lay off because she's actually pretty good in this. It's not surprising that she knows how to play a sexually aggressive femme fatale monster, but she also handles most of Cody's dialogue well, which I didn't expect. I guess she wasn't exaggerating when she said Michael Bay's only direction to her was "sit there and look hot." In those movies sometimes she didn't sound like she knew what the words she was saying meant, for this one she actually went out of her way to learn. She told Fangoria, "There was some weird shit Jennifer says that I had no idea what it meant, and no one else on set really knew either. We were in the middle of the writers' strike, and we'd have to call and consult [Diablo Cody] and find out what some of this stuff was."
I like the characters, I like some of the jokes, but I don't think there's enough story here, or maybe it's just not moving along as quickly as it ought to be. The script might be a little thin but I think the direction might be to blame – some of the timing of the jokes seems a little off, some of the scenes in the middle seem to drag too much.
And I think the similarities to HEATHERS get a little offputting, because of what HEATHERS was saying. It's hard not to think of that movie when watching JENNIFER'S BODY because you've got the same kind of made up slang, you've got a scene where one of the leads seduces a football player in the woods and kills him, you've got jokes about the awkward ways the teachers deal with the students' grief over the tragedies, and Megan Fox even looks kind of like Shannen Doherty in parts of the movie. But HEATHERS used those things in an angry portrait of how cruel high school is, JENNIFER'S BODY seems to use it just for fun. It doesn't have the same substance behind it, which would be fine if nobody had brought up HEATHERS and it didn't occur to you to compare it. But let's face it, it occurred to you.
Actually the movie it's most similar to in substance is GINGER SNAPS. That one used a girl turning into a werewolf as a metaphor for her and her sister growing apart. This one has a girl turning into a demon as she's growing apart from her childhood best friend. But that's the part of the movie that works best. I think the relationship between Jennifer and Needy is strong (even though I didn't understand if Needy really had lesbian feelings for Jennifer or if it was just a childhood curiosity).  This is where having a woman director and a woman writer pays off. I don't think a dude would handle their friendship as well. It's the rare horror movie that focuses more on the characters and if anything skimps on the horror.
Same goes for the treatment of sex in the movie, or at least the scene where Needy loses her virginity. The scene is awkward and sweet, not some conquest or uncontrollable lust. And even though it turns scary it's not one of those things where the boyfriend turns out to be evil. It's an overall positive experience I think. I don't think she regrets it, and that's not something you see in movies too often.
I'm not sure what this movie tells us about the skills of Diablo Cody. You may remember I was put off by the hype around JUNO and was prepared to hate it, but it won me over. Some people can't get past the little oneliners and pop culture references, and admittedly the dialogue in that opening scene is deadly. But beyond that there's a genuine sweetness and thoughtfulness that I can get behind. All the jibber jabber is a defense mechanism to hide the emotional vulnerabilities of the character, and maybe the writer too, I'm not sure.
JENNIFER'S BODY has some more of that dialogue she's known for, but I liked most of it. It works because it's a teenage girl story. Teenage girls do like to find their own ways of talking, and for movies to make up new ones is a long tradition, it's allowed. And there are some good laughs. But the construction of the story is not as good as JUNO. It has a good beginning and ending, but the middle gets iffy at times. I think part of the problem is that Needy is the heroine but she's not really active for alot of it, she's kind of waiting around while Jennifer's out murdering people.
So it's still up in the air whether Cody is an original new voice we are just beginning to know, or whether she'll disappear after a couple years like that dude who wrote SCREAM. But I wish her the best, and maybe I can help her out with that.
There's a little part in this movie where Needy, in voiceover, compares somebody to a tree she saw as a kid. Then there's a quick shot of a little girl looking at a tree, but it doesn't look like the guy so it doesn't add to our understanding of what she said, it kind of subtracts from it. Assuming these shots were specified in the scripts, and if I may be so bold as to give nitpicky advice to an Academy Award winning screenwriter, I think Cody should consider that maybe sometimes telling is better than showing, or at least telling is better than showing at the same time as you are also telling. Because there are a couple other parts where I noticed this. In JUNO there's a funny line about a girl always making faces at Juno and somebody says that's not making a face, that's how her face looks. But then it steps on the joke by cutting to the girl making a face, showing what it looks like, making it less funny. JENNIFER'S BODY does it with the ending, too. I loved the ending. Not only does it have an uncredited cameo by an actor we all love, it leaves you laughing about the implication of what happens next… but then it throws a wet towel on it by showing what happens next during the end credits. What's wrong with implications, man? Should've been left to the imagination in my opinion.
And as long as I'm giving unsolicited tips, I'd stay off the web-related slang from here on out. "Honest to blog" was one of the biggest groaners in JUNO, and now JENNIFER'S BODY introduces the horrors of "why don't you just move along dot org." Oh well, not a big deal.
The good news is Kusama and Cody do a pretty good job balancing the tone, having lots of jokes but treating the horror semi-seriously. SPOILER – if you've seen the movie I want to mention two disturbing moments that I thought were highlights. One was in the beginning when she kicked the orderly. At first I laughed because it was such a sudden and powerful kick, and the way the orderly stumbled over somebody else and had a hard time getting up. But then when I saw the blood and horror on her face it became upsetting, this poor lady, just doing her job, getting the shit beat out of her for no reason. A similar scene was at the end when Jennifer's mom discovers Needy just after murdering her daughter. It's such a jarring switch from fantastical monster movie to family tragedy. Good job on that scene.
Well, I think it's too late, JENNIFER'S BODY has been legally declared a failure at the box office and with critics, and it will quickly slip away since there's a better horror comedy and a better girl relationships movie both out this week (reviews coming soon). But I don't look down on it. I liked it. Sort of.
This entry was posted on Sunday, October 4th, 2009 at 10:55 am and is filed under
Comedy/Laffs
,
Horror
,
Reviews
. You can follow any responses to this entry through the
RSS 2.0
feed. You can skip to the end and leave a response. Pinging is currently not allowed.