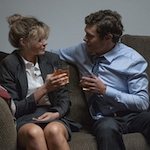 PROMISING YOUNG WOMAN is a black comedy I heard some good things about and had been wanting to see for a while and then right around the time it came out on disc it got nominated for best picture, director, original screenplay, actress and editing Oscars. Okay – didn't know it was gonna be that kind of party, but I'm down.
The movie opens in a bar as three co-worker bros talk shit. One of them (Adam Brody, JENNIFER'S BODY) seems like the nice one, standing up for a female co-worker the other guys are complaining about, and seeming unimpressed by their sexist horndog talk. And of course when they spot Cassie (Carey Mulligan, DRIVE [the Refn one, not the Dacascos one]) so plastered she can barely sit upright on a bench, he's the one who goes over and tries to make sure she's okay.
Put quotes on that last phrase. We all kinda know where this is going: he offers her a ride home, playing it like hey, I know what this looks like, but I'm just trying to make sure she gets home safe before some jerk comes along. But the next thing you know it's why don't you come up to my apartment and let's have a drink (!?) and then he's on top of her taking her clothes off while she asks him what he's doing and he keeps telling her it's okay, she's safe.
And actually she is fairly safe, because as she reveals when she sits up, she's completely sober. She just has this hobby of faking drunk to see what assholes try to take advantage of her, and then shame them when they do. Try to scare them out of doing it again. Just a weird vigilante crusade of hers. (read the rest of this shit…)