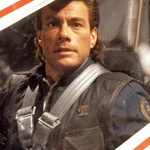 Recently when I ranked all the '90s comic book movies for Polygon I rewatched TIMECOP for the first time since that decade. I decided to disqualify it when I read on the production notes extra that it was originally written as a script and then made into a Dark Horse Comics series, but I'm glad I watched it first, because it's better than I remembered.
Jean-Claude Van Damme (BREAKIN') plays Max Walker, a regular cop who's about to be recruited to a new secret government agency that travels back in time to stop other time travelers from changing history. Knowing the future presents ample opportunities for get-rich-quick schemes (for example, in the opening a guy uses a futuristic machine gun to steal gold from the Confederate Army), but the government worries this could butterfly-effect shit up, so they try to control it. (read the rest of this shit…)
VERN has been reviewing movies since 1999 and is the author of the books SEAGALOGY: A STUDY OF THE ASS-KICKING FILMS OF STEVEN SEAGAL, YIPPEE KI-YAY MOVIEGOER!: WRITINGS ON BRUCE WILLIS, BADASS CINEMA AND OTHER IMPORTANT TOPICS and NIKETOWN: A NOVEL. His horror-action novel WORM ON A HOOK will arrive later this year.