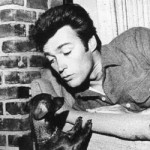 DIRTY HARRY is probaly a better movie overall, but as far as sequels go I think MAGNUM FORCE is a work of genius, because it does two things.
ONE:
It does a good job of following the template of the original and delivering alot of what people liked about that one, for example the classic hot dog/bank robbery scene is replaced by a scene where he goes to get a hamburger at an airport cafe and ends up stopping a hijacking. You gotta love when he butts into the security pow wow at the airport, they tell him what's going on, he asks "Can I make a suggestion?" and it cuts to him walking toward the plane wearing a pilot's uniform. Classic!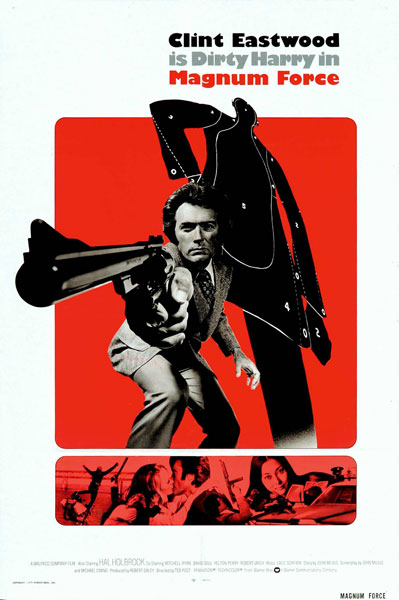 I like to think Harry is still out there somewhere stopping crimes during lunch. On the other hand he deserves some peace, so I hope there is at least time to swallow his food first. The still chewing the food angle is what makes it so awesome, but I am not greedy. Harry Callahan has earned the right to finish his lunch.
The action in MAGNUM FORCE is real good. I especially like the motorcycle chase. There are lots of clever ideas like the big shooting competition which seems like it's just there to show off the guns and have the cool visuals of shooting the wooden targets, but turns out to be an important element of Harry's detective work that causes him to solve the case. And there are lots of funny lines and good character moments, like the way Harry seems so enamored of these guys who we already know are probaly the bad guys, and wants to put him on his team when he gets back to homicide.
This is also the one where Harry gets hit on by an old friend's wife, gets a booty call from a neighbor he just met and reveals that he values marksmanship over sexual preference. ("Tell you something. If the rest of you could shoot like them, I wouldn't care if the whole damn department was queer.") So maybe that's some goofy sequel shit, I don't know. I think it's entertaining.
TWO:
So it's able to pass as a "more of the same" sequel but at its heart it's actually a rebuttal of DIRTY HARRY, or at least a devil's advocate kind of "yeah, but what about this" question. At the beginning it pulls you in by showing, like in the first one, how the system doesn't work. Some smarmy organized crime figures are acquitted of killing cops, everybody knows they're guilty but they get away with it, there are crowds outside practically rioting they're so pissed. Later there's a scene where one of Harry's older colleagues freaks out and rants about how "hoods" can get away with killing cops but cops could never get away with killing "hoods." (So far, all of this is the exact opposite of how it seems to work now – it's cops that seem to always get off despite overwhelming evidence against them. But this is the '70s and Dirtyharryland.)
But as these mobsters get off scott free and arrogantly drive off into freedom a cop pulls them over and is kind of harassing them. And you're kind of thinking ha ha, stick it to these bastards any way you can. And then the cop pulls out a gun and executes them. And you think oh, uh, I'm not with this cop. I just met him. Well, it's getting pretty late, gotta work in the morning. See ya!
So now we realize what different territory we're in for the sequel. The bad guys are not serial killers, they're traffic cops who decide to start executing criminals so they can't beat the system. With Scorpio there was no grey area, you cannot sympathize with that guy. With these guys you have to think "well, they want the same thing Harry wants." And you don't have to stretch it as much to see how alike they are. But only Harry can or will stop these guys.
That's the beauty of it. The first one seemed to argue that cops should be able to break the rules to stop the bad guys. This one shows that, wait a minute, maybe that isn't such a good idea. We know Harry, he's our buddy. We can trust Harry to do it. But can we also trust Robert Urich, and Tim Matheson, and some of their other chums? Where do we draw the line?
These themes are brilliantly summed up in the badass opening credits. A new, even funkier Lalo Schifrin song plays as the credits roll out next to Harry's hand holding his .44 in front of a bright red background. At the end of the credits we hear that "do you feel lucky" speech from the first one, but at the end as he asks the question the gun turns toward the camera. The first time I saw it I was thinking it looked so cool and then when it pointed at the camera I thought whoah, this is kind of uncomfortable, and then I realized what was going on. I was the punk. I thought that speech was funny when I was with Harry, hovering over that dude laying on the ground. But what about when the gun is pointed at me? Do I feel lucky?
Man, I love that opening. It turns the first one on its ass, in a good way, while also looking like some funky James Bond type of shit. And it's made all the more interesting by the fact that one of the writers was John Milius, noted Hollywood right winger, writer/director of RED DAWN. I could never figure out how he got involved in this one, and I was dying to hear his commentary on the new DVD. Sure enough he talks proudly about the way MAGNUM FORCE questions the politics of DIRTY HARRY. He seems to agree with the blowing away of criminals (even when done by the bad guys) but knew that asking where the line is drawn was important, or at least good drama.
Interestingly he doesn't say anything about turning the gun on the audience during the credits and making them into the punk. So it makes me wonder if really it was just supposed to look cool and nobody thought about that. Or maybe that part belonged to co-writer Michael Cimino. (I guess he finished the script after Milius left to direct DILLINGER, but he's never mentioned on the commentary or any of the extras.)
I think I've heard somebody say that this sequel was made to appease people like Pauline Kael who said the first one was fascist. But even if so that's not a safe way to do it. Since the first one was so popular it was pretty risky to challenge its ideas. Here is an example of a guy who even to this day is confused by the idea of the vigilante cops being the bad guys.
At the end Harry's philosophy is maybe spelled out a little to clearly, but I still dig it. "Briggs, I hate the god damn system," he says. "But until someone comes along with changes that make sense, I'll stick with it."
So to me MAGNUM FORCE is up there with the best sequels. A sequel can be great by delivering on just one of those things – recreating what was great about the original, or trying a new direction that you didn't expect. It's rare that a movie succeeds at both. So good job MAGNUM FORCE.