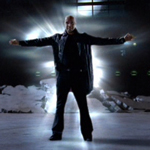 I saw this old issue of Asian Trash Cinema that had an interview with Ching Siu-Tung, veteran martial arts choreographer, prolific wire-fu practicioner, Jackie Chan Chinese Opera schoolmate, and director of Steven Seagal's weirdest movie (BELLY OF THE BEAST). Of course the interview covered alot of his most legendary work: he directed the SWORDSMAN trilogy, EXECUTIONERS and NAKED WEAPON, he was stunt coordinator for A BETTER TOMORROW II and action director for HERO. But I was even more interested in the weird little tidbits I'd never heard about his brief flirtations with Hollywood after THE MATRIX exploded and Yuen Woo Ping was all booked up.
The craziest one was a story about "the director and producer" of SPIDER-MAN coming to Ching, unhappy with how their action scenes were coming out, and wanting him to redo them. Of course it never ended up happening, he seems unclear why and doesn't go into details. But it's an intriguing story. Raimi was always up on the Hong Kong guys, he executive produced HARD TARGET after all. It makes sense he would know about the top wire-fighting guy and think of him for a movie about a guy swinging on webs.
But was he thinking of having Ching as kind of a consultant, to choreograph the computer animation to be more dynamic, or did they actually want him to reshoot it in live action? I'm leaning toward the second one, 'cause remember, action scenes with photo-real CG human characters hadn't really been done before SPIDER-MAN, just select shots in the pioneering BLADE 2. I bet the early rough versions were dicey and almost scared them off. Too bad they didn't at least get a Ching test to put on the DVD to see what it would've looked like. But maybe it's best left to our imaginations, like Jodorowsky's DUNE. Maybe we can get a doc of CHING SIU TUNG'S SPIDER-MAN ACTION SEQUENCES. It would be pretty short though, probly.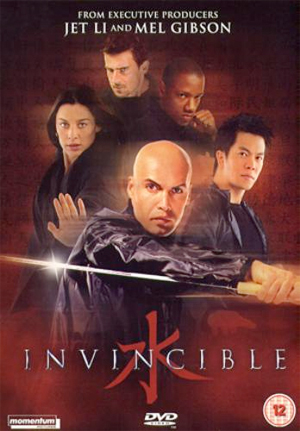 Anyway, in the interview he also mentioned directing "a show" called INVINCIBLE, produced by the LETHAL WEAPON 4 odd couple of Mel Gibson and Jet Li. No, not the Mark Wahlberg football movie, and definitely not the Werner Herzog one with the bodybuilder. I remembered seeing a DVD cover  – that's the one with Billy Zane, right? Sure enough it's a feature length movie made for TBS Super Station, a pilot for a series that never happened. Jefery Levy (INSIDE MONKEY ZETTERLAND, S.F.W., THE EXPENDABLES [1999 tv movie]) is credited as director, Ching as action director.
I found an LA Times article from the time that says the movie was shot Hong Kong style, with separate units for action and non-action. It sounds pretty complicated:
Most films are shot at 24 frames per second, but Levy shot more than 80% of "Invincible" at speeds running from one to 150 per frames per second. The action unit didn't shoot any of the dialogue scenes. "If it had dialogue, the main unit shot the action. The main unit shot about 25% to 30% action. If it had wires, it was shot by the wire unit, and if it didn't have wires, we would talk about who was shooting what."

Adding to the challenge of making the film was the fact that wire director Ching and his staff didn't speak any English. "I had an interpreter," says Levy. "The storyboarding sessions were quite excruciating because really I had to stand up and kind of act out what was in the script."
The result of these negotiations is a funny specimen of that odd collision between bland American cheese and pure Hong Kong martial arts fantasy that could only happen in that era. It's not as crazy as Ronny Yu's WARRIORS OF VIRTUE (like so many American movies it fails to have any talking kangaroos in it), but still bizarre enough that it must've befuddled a few viewers who got bored of the Facts of Life reunion on ABC and switched over to TBS.
Right at the top Zane (in a wig that makes him look like the dude from Green Day) is in a hazy alley spinning through the air like one of those flying fairy dolls from the '90s, having a sword fight with a glowing-white battle angel called The White Warrior (stuntwoman Michelle Comerford), who defeats him, which somehow teaches him to love. He's an ancient demonic being who decides to turn good and train a team of troubled mortal chosen ones representing four of the five elements to work as a team and use mental powers and kung fu to stop his former friends Slate (David Field, CHOPPER, THE ROVER) and the Shadowmen from getting both halves of the ancient tablet that will open a portal freeing them from purgatory (who cares?) and destroying the world (bad).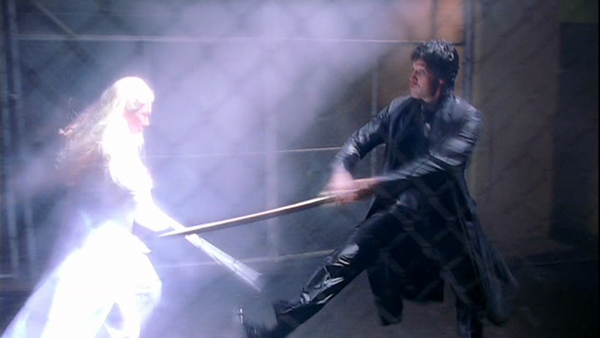 Zane narrates in a jokey, modern tone, and philosophizes to the group, shifting between spoken word and telepathy for maximum dreaminess. His part is about 50% mumbo, 45% jumbo, 5% smartass, and nothing else.
At first it's a recruiting movie. He appears to each of these generic TV types (cop, thief, bodyguard, soldier) right when they're in trouble, about to get killed. He strolls in casually and talks them into escaping certain doom by going on his mystical adventure. It's weird that they all have these impending death experiences on the same day, but I guess that's part of the prophecy or whatever.
There are a couple notables in the cast. The bodyguard is played by Byron Mann, who later worked with Ching in BELLY OF THE BEAST and continued his Seagal relationship into A DANGEROUS MAN and STREET WARS (one of the True Justice movies).  You may also know him as Silver Lion from THE MAN WITH THE IRON FISTS. The thief (a Robin Hood type, of course) is Dominic Purcell before he played Dracula in BLADE: TRINITY. He gets to be Australian, which works because that's where he was raised. The cop Serena Blue is played by Stacy Oversier, who only has one other acting credit (GUARDIAN with Mario Van Peebles) but she was a stuntwoman in DEEP BLUE SEA and BATMAN AND ROBIN, so maybe she really did these limber, dancerly kung fu moves. The dishonorably discharged soldier is played by Tory Kittles, recently on True Detective. And one of the Shadowmen is Bren Foster, the young martial artist who stole FORCE OF EXECUTION from Seagal (and was also in MAXIMUM CONVICTION with him). Another one, Kyle Rowling, was Christopher Lee's stuntman in STAR WARS 2-3.
Anyway, after they all sign on it becomes a training movie – sitting in shallow water, listening to wisdom, kung fu montages. And at the end they fight the bad guys and suddenly know how to shoot magic beams and fly and stuff.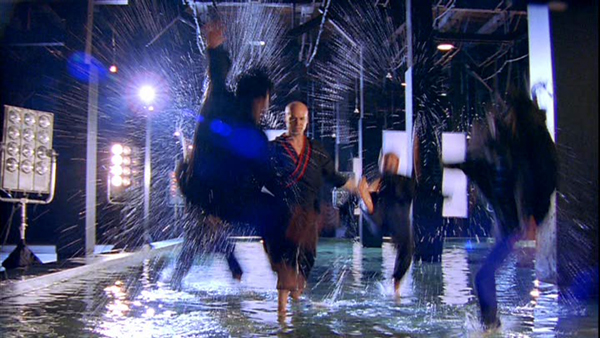 Visually I think it's a little on the cheesy side, but I give them credit for making it stylistically different from regular TV. There's alot of silhouettes, not just to hide the fight doubles but also for, you know, art or whatever. For example one scene is a long conversation between Zane and a guy he has to convince of something, done in a couple long shots of them standing silhouetted on a beach, the setting sun reflecting off the Australian water.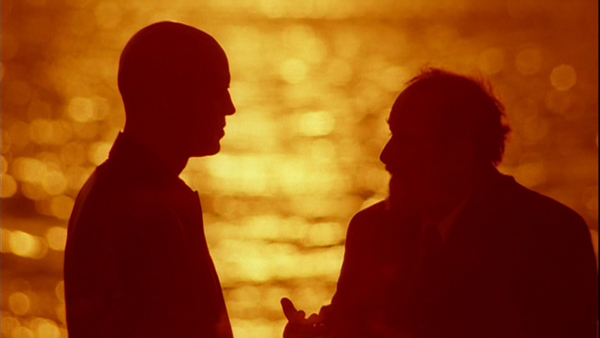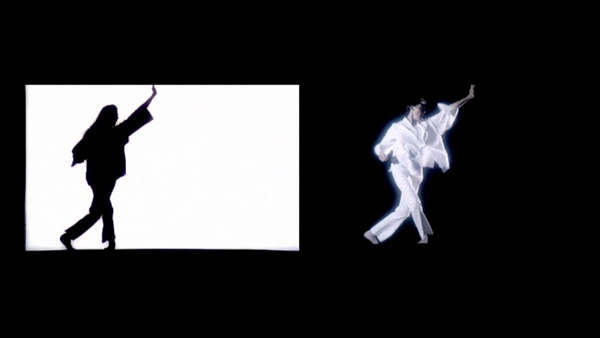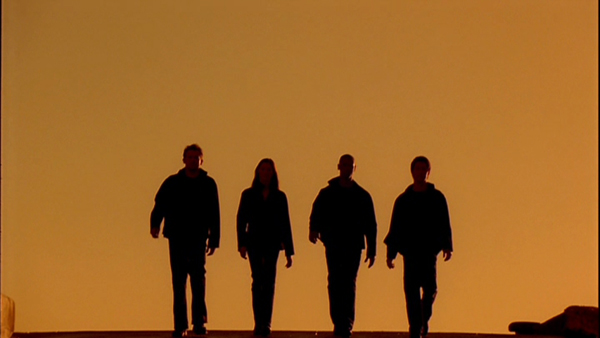 I'll tell you this: in my opinion this is pretty much the only thing I've ever seen that's made for TV where a guy jumps on another guy's shoulders and leans back and acts as a catapult to launch a third person into the air.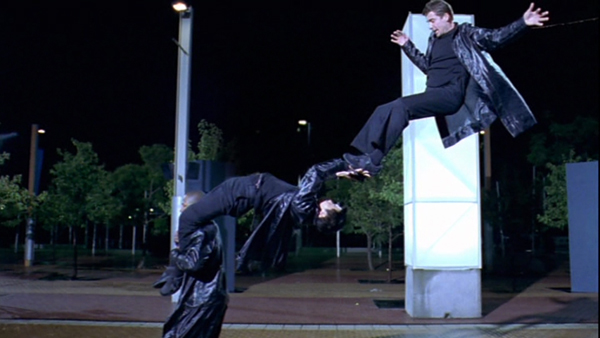 Now, there are still some Jesse Stone movies and some Hunter episodes I haven't seen, but otherwise I'm pretty sure this sort of thing has been done less than ten times.
The story is credited to twin brothers Chad and Carey Hayes (THE CONJURING, HOUSE OF WAX, Baywatch Nights, actors in the BMX movie RAD), with the teleplay by Michael Brandt & Derek Haas (2 FAST 2 FURIOUS, 3:10 TO YUMA, WANTED) and Levy. But I bet you money Ching came up with that human catapult business on his own.
That coulda been in SPIDER-MAN, Raimi. You blew it bud.
I really can't claim this is very good or that it should've been picked up as a series, but it's one of those fleeting moments in the pop culture timeline I like to be reminded of: the time when it made sense for Ching Siu-Tung to do a mystical TBS movie starring Billy Zane. You're a weirdo, history. That's why we love you.
This entry was posted on Monday, July 7th, 2014 at 10:17 am and is filed under
Action
,
Fantasy/Swords
,
Reviews
. You can follow any responses to this entry through the
RSS 2.0
feed. You can skip to the end and leave a response. Pinging is currently not allowed.