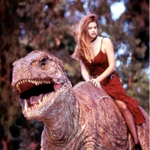 Everybody has that list of the movies they know they should've seen but just haven't yet for some reason. For me right now it includes BARRY LYNDON, THE DEER HUNTER, the ONCE UPON A TIME IN CHINA series, KUNDUN, MASTER AND COMMANDER, THE INSIDER, and others. But it no longer includes TAMMY AND THE T-REX. Progress.
TAMMY is a movie from 1994 that I was vaguely aware of as a cheesy family comedy only released on VHS. I definitely confused it with THEODORE REX at times, but I knew it had young Denise Richards (her first starring role) and Paul Walker (his third movie, after MONSTER IN THE CLOSET and PROGRAMMED TO KILL) and was supposed to be pretty crazy. Then last year there was an important new development in film scholarship: somebody discovered a print of a "gory cut" of TAMMY. Turns out before it was released straight to video it was edited down from a very R-rated horror comedy (both terms used loosely). So it played Fantastic Fest and Vinegar Syndrome released a beautiful Blu-Ray special edition and now it's playing on Shudder. (read the rest of this shit…)
VERN has been reviewing movies since 1999 and is the author of the books SEAGALOGY: A STUDY OF THE ASS-KICKING FILMS OF STEVEN SEAGAL, YIPPEE KI-YAY MOVIEGOER!: WRITINGS ON BRUCE WILLIS, BADASS CINEMA AND OTHER IMPORTANT TOPICS and NIKETOWN: A NOVEL. His horror-action novel WORM ON A HOOK will arrive later this year.