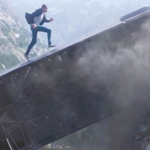 Note: as usual, I recommend reading this only after you've seen the movie.
How the hell do you follow a movie with a classic freeway cars vs. tank battle and a legendary 27.86 mile cars vs. planes gun/grappling hook/wrestling fight? Well, we already had a good idea from the trailers: with cars that skydive and jump from skyscraper to skyscraper and with Jason Statham. The day after my first viewing I feel like FURIOUS SEVEN is probly not as good as FAST FIVE or FURIOUS 6, but it's in the same range at least, which is a feat. And due to real life this silly fictional world turns very emotional at the end. I suspect that despite all the effort put into automotive insanity this will primarily be remembered as the one that says goodbye to Paul Walker.
It's a blessing because really, when has a tragically passed-on star been able to have such a meta farewell in a movie? The character of Brian O'Conner gets to drive off into the sunset and the public gets to share in the send off as a narrating Vin Diesel/Dominic Torretto pay tribute simultaneously in and out of character. Heath Ledger might've had a better last big performance, but he was left hanging on the side of a building.
(It's a little unclear what it means on the movie level, though. Are Brian and Mia and the kids driving off to be far away from Dom so they can be sure to stay out of trouble? Or is Dom just not planning to visit his own sister, best friend, niece and nephew if he's not shooting guns anymore? Maybe he's just assuming that now that he's a dad Brian's not gonna hang out anymore?) (read the rest of this shit…)