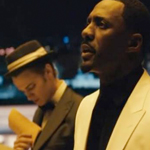 TAKERS is a heist movie that features Paul Walker (THE FAST AND THE FURIOUS 1,2,4-present) and Hayden Christensen (STAR WARS 2-3) as thieves, Jay Hernandez (HOSTEL, CARLITO'S WAY: RISE TO POWER) as one of the cops that's out to get them, and Johnathon Schaech as their fence. Holy shit, this is like the EXPENDABLES of likable but bland, inarticulate would-be leading men! I bet they're looking at Chris Klein for part 2. Maybe Scott Speedman.
Nah, that's a cheap shot. The truth is I sort of like all those guys, or at least root for them to prove everybody wrong. Walker seems too nice to hate, and he's been in a bunch of movies that I've enjoyed, and even been good in some of them. Hernandez – I liked the HOSTEL movies. Schaech channeled Swayze well in ROAD HOUSE 2. Christensen is all right, he's just going down a path I cannot follow.

And to be honest I just cherrypicked the white guys in the cast, who aren't necessarily the leads. The team also includes the very charismatic Idris Elba (and using his real accent), MIRACLE AT ST. ANNA's Michael Ealy, the rapper T.I., and the strangler Chris Brown. Matt Dillon is partnered with Hernandez as sort of the main cop who's on their trail. I automatically assumed he was a racist because of his part in CRASH, but if so they never made it obvious.
Of course the movie opens with the heisters in action, all convening in a building disguised as different types of employees. They put on ski masks, rob a bank and make a spectacular escape that relies on two iffy things happening:
1) a news helicopter arrives before the police because they called the media after a silent alarm was tripped
2) the news helicopter lands on top of the building because a fake security guard gestures for them to
So they plan carefully but gamble huge, I guess. It was much more likely for them to get busted or shot at the beginning then for this whole movie to happen. But it happened.
After the job of course they all go off to enjoy their hobbies. Walker has a racially diverse threesome in a swimming pool. Ealy proposes to his girlfriend, Zoe Saldana, while Christensen is in the same room practicing piano. I don't think it was planned for creating a romantic mood, I think he just hangs out there. And Elba must be the nicest guy of the bunch because he spends his time visiting his crackhead sister (Marianne Jean-Baptiste from SECRETS & LIES) in rehab.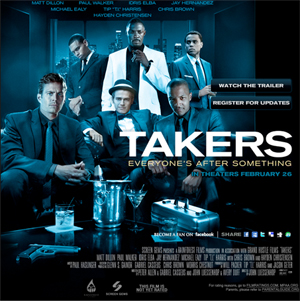 Elba seems like the leader, Walker possibly co-leader or assistant leader. They both wear nice suits. Christensen's fashion sense is rough, like sand. He's supposed to be some kind of Rat Pack guy, so he wears hats all the time and in the piano scene he also wears a wifebeater and has lots of tattoos. Normally I don't use the term "wifebeater" for a John McClane style tank top, because it seems pretty classist to me, but I thought it would be a good segue to Chris Brown. He's terrible in this comic relief kid brother role. His main character traits are that he owns a red motorcycle and smiles like a goofball. In one scene he eats an ice cream bar and leers at young women. He seems to get the worst dialogue in the movie, like, "Our biggest heist yet – you don't seem jazzed," or his dramatic crying scene where he informs the audience of a character's guilt over stealing money by pondering, "It was kinda like… like he wanted me to shoot him." These are terrible lines but a better actor could've made them less laughable. Don't quit the day job of beating up celebrity women and getting rewarded for it because being in headlines is now more important than being an artist or non-woman-beater.
Shortly after the first job T.I. shows up as Ghost, a member of the crew that got busted 5 years ago, just got out and has a chip on his shoulder about it. Nobody trusts him and he acts like an asshole the whole time but he convinces them to rob some armored cars with him.
There's lots of planning, buying explosives, etc., with the audience kept in the dark about what exactly is gonna go down. By the time it did happen I realized I had no idea what the different people's jobs or specialties were. When everything goes south (because some maniac rode his bike out in front of the armored car right before it hit the explosives? I don't get it) Walker spontaneously decides to walk over, punch one of the armored car drivers in the face, get in the car and do some impressive driving feats. I thought this was funny because he already seemed like Brian from THE FAST AND THE FURIOUS wearing nicer clothes, and showing his driving skills only reinforces that.
The thieves seem to be the protagonists, but then it keeps going back to Dillon and Hernandez. Both sides are just doing their jobs, but only one of the jobs is illegal, so the cops have that going for them. On the other hand, Dillon is kind of an idiot because he keeps trying to do police work even while it's his weekend to be with his daughter. While most movie cops stick to disappointing their kids by missing a birthday party, recital or baseball game, this guy breaks his promise to bring the little girl to the farmer's market and almost gets her shot by staking out crooks with her in the car.
I like how he sort of parallels Elba's character in that both are doing a bad job of balancing work with family. Elba would pull it off better except somehow sis gets out of rehab early for doing a good job (does not sound like a very good rehab, in my opinion) and he can't let her stay in his apartment because of the robbery plans. So he puts her up in a hotel and gives her some money. Bad idea.
There is some action involving guns and chases, all done with semi-legible shakycam. I kinda liked the fight in the mobile home construction office. There's a good move where a guy lifts Christensen up to the low ceiling and breaks the fluorescent lights with him. But he finds a light saber shaped object, so they're in trouble.
When Brown almost gets caught it turns out he's a parkour expert. The camerawork obviously takes alot of the thrill out of it but at least there's a bunch of stuntwork. He even does that DISTRICT B13 move of jumping feet-first through a small window on a door. But it's not nearly as exciting when the face is hidden because it's a stunt double. In B13 it was clearly the same actor we've been watching the whole movie so it was magic.
The climax seems to be an homage to TRUE ROMANCE – big shootout between various parties in a hotel, pillow feathers floating dreamily in the air, sad music, no gun sounds. I was kinda hoping they would play some jazz piano while hep cat Christensen got shot up, but no dice. The piano never comes up again.
This is an entirely watchable movie, I didn't hate it, but it's also completely generic and mediocre. Nothing new or particularly well crafted, and weak in many important areas (including characterization and cleverness of heists). The cheesy guitars and drums score is exactly like any other mediocre movie of this type, including many DTV ones. At least there's more color and a better cast than some of the DTVs. It's not all tinted blue or filmed in Bulgaria or anything.
Elba comes out of the movie the best, but everybody deserves more to do. I especially thought Ealy was wasted. At the beginning it seems like he's gonna be the interesting one, then it kinda forgets about him. Saldana's part is even worse, she's nothing more than the girlfriend character. She accepts his marriage proposal and then looks guilty whenever ex-boyfriend Ghost gives her the evil eye. That's it. It's embarrassing to give her a ho role like this after she played such strong women in AVATAR, STAR TREK and COLOMBIANA.
Why did I get around to this movie at this late date? Well, you know me. The director/co-writer John Luessenhop is the guy who did the upcoming TEXAS CHAINSAW [MASSACRE] 3D, and I wanted an idea of what I was getting into. I got no illusions of anybody making a worthy followup to Tobe Hooper's two masterpieces, but I at least hope for a fun movie in the style of the '80s horror sequels. And in 3D. This guy, I mean I won't write the movie off due to aggressive suckiness, but there's no sign of a vision or much cleverness here. Unless his true self only comes alive for a TEXAS CHAINSAW movie I don't think he's capable of coming up with anything special. But I'll watch it anyway. Just like I watched this.