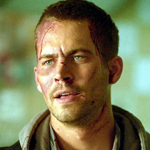 Terrible news about Paul Walker dying today. You guys know how much I love the whole FAST & FURIOUS saga, and most of you share that love, so you know exactly how much it bums me out. But I wanted to write a few words about his career.
I wrote somewhere, maybe in my first review of THE FAST AND THE FURIOUS, that I think of Walker as the popular guy on the football team who's so nice that you can't hate him for it. I guess he was raised Mormon, which might be part of where that vibe comes from. I know Mormons get a bad rap because of Mitt Romney and the Joseph Smith sphinx and etc. but every one of 'em I ever knew was a little square and alot nice. I bet Paul Walker really was a nice guy but maybe not that square because I bet he really did wear Pumas every day just like Brian O'Conner.
It's fitting that he would play the Keanu character in a ripoff of POINT BREAK, because his persona had alot in common with Keanu. He had a little bit of a California surfer dude feel to him, a voice that made him sound a little dim, that made people underestimate him. Like Keanu he had a weird, seemingly contradictory mix of stiff and charismatic that made him appealing.
I liked watching him evolve over the course of the FAST series. That opening credits montage in FURIOUS  6 made it seem like he hadn't really aged, mostly he just changed haircuts. But I thought he became more comfortable and more gritty as the series continued, with part 4 being a particularly big jump from how he was in part 2 (where he has the biggest spotlight since it's the only one without Vin Diesel). I still say 2 FAST 2 FURIOUS is the underrated entry. It's definitely the stupidest one but in the Furiousiverse that's not a criticism. I love that ridiculous movie.
It's nice that the series got so undeniably good that alot of the people who used to make fun of these movies, including friends of mine, have become converts. So alot of people will be missing him in future movies. In a series largely defined by the relationship of these two characters (I always wondered if one of them was supposed to be the fast and the other one the furious, like THE GOOD, THE BAD AND THE UGLY) and revived on the basis of how well they were able to keep this cast together, it's going to be a big hole that can't really be filled.
But it also makes me sad that Walker didn't get more of a chance to use the success of the series to find some interesting vehicles for himself. I remember the Ain't It Cool Newsies used to hate the guy (maybe because he played a football player in VARSITY BLUES so they thought he was gonna give them a wedgie). He never seemed like an actor with alot of range, but I rooted for him to really do something great and rub their fuckin noses in it. Like, I was real excited that he was gonna be in a movie directed by Clint Eastwood, but FLAGS OF OUR FATHERS wasn't one of Clint's better ones, and Walker's part was pretty small.
The most impressive performance I ever saw by him was in RUNNING SCARED, which I'm sure alot of people will be talking about now. That's an enjoyably crazy thriller and one of the few times where he pushed himself to play a really extreme character nothing like himself. It's not like he pulls off some Tom Hardy type transformation but he does way better than any of us would've predicted and it's kinda exhilarating to see him challenge himself like that.
This should be all my Paul Walker reviews, hopefully I didn't say anything too stupid about him in any of them. If so I apologize. I forgot about EIGHT BELOW, remember that one? I've been meaning to re-watch JOYRIDE too, that's one I never wrote about. He has a couple other ones I've been waiting for that haven't come out yet, VEHICLE 19 and BRICK MANSIONS, which is supposedly a remake of DISTRICT B-13, does have David Belle in it but also RZA. I hope all of them are doing parkour but I shouldn't get my hopes up.
Anyway it's a real bummer, never saw this one coming. My heart goes out to his daughter and all the people who actually knew and worked with him. I always got a kick out of how in 2 FAST 2 FURIOUS he calls various people including the bad guy "bro," so I say with all sincerity thanks for the fun movies, bro.
This entry was posted on Saturday, November 30th, 2013 at 11:17 pm and is filed under
Blog Post (short for weblog)
. You can follow any responses to this entry through the
RSS 2.0
feed. You can skip to the end and leave a response. Pinging is currently not allowed.