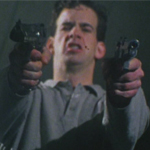 June is Pride Month, of course, and I hope it's been a good one for anybody who it means anything to. I never really knew a way to honor the occasion before, but that's because I hadn't yet stumbled across this 1996 gay-themed independent drama that shows two guys with guns on the cover – in fact the tagline is "THIS TIME THE GAY GUY'S GOT THE GUN!" – and mentions John Woo on the back.
RAISING HEROES is about a couple, Josh (Troy Sostillio) and Paul (Henry White), in the midst of a custody battle. Paul's best friend died of cancer and wanted the two to raise her young son Nicky, but the kid's grandmother and homophobic case workers are trying to stop that from happening. Then, a few days before a crucial hearing, Josh witnesses a mobster named Victor (Edmond Sorel, also co-writer) executing a guy in a convenience store, and various gangsters spend the next few days following and trying to eliminate him. (read the rest of this shit…)
VERN has been reviewing movies since 1999 and is the author of the books SEAGALOGY: A STUDY OF THE ASS-KICKING FILMS OF STEVEN SEAGAL, YIPPEE KI-YAY MOVIEGOER!: WRITINGS ON BRUCE WILLIS, BADASS CINEMA AND OTHER IMPORTANT TOPICS and NIKETOWN: A NOVEL. His horror-action novel WORM ON A HOOK will arrive later this year.