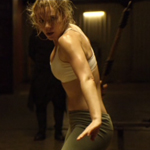 "There's no ancient Chinese secret that's gonna heal broken bones in a single… night!? Impossible!"
My friends, I have been derelict in my duty of making sure the world knows about LADY BLOODFIGHT. Yeah, I know, it sounds like LADYBLOOD FIGHT, or like an all-female reboot of the obscure Bolo Yeung movie BLOODFIGHT, but think of it as WOMEN'S BLOODSPORT. It's a great DTV fighting tournament movie starring Black Widow stunt double and future action superstar Amy Johnston. I watched it a few months ago, having been put onto it by my readers (shout out to Felix and whoever else mentioned it in the comments) but the write-up got away from me until I watched it again today and I loved it even more.
Johnston is the daughter of a world kickboxing champion, and has studied martial arts since the age of 6. She mostly works as a stuntwoman, but has roles in RAZE and Scott Adkins' upcoming ACCIDENT MAN, and she starred in one with Dolph called FEMALE FIGHT SQUAD that I've heard isn't as good. But after LADY BLOODFIGHT we better be seeing more of her. (read the rest of this shit…)
VERN has been reviewing movies since 1999 and is the author of the books SEAGALOGY: A STUDY OF THE ASS-KICKING FILMS OF STEVEN SEAGAL, YIPPEE KI-YAY MOVIEGOER!: WRITINGS ON BRUCE WILLIS, BADASS CINEMA AND OTHER IMPORTANT TOPICS and NIKETOWN: A NOVEL. His horror-action novel WORM ON A HOOK will arrive later this year.