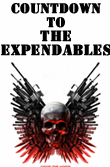 Wrestling – and I'm talking about real deal wrestling, like Greco-Roman and freestyle wrestling, not WWE – is a sport of skill and stamina as well as strength. It's a series of offenses and defenses, attacks and responses, takedowns, holds and escapes. Strength and size are a huge advantage, but they're not everything. A great wrestler always has to know how to find an opening to control his opponent and also how to slip away when he's made a mistake. It can look like two brutes rolling around on the ground, but at times it can be as much of a battle of wits as a chess game. The winning wrestler has to perform the correct sequence of moves, and perform them well, to get the other guy where he wants him for the win.
Also there is arm wrestling. (read the rest of this shit…)
VERN has been reviewing movies since 1999 and is the author of the books SEAGALOGY: A STUDY OF THE ASS-KICKING FILMS OF STEVEN SEAGAL, YIPPEE KI-YAY MOVIEGOER!: WRITINGS ON BRUCE WILLIS, BADASS CINEMA AND OTHER IMPORTANT TOPICS and NIKETOWN: A NOVEL. His horror-action novel WORM ON A HOOK will arrive later this year.