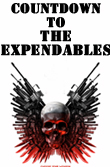 I confess: I didn't really know who Gary Daniels was. Turns out he's a British kickboxer who's been in about 50 movies since the late '80s. I heard the name before but never watched any of his pictures. A couple people gave me shit about it when I reviewed Seagal's SUBMERGED and didn't mention that Daniels was in it. I guess that was a historic meeting of martial arts stars, but I didn't even notice because I didn't know who the fuck that was. Sorry, fellas. Like Brakus I am human. I can be defeated.
But with Daniels playing "the Brit" in THE EXPENDABLES I had to educate myself as part of the countdown. At first I tried out one of his early starring roles, 1991's CAPITAL PUNISHMENT, by a writer/director named David Huey. Daniels plays a kickboxer who one day is taken in by cops and pressured to take part in a complex drug bust operation. They say they want to stage the death of his opponent in a title fight… instead they plant weapons in his gloves and frame him for manslaughter. But then it turns out maybe they arrested him to protect him and change his identity. Something about David Carradine and some strength-enhancing drugs.
Carradine has one of those roles where he's in one room on the phone the whole time. It's obvious he shot the whole movie in an afternoon, and possibly while he was on break from another movie. He told them he had to make some phone calls and he went and shot this. In fact I can almost guarantee you he excused himself from the phone calls to use the bathroom and filmed a third movie in there.
One thing you can say about CAPITAL PUNISHMENT: it's not lacking in action. If you judge your movies by the number of kicks that occur, this would probly rate pretty high for you. But It's one of those real amateurish movies where the acting, dialogue and production values are so piss-poor that even I have a hard time forgiving it. Daniels has ridiculous MC Hammer era hair and clothes and nowhere near the amount of charisma and screen presence to make you forget it. He does some good kicks though, and there are some laughs:
1). He hits a guy with a sock full of quarters and says "Keep the change."
2). There's a weird part where his girlfriend gets a treacherous woman at gunpoint and says, "Give me one reason why I shouldn't kill you."
"I'm pregnant!" the lady says.
"Yeah, right."
The villainess shrugs, as if to say, "That's all I got, the pregnancy card. Oh well, at least I tried. Go ahead and shoot me."
But before the one girl can execute her, Gary Daniels runs in. "No, wait!" he says.
There is a long pause. But then… "Use this," he says, and hands his girlfriend a knife.
So it has its moments, but I couldn't really get into it enough to feel like I could write a worthy review. Luckily some of you reminded me that Daniels had starred in one of the early Isaac Florentine joints, COLD HARVEST. It's from '99, long after Daniels had cut his hair short and right after Florentine did BRIDGE OF DRAGONS with Dolph Lundgren.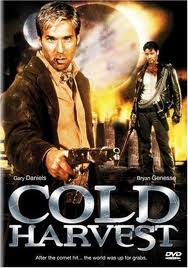 COLD HARVEST, which is neither about anything that is cold or any sort of harvest, as far as I can tell, takes place in a comet-stricken future world with no daylight and the world overrun by a virus. It's one of those deals where it's supposed to be the future, but also like a western, so everybody drives dune buggies and motorcycles but there's saloons and some old timey clothes and everybody draws their guns like cowboys. They all wear cowboy boots, even though it seems like it would get in the way of all the kung fu they do. Also it's one of those post-apocalyptic worlds made of cramped city streets filmed on a soundstage so you never see the sky. Barrels and cars are always burning on the side of the road and it doesn't matter what block you're on, there's always gonna be a fog machine with a light set up behind it.
As the bounty hunter hero Roland, Daniels is much more polished than in CAPITAL PUNISHMENT, and Florentine gives him a great entrance. Roland chases some guy around a corner, off screen. Florentine's director credit appears over a boarded up wall as we hear the screams of that guy getting his ass kicked by Roland on the other side. Suddenly the screamer is tossed through the wall, and Roland strolls toward the camera through the hole he made.
He's back in town after a long absence, wanting to mend things with his brother Oliver (also Daniels). He came at exactly the wrong time, though, because on this same day the psychotic gang leader Little Ray (Bryan Genesse) happens to kill Oliver and a van full of others involved in a medical experiment. What he doesn't know until it's too late is that these are 5 of the 6 human beings on earth who carry an antibody that could've been used to cure the plague and save all of humanity. Whoops. Luckily Oliver's wife Christine (Barbara Crampton from REANIMATOR) got away, so Little Ray spends the movie trying to capture her and maybe sell her on ebay or something. (I'm not sure he spells out his plan, but I don't think it involves delivering her safely to the medical lab.)
In this particular part of the post-apocalypse it seems like everybody knew each other in high school or something. They're always talking about remember when we were kids we used to play paint ball together, or do you remember Little Ray from the neighborhood, now he's the leader of the worst gang. Even before he knows about his brother Roland goes after Little Ray to collect the bounty on his head.
And just a word of caution: before you say that Little Ray is not a scary enough name for a gang leader, be informed that his top men are named T-Bone, Jimmy, and Bozo. And I'm pretty sure their gang is supposed to be called "The Mutant Muthers." They never say it, but there's a logo prominently displayed in the saloon/brothel where they hang out. It's supposed to be a real tough joint, but it's got these timid hookers who scream and cover their tits every time somebody barges into their room, which happens at least 5 or 6 different times. Remain calm, ladies. You are prostitutes in a post-apocalyptic world. People are gonna see your boobs sometimes. You just gotta get used to it.
Little Ray's thugs are sent to capture Christine, who they just know as "bitch" or "that bitch." One of them says, "We're looking for a bitch. Blond hair, reddish pants, nice titties. Clean lookin." By now Roland is with her and discovering how annoying she is. Not because of her reddish pants, but because she keeps whining about what a bad brother and son he is and how "it's too bad you don't know anything about true love!" But later when he's having trouble getting passage through somebody's territory he says "I would rather die than be separated from this woman!" and she swoons.
If I had to pinpoint what it was that improved their relationship I would say it was when she was scrubbing her boobs with a wash cloth. Meanwhile he's performing maintenance on his shotgun with a jerk-off motion that makes Prince's strokin' it guitar solos seem okay for church. When she catches him peeping he says, "You have a beautiful back," and she says, "Thank you."
The script is by Frank Dietz (you know, the guy who played "Roger Eburt" in ROCK 'N ROLL NIGHTMARE and later became a Disney animator) and in my opinion it is not one of the better achievements of mankind since the dawn of literacy. It has lines like the ol' "You hear that?" "What?" "It's too damn quiet." And there's a part where Roland says, "I may not know if it's night or day, but I know I've got to bring Little Ray down!" My problem with this line is that personally if I lived in a world where nobody had seen sunlight for decades then I'd assume other people had also noticed this and I wouldn't make comments about it all the time. I mean, right now I'm not gonna say "I may breathe oxygen and drink water to survive, but I gotta finish this review of COLD HARVEST!"
There's some good lines too, though. I like when he's surrounded by a tribe of creepy dudes and he says, "How you folks doin?" He doesn't have to talk tough, because other people are happy to say how awesome he is, for example the old guy who says "the light of the warrior shines bright in your eyes" or the arms dealer who sees his gun and says, "First I'd like to congratulate you on your style."
There are many signs of the energetic Isaac-Florentine-fresh-off-of-Power-Rangers style: whoosh sound effects whenever somebody waves their arms or turns their head, shots from the POV of a foot or a gun or a flying pitchfork, cartoonish wipes, obvious homages to John Woo and Sergio Leone. But I don't think he really had the filmatism mastered at this point. There's not a strong rhythm or build to it. The story is too convoluted, the characters not really cool enough, the action fun but not show-stopping like in some of his later movies. Maybe the pieces just didn't come together quite right. I prefer the earlier BRIDGE OF DRAGONS, maybe because it has Dolph Lundgren and the sky in it.
So I'm not begging you to see this like some of the other Florentine pictures, but as always he goes so all out with the action it would be hard not to enjoy it at least partly. There are rolling and exploding cars, gun fights, people getting shot off of towers, a guy who fires a bazooka while driving a motorcycle even though his motorcycle itself can fire rockets, and all kinds of grievous insults to the laws of physics. I like when he crashes his motorcycle but launches into a perfect somersault, rolls up and starts shooting. In one scene he pushes a guy so hard by the face that the guy flies about ten feet and then falls and rolls across the ground. But when Roland launches himself into a huge flying kick right in a guy's face that guy just bleeds and doesn't budge.
There's alot of gratuitous flying and rolling. Hindsight is 20/20, but I'm pretty sure Little Ray regrets that when he had a chance to shoot Roland he chose instead to do a somersault and then brag about killing his brother.
At the end of course they decide to "finish this off like men" and then play Little Ray's "all time favorite game" where you empty your gun and place one bullet on the ground and then you each have to try to load real fast and shoot the other person while a fake keyboard version of Ennio Morricone music plays. Some kids play stick ball or tag or something, these kids played the put-one-bullet-on-the-ground-and-then-shoot-the-other-person game.
Right after the good guy kills the bad guy (spoiler) the sun comes up, and nobody seems that surprised. I thought Christine might possibly solve the disease problem, but not the lack of sun. I don't know if they were really prepared for the world to change that drastically. Kind of a bummer even, because it probly killed her dream of farming mushrooms "because they don't need much sunlight." I hope she at least kept wearing the reddish pants.
Gary Daniels is fine in this movie, and definitely improving from the earlier works. But based on this limited exploration I'm not sold on him as a movie star. He seems like a poor man's Van Damme and a stepping stone for Florentine on the way to finding Scott Adkins. But I'm sure I haven't seen his best yet. Let me know if he has any real great ones. I'm open to more studies.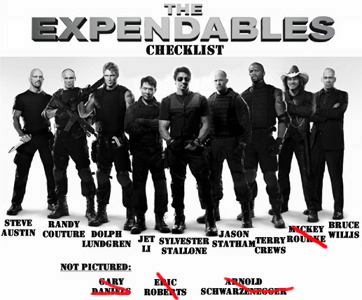 This entry was posted on Wednesday, August 4th, 2010 at 1:40 am and is filed under
Action
,
Reviews
,
Science Fiction and Space Shit
. You can follow any responses to this entry through the
RSS 2.0
feed. You can skip to the end and leave a response. Pinging is currently not allowed.