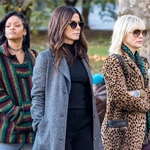 Before seing INCREDIBLES 2 and JURASSIC'S 5 I wanted to catch up with OCEAN'S 8. It's that all star ensemble heist movie that came out in theaters a month ago. I know whatever conversation there was has already died off, but I wanted to see it.
Debbie Ocean, who kind of looks like Michael Jackson and is played by Sandra Bullock (SPEED 2: CRUISE CONTROL), gets out on parole with nothing but forty-some dollars, a glittery party dress and a master plan for stealing millions of dollars worth of jewelry. So she's in good spirits. Plying her trade of theft and scams she gets herself a fancy hotel room and amenities (the fancy lady's version of Porter building himself back up from nothing at the beginning of PAYBACK) and then goes to find her old partner Lou (Cate Blanchett, HANNA). Lou claims to have not known she was in prison, just thought she changed her number, and she says it so dryly I didn't know at first if she was joking. I like these two.
Much like OCEAN'S ELEVEN, we get to meet the Mission: Impossible team of heisters in their regular lives as the two go around recruiting them. They rescue jewelry expert Amita (Mindy Kaling, A WRINKLE IN TIME) from working for her mom and Tammy (Sarah Paulson, THE SPIRIT) from suburban boredom. They hire hacker Nine Ball (Rihanna, BRING IT ON: ALL OR NOTHING) and three-card-monty hustler/pickpocket Constance (Awkwafina, CRAZY RICH ASIANS). Most crucially they trick movie star and soon-to-be Met Gala host Daphne Kluger (Anne Hathaway, HOODWINKED!) into hiring past-her-prime former fashion design legend Rose Weil (Helena Bonham Carter, PLANET OF THE APES) who they've gotten in on a scheme to get Kluger to wear a ridiculously valuable Cartier necklace that would otherwise be in a vault. (read the rest of this shit…)
VERN has a new action-horror novel out called WORM ON A HOOK! He has been reviewing movies since 1999 and is the author of the film criticism books Seagalogy: A Study of the Ass-Kicking Films of Steven Seagal and Yippee Ki-Yay Moviegoer!: Writings on Bruce Willis, Badass Cinema and Other Important Topics as well as the crime novel Niketown.