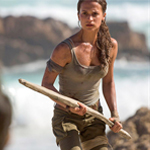 I think this new TOMB RAIDER is kinda good. You probly shouldn't listen to me because I also kinda liked the new THE MUMMY, and this doesn't have the benefit of cool monsters.
It's very much the opposite of what I liked about the previous movies based on this same video game series. I watched LARA CROFT: TOMB RAIDER and LARA CROFT: TOMB RAIDER: THE CRADLE OF LIFE each ten years after they came out, and very much enjoyed Angeline Jolie's shamelessly larger-than-life super heroine who parachutes into people's Jeeps while talking to them on the phone, punches and hitches rides on sharks to escape flooded ruins, rides motorcycles on the Great Wall of China, etc. She has the talents and wits and acrobatic wire-fu skills to easily come out on top in any impossible situation, and that's why it's fun.
So I was skeptical when I saw that the new one was going for a "realistic" approach (partly based on a newer version of the video game). Doesn't sound as fun to me. And Alicia Vikander, as much as I liked her in EX_MACHINA and THE MAN FROM U.N.C.L.E., looked silly to me in the trailers, leaping off crumbling cliffs, getting tossed around and scraped up and still John McClaning her way out of the rubble. She seemed too small and skinny and delicate for that to be believable. So when word on the movie was dire I gave up most of the hope that had been instilled in me by my admiration for director Roar Uthaug's slasher movie COLD PREY and especially his viking-ish chase movie ESCAPE. (Once again, I highly recommend that movie.) (read the rest of this shit…)
VERN has a new action-horror novel out called WORM ON A HOOK! He has been reviewing movies since 1999 and is the author of the film criticism books Seagalogy: A Study of the Ass-Kicking Films of Steven Seagal and Yippee Ki-Yay Moviegoer!: Writings on Bruce Willis, Badass Cinema and Other Important Topics as well as the crime novel Niketown.