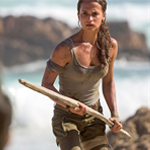 I think this new TOMB RAIDER is kinda good. You probly shouldn't listen to me because I also kinda liked the new THE MUMMY, and this doesn't have the benefit of cool monsters.
It's very much the opposite of what I liked about the previous movies based on this same video game series. I watched LARA CROFT: TOMB RAIDER and LARA CROFT: TOMB RAIDER: THE CRADLE OF LIFE each ten years after they came out, and very much enjoyed Angeline Jolie's shamelessly larger-than-life super heroine who parachutes into people's Jeeps while talking to them on the phone, punches and hitches rides on sharks to escape flooded ruins, rides motorcycles on the Great Wall of China, etc. She has the talents and wits and acrobatic wire-fu skills to easily come out on top in any impossible situation, and that's why it's fun.
So I was skeptical when I saw that the new one was going for a "realistic" approach (partly based on a newer version of the video game). Doesn't sound as fun to me. And Alicia Vikander, as much as I liked her in EX_MACHINA and THE MAN FROM U.N.C.L.E., looked silly to me in the trailers, leaping off crumbling cliffs, getting tossed around and scraped up and still John McClaning her way out of the rubble. She seemed too small and skinny and delicate for that to be believable. So when word on the movie was dire I gave up most of the hope that had been instilled in me by my admiration for director Roar Uthaug's slasher movie COLD PREY and especially his viking-ish chase movie ESCAPE. (Once again, I highly recommend that movie.)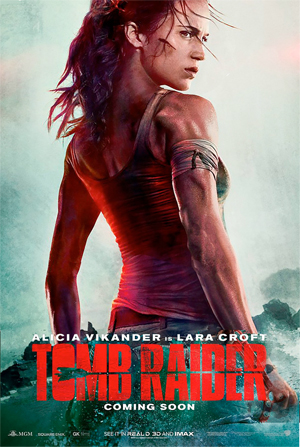 But TOMB RAIDER turned me around in a matter of minutes by introducing Vikander's Lara Croft just right. We meet her in the ring at an MMA gym getting her ass handed to her. Yeah, she's skinny, but seeing her cheese grater abs, tense muscles, popping veins and ROCKY temerity changed my mind. This is not a Lara Croft that can spin around on a rope gracefully firing two machine guns, but it's one who can grapple and take a beating and take a long time to tap out of a choke hold.
She doesn't live in a mansion, either. She gets banned from the gym for unpaid dues, despite working hard as a bike messenger. And we learn that this is sort of by her own stubborn choice – her famous rich guy father has been missing for seven years, and she refuses to give up on him, so she won't sign the papers that would give her his vast business empire. All she has is what he taught her about puzzles and archery – the important shit.
Of course it's a puzzle that leads her to discover his secret double life and the mission he was on to find the hidden burial place of a Japanese goddess of death. Even if she refused the call she'd still be the Tomb Raider, because she finds his files in an office hidden inside his mausoleum. But she recruits a Chinese boat captain named Lu Ren (Daniel Wu, Poison Dagger from THE MAN WITH THE IRON FISTS) who also has a father who also went missing around the same time as hers, and they head out on a search that strands them on a remote island where Justified's Walton Goggins and his army of mercenaries and prisoners are trapped until they find and open that death goddess tomb for an ominous organization called Trinity.
Unsurprisingly, Lara finds dear old dad (Dominic West, THE PUNISHER'S WAR ZONE) looking like Robinson Crusoe or Joaquin Phoenix circa I'M STILL HERE, so there's some closure there, but he insists he can't move on Walton or risk being forced to use his puzzle powers to open the grave and end the world with an evil curse or some shit. Needless to say it turns into an Indiana Jones style archaeological trek full of deadly traps, riddles, puzzles, skeletons and collapsing stone architecture.
Because Lara has been so well established as tough but not invincible (and especially after the scene where she chokes a guy in water, out in the field winning the fight she couldn't back at the gym, but sobbing the whole time) it works better than you might think. Watching her walk on a ladder above a skeleton-strewn chasm gave my stomach a nudge. But they also stretch their credibility a little too far in sequences like the one where they keep tossing her crucial life-saving jewels from across the pit and she one-handed catches them every single time. And no one seems surprised. I would get it if it was Angelina-Lara, but Alicia-Lara can't be expected to do this shit so easily. And I can't help but think that the SPOILER non-supernatural explanation for what's going on isn't as fun as if she got to jiujitsu a mummy. I'm told this is a criticism that video game purists agree with, but you don't even have to factor that in. It's just a fact that a movie like this without monsters is inferior to a movie like this with monsters. Look it up. It's in there, in science books and stuff.
I don't know who was responsible for that choice, but the script is credited to Geneva Robertson-Dworet (CAPTAIN MARVEL), Alastair Siddons (TRESPASS AGAINST US) and Evan Daugherty (SNOW WHITE AND THE HUNTSMAN, KILLING SEASON, DIVERGENT, TEENAGE MUTANT NINJA TURTLES).
Not a screenplay problem: the climactic escape is pretty cool but the falling debris is so obviously a special effect that I have to admit I was much more thrilled by the bicycle race sequence at the beginning, before she was even a tomb raider. That one was all stunts and editing and it had such a sense of speed and danger. I wish there was more of that feeling at the end.
Man, I really think all the stuff about setting up Lara's pre-adventure lifestyle is the best stuff in the movie. So if this didn't do well enough for a part 2 (which I would've happily seen in the theater this time) how bout a lower budget LARA CROFT: BIKE MESSENGER prequel? She has to deliver things on time and she gets chased and she's in an underground fight circuit or whatever. Think about it Hollywood.