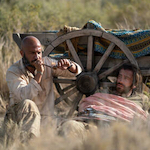 GUY RITCHIE'S THE COVENANT really is the official title of Mr. Ritchie's 2023 Afghanistan War action drama. You know – in the tradition of LEE DANIELS' THE BUTLER. The backstory is they were gonna be straight forward and call it THE INTERPRETER, but then they decided to get a little pompous and change it to THE COVENANT, but that meant they had to add the GUY RITCHIE'S to distinguish it from Renny Harlin's warlock movie THE COVENANT. That's okay, this is one he can be proud to put his name on. It's a good one.
Let me tell you this. A few years ago I hit my breaking point with War On Terror films. I felt like even when they weren't pro-war or militarism propaganda they were still perpetuating our complacency on this unending war. Then we finally pulled out of Afghanistan, so that sort of changed the ethics of using it in action movies, but I still wasn't anxious to revisit the topic. When I started seeing trailers for these new Jake Gyllenhaal and Gerard Butler movies where they're a soldier trying to get their interpreter to safety I thought "oh jesus, this how they're gonna keep milking this thing?"
So I'm thankful to the Action For Everyone podcast and others that have kept praising THE COVENANT and KANDAHAR and explaining why they're more interesting than I assumed. I don't know about that second one, but I'm glad I didn't go with my initial plan to skip THE COVENANT.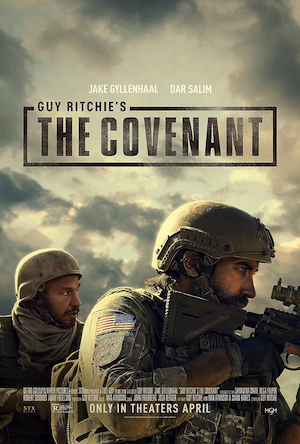 I almost didn't want to put the poster on this review. It's not ugly but, you know, it's just two guys in helmets and desert camo, one with a big ass gun. I don't know about you, but I see that and I picture the same exact sun-drenched, handheld, tactical military slog we've been getting dumped on us for years now. The lingo and the brotherhood and the heroic sacrifice. The water bottles, the sniper scopes, the checkpoints, the nervously looking at locals wondering if they're suicide bombers (the first one isn't, but the next one is), the uncomfortable raiding of innocent family's homes, the little touches the better ones throw in to kind of shade it so you know War Is Hell and innocent people are caught in the crossfire, but still ultimately Our Boys are heroes and that's all that matters, right?
I'm so impressed that THE COVENANT really isn't one of those. It covers some of those things, but it really does do it from a different perspective. It also has an interesting structure to it, a couple different sections, keeping it varied and interesting for just over two hours that honestly feel shorter. (I'm gonna spoil what the different sections are below, so read with caution or just go watch it first.)
It's not about the end of the war – it's set in 2018. Jake Gyllenhaal (CITY SLICKERS) plays U.S. Army Special Forces Master Sergeant John Kinley. He seems like kind of an asshole. His unit's interpreter gets killed by a Taliban truck bomb, so he goes to get a new one. He's told Ahmed (Dar Salim, THE DEVIL'S DOUBLE, BLACK CRAB) is hard to work with, but good. Ahmed says he's been doing this for five years. Asked if he likes it, he says, "It's a job." Only later will Kinley learn that in fact he fights the Taliban for reasons of personal vengeance, and at great risk to himself and his family.
You might assume this is a Gylenhaal vehicle where he has this Afghan sidekick who shows that they're not all bad. But that's really not what it is. Salim kinda reminds me of Temuera Morrison – he just has a powerful badass presence, outshines everyone around him, steals scenes even with few or no word. Ahmed is in a difficult position, seen as a sellout to some of the locals, generally understanding the situations way better than the Americans, having to go along with what they want but trying to be a voice of reason. For example they raid an opium den on bad info that they're hiding Taliban weapons. He tells Kinley all the reasons that doesn't make sense while telling the proprietor stay calm, I know you're telling the truth, we just have to convince these guys of that.
Kinley is smart enough to notice how good Ahmed is and pay attention to what he says. On another day, everyone's furious with Ahmed for stopping their convoy on a hunch that they were lied to about which route to take, but of course he's right and saves them all from an ambush. When Kinley starts to do a little rule bending to get what he considers better intel they locate a major weapons cache, but the insurgents outnumber them, things go south, and only Kinley and Ahmed escape. On foot. In the middle of nowhere.
Ah ha, so that's what this is about. The two men working together to survive, making the long, dangerous journey back to Bagram Air Base. They trek through the mountains, find places to camp out, hide from the people they come across, fall down a big hill, lose a gun, sneak up on some guys and steal a new gun. There are insurgents searching the area for them, but thankfully most of the locals they run into hate the Taliban, and won't give them up.
A real shift in the action happens when they get ambushed, Kinley gets shot and then knocked unconscious with a rifle butt. Oh, so now it's about them being separated.
No, not for long! Ahmed shows up, goes John Rambo on 'em, rescues the Master Sergeant, but he's badly wounded. So now the movie becomes about Ahmed having to keep him alive for several days, and get him home. Most of the trip is made pushing him on a wooden cart. The montages make Ahmed seem like a mythical hero of Conan the Barbarian proportions. It's so triumphant when he gets there and then so deflating that instead of celebrating he has to surrender to American soldiers.
Okay, but there's still a bunch of movie left. It changes up again. Kinley gets sent home to Santa Clarita, he heals up, he returns to civilian life. He owns an auto repair shop, and he does feel pretty useless since his wife Caroline (Emily Beecham, 28 WEEKS LATER) is used to running it all herself. But it's not about him having PTSD or feeling out of place and wanting to go back to war or any of those things. The trouble comes when his friend Sergeant Declan O'Brady (Alexander Ludwig, MXP: MOST XTREME PRIMATE) visits and tells him what became of Ahmed. Kinley doesn't remember what happened before he woke up in the hospital, he just knows Ahmed got him back to Bagram, and now he learns that Ahmed and his family never got the visas they were promised. Worse, his incredibly badass feat of carrying Kinley to safety on a wooden cart made him a local legend, and therefore a prime Taliban target, so he had to go into hiding.
Kinley can't live with himself if he lets this stand. He spends many hours and days waiting on hold to talk to (and yell at) many workers in many army offices. He gets crazy about it. He gets people very annoyed with him. He finally gets a promise of visas through an old colleague, Colonel Vokes (Jonny Lee Miller, HACKERS), but he has no idea how to find Ahmed to get them to him. So the final section of the movie is when Kinley gets the ol' UNCOMMON VALOR spirit, decides to go back to Afghanistan as a private citizen, and since the private military contractor he hires (Antony Starr, Banshee) turns out to be busy for several days he has to do it himself.
Most of it is very classically photographed, very controlled, but Ritchie knows when to throw in some splashes of style. There's a great montage that happens during the Santa Clarita section when Kinley is making all the phone calls. He ends up laying on the floor, and this finally triggers his buried memories of what happened after he got shot. We speed through the whole journey on the wooden cart, including some scenes we saw before, and some we didn't, all from either his perspective or from next to his head, laying in the cart. The cinematographer is Ed Wild (SEVERANCE, LONDON HAS FALLEN), the editor is James Herbert (BLACK BOOK, EDGE OF TOMORROW, several Ritchie films), and they do an outstanding job of making this stand out from all the other Afghanistan War movies. It has its own look and feel.
It's top shelf work from Ritchie and all his collaborators, but the MVP is definitely Salim, an Iraqi-born Danish actor I've seen in a few things but never paid attention to before. In an American-soldier-and-his-Afghan-interpreter movie you don't expect them to cast – or allow – the interpreter to be the badass, the scene-stealer, the one with the off-the-charts screen presence. You expect him to be the sidekick, but he's really the lead for the first half of the movie. Then there's the stretch without him, where Gyllenhaal gets to do the sort of theatrics he loves (flipping out while waiting on hold getting the run around and what not), but even when it's Kinley's story it's the story of how he literally won't be able to sleep unless he repays the debt he owes Ahmed for being the baddest motherfucker of all time. So somehow that last stretch doesn't come off as "this is the story of Kinley and his incredible act of heroism" – it really is "man, we seriously fucked up, and we owe those guys!"
Of course, both characters come out looking good. I hope you know I'm an aficionado of the subtle, silent nod of respect between two badasses. FURY ROAD is obviously the best movie to end with that (and the best movie in general), but this does one too, and I appreciate that.
Like THE GENTLEMAN, WRATH OF MAN and OPERATION FORTUNE: RUSE DE GUERRE, this script is credited to Ritchie and Ivan Atkinson & Marn Davies. The photos of real soldiers and interpreters on the end credits seem like what you put on a movie that's based on a true story, but they make no such claims. Obviously it is based on the truth that many interpreters risked everything to help the Americans and were not rewarded as promised.
The end is really overwhelming because it's a happy ending, it's such a relief, and for a second I thought "Is this bullshit, to be showing us the time when they do get the visa, and everything works out fine?" But then I thought of everything they had to go through to get that happy ending, every extra length they had to go to, every favor they had to pull, every "no" they had to refuse, every rule they had to violate, every lucky break they had to catch (not to mention the $150,000 he had to pay), exactly because this was not the likely outcome, or the one supported by the system. Even before the card at the end with figures of how many interpreters were screwed over and ended up dead or in hiding, the extraordinariness of his actions means that ordinarily people get left behind.
So let's forget about the other half of the The 'FORTUNANT' double feature. That one was mediocre, but THE COVENANT is really something special. The Guy Ritchie roll continues.