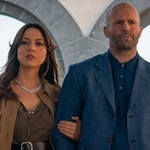 OPERATION FORTUNE: RUSE DE GUERRE is the first of two Guy Ritchie films released in 2023. They came out so close together because this one was delayed more than a year for reasons reportedly including the pandemic, the bad luck of featuring Ukrainian gangsters right when Ukraine was invaded, and restructuring of distributor STX. I swear I heard it was going straight to video at one point, but then it suddenly hit theaters pretty much out of the blue, with predictably poor response.
It's another Ritchie-Statham collab (their fifth), but not a gangster movie. Instead it's a light-hearted spy caper, not an all-out comedy, but very jokey. It's got the usual spy stuff: planting trackers, facial recognition software, meeting with buyers, pulling people into vans. And their mission takes them into the world of the super-duper rich, on yachts, in mansions, private jets, charity parties, bodyguards, art collections, jewelry auctions. A team of crafty good guys have to earn the trust of billionaire arms dealer Greg Simmonds (Hugh Grant, CLOUD ATLAS) before he sells a dangerous device called The Handle.
The spin that makes this a little different from a MISSION: IMPOSSIBLE narratively is that the agents are private contractors, and it's a very competitive field. This guy Knighton (Eddie Marsan, THE DISAPPEARANCE OF ALICE CREED) represents one agency of the British government, he hires Nathan Jasmine (Cary Elwes, THE BRIDE) to put together a team for him, and Nathan insists on getting "the usual chap," Orson Fortune (Jason Statham, DEATH RACE), to which Knighton says, "Oh, fuck!" A kinda funny idea here is that Orson has a reputation for being a pain in the ass not because he plays by his own rules or whatever, but because he has a bunch of phobias that are expensive to accommodate for. And then the second layer of that is that he doesn't really – those are just his excuses to make them pay for him to have a private jet stocked with a bunch of wine ("medicinal requirements"), and send him on "rehabilitation retreat" vacations in exotic locales whenever he's not working.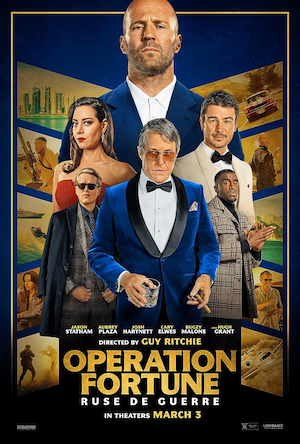 Orson is happy to have "footman" J.J. Davies (British rapper Bugzy Malone) on the assignment with him, but frustrated that he doesn't get to have "John, the comms man" (Nicholas Facey) because John "got poached" by the competition, Mike Hook (Peter Ferdinando, GHOST IN THE SHELL). Instead he gets a "fabulous replacement," Sarah Fidel (Aubrey Plaza, CHILD'S PLAY), who formerly worked for Mike.
Similar to MISSION: IMPOSSIBLE – DEAD RECKONING PART ONE they start by going to an airport (this one in Madrid) trying to intercept a small object (this time a hard drive) from a courier, with Sarah watching security feeds on her laptop, feeding them information over their earpieces. Their agents start getting tased one by one, not by the Ukrainian gangsters they're looking for, but by Mike and his team, who got hired by a different British agency and could get the big pay day instead of Orson's team. Throughout the movie they have their mission and then they have these other assholes trying to steal it out from under them.
When they fail to intercept the Handle and it falls into Simmonds' hands they come up with a far-fetched plan to get to him. First they find dirt on the billionaire's favorite movie star Danny Francesco (Josh Hartnett, BUNRAKU) and blackmail him into working for them. There's a pretty funny scene where Orson ambushes the entitled actor on his private jet and announces that he's his new business manager. They bring him to a Cannes war orphan charity party on Simmonds' yacht, with Sarah posing as his girlfriend under the (correct, it turns out) theory that rich guys want whatever they're told they can't have, so he'll try to steal his favorite actor's girlfriend. Danny also appeals to his ego by claiming to be preparing for a role as "a mysterious self-made billionaire who goes on a transcendental journey from material genius to spiritual giant," so Simmonds invites them all to his private island while Danny shadows him for research. They play their roles, sneak around, try to steal things, dodge pouty suspicious henchwoman Emilia (Lourdes Faberes, NO TIME TO DIE), chase sleazy consigliere Ben Harris (Max Beesley, THE LAST MINUTE, TORQUE, touring keyboardist for The Brand New Heavies), and there are twists and chases and shoot outs and what not. Also helicopters. No motorcycles, sadly. Or scuba.
Based on the movie's poor reception I was worried it could be painfully unfunny. That's not the case. There are a few laughs, and jokes aren't the primary emphasis anyway. Danny's part of the story is the most comedic, and there's some fairly amusing stuff around his terror of going undercover, then getting into it as an acting role and enjoying it as an ego stroke, before actually getting pretty good at it. I like all the scary criminals being starstruck around him, and the gimmick that Simmonds owns the original stunt car from his most famous movie, so Danny gets to drive it in an actual chase. There's a little bit of THE UNBEARABLE WEIGHT OF MASSIVE TALENT here, and Hartnett is good casting for a self-involved, pretty dumb, but basically likable Hollywood doofus.
Plaza's role is an unusual combination of the comic relief sidekick and the babe. She plays it closer to her familiar wiseass comedy persona than her great dramatic performance in EMILY THE CRIMINAL or her darkly funny psycho in INGRID GOES WEST, but her character is very good at the computer stuff and competent at the undercover seduction – it's not the in-over-her-head role most comedians would be given. She also gets to wear fancy dresses and retro outfits she wouldn't get to in most of her movies. But sometimes when she does the (purposely) corny spycraft talk – "I'll control the turntables, you the dance floor. You like to dance?" – she could almost be her Parks & Recreation character's joke alter ego Janet Snakehole. It's an odd fit that I don't think entirely works, but the oddness also makes it kinda interesting.
They don't have her know kung fu or anything but they do have one "doesn't she look cool firing a gun?" part.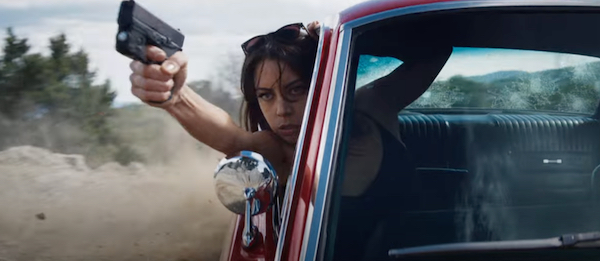 When in Rome, I guess. (When in a Guy Ritchie movie.)
Statham's role is pretty standard for him, which is a good thing. Orson is funny because he's belligerent and kind of a fuckup but also he's cool because he can fight and he looks and sounds like Jason Statham and that's been proven to be a plus for motion pictures. This time he wears tuxes and drinks lots of wine but they never lose track of the fact that we want to see him punching guys real hard. The fight coordinator is Vincent Wang (THE GREAT WALL), who also plays a henchman named Vincent and has a fight against Statham. Stunt coordinator is Mark Mottram (THE GIRL WITH ALL THE GIFTS).
Grant is fine, using his famous charm in a villain role. It's not the delightfully sleazy, kinda over-the-top type of villain he's been doing lately – in fact it's kind of refreshing that Simmonds doesn't really have a secretly evil side. His job is evil, but he is sincerely trying to be friends with these people, and is hurt when he finds out he's being lied to. The movie's probly too forgiving of him at the end, but at least it's a little different from the standard formula evil billionaire.
Ritchie got his start as a particularly show-offy director, but over time has developed many variations of his style, and ways of modulating between keeping it under control and letting it go wild. The opening got me thinking he'd be extra playful on this one – he has Nathan walking down a hall to his meeting, his loud footsteps making a beat, and it's intercut with gritty, handheld silent footage of the robbery he's about to be told about. I took it as a tribute to POINT BLANK, both its opening and its ahead-of-its-time editing techniques. There's more of Ritchie's casual non-linear storytelling (editor: James Herbert, EDGE OF TOMORROW), and he has fun with Sarah talking to them over their headsets by giving her an actual microphone and shooting her like the DJ in THE WARRIORS. But for the most part the filmatism isn't too eventful. It's pretty much what you expect.
I'm of the opinion that Ritchie has been on kind of a roll the last decade. I have not seen THE GENTLEMEN, but everything else he's done post-SHERLOCK HOLMES has been interesting, at least. THE MAN FROM U.N.C.L.E. and WRATH OF MAN are two of my favorites he's ever done, KING ARTHUR: LEGEND OF THE SWORD is an enjoyably deranged Ritchie-fication of the big budget Fantasy Sword Guy genre, and even ALADDIN was a little better than it sounds and not necessarily what other directors would've done with that gig. The big sin of OPERATION FORTUNE is not being particularly terrible, but just very middle-of-the-road. They might be having fun but nobody is working up to their abilities.
It wasn't so surprising to read that they were somewhat making it up as they went along. Ritchie told Collider, "I didn't like the script when I started, and that was sort of the challenge. It was something that I cobbled up with a couple of chaps that I worked with and it was a bit of a feathery fish. And the challenge was how to make it a less feathery fish. And so we just rewrote every scene on the day in this film almost completely."
So the half-assed release isn't so tragic. If you gotta throw away a Ritchie movie, it might as well be the one that was a throw away for him. And luckily, he had that other one that came out less than two months later in the U.S. In the tradition of "Barbenheimer" I decided to do "The Fortunant" and watch the '23 Ritchie films back-to-back. I'm happy to say that GUY RITCHIE'S THE COVENANT is much better than OPERATION FORTUNE, as I will discuss with you tomorrow.
This entry was posted on Monday, September 18th, 2023 at 7:13 am and is filed under
Reviews
,
Action
,
Comedy/Laffs
. You can follow any responses to this entry through the
RSS 2.0
feed. You can skip to the end and leave a response. Pinging is currently not allowed.