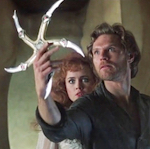 On July 29, 1983, the same day Luis Bunuel died, and two days after the release of Madonna's debut album, Columbia Pictures released their entry in the "if you liked RETURN OF THE JEDI…" sweepstakes, KRULL. With the resources of a studio behind it, KRULL was able to be bigger than most of the other also-rans, having double the budget of SPACEHUNTER: ADVENTURES IN THE FORBIDDEN ZONE, for example. It even got a release in 70mm. It boasts a new score by James Horner that sounds kinda like BATTLE BEYOND THE STARS, instead of re-using the actual score from BATTLE BEYOND THE STARS like SPACE RAIDERS did. Notably it has the same cinematographer as THE EMPIRE STRIKES BACK, Peter Suschitzky. Editor Ray Lovejoy is the guy who did 2001: A SPACE ODYSSEY. So it's quite a crew here.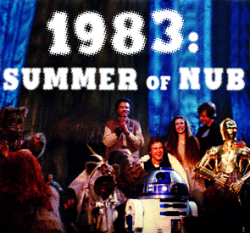 The director is Peter Yates (BULLITT, THE HOT ROCK, THE FRIENDS OF EDDIE COYLE, MOTHER, JUGS & SPEED, THE DEEP), one of the many British directors George Lucas had considered for RETURN OF THE JEDI. Screenwriter Stanford Sherman was a TV guy (Man from U.N.C.L.E./Batman) but had done ANY WHICH WAY YOU CAN. Unfortunately he did not include a punching orangutan in this one. Could've used one, to be honest.
KRULL is much more of a sword and sorcery type fantasy movie than it is a sci-fi movie, but they're definitely going for a mix. It opens with a star field, then a ship-like object floating through space. It's not anything mechanical, it's a giant rock formation called The Black Fortress that lands on the planet Krull, looking like an evil castle Skeletor might stay in while Snake Mountain is being fumigated. A narrator explains that it holds "The Beast and his army, The Slayers," demonically evil guys who are gonna kill the shit out of everybody on Krull and take over.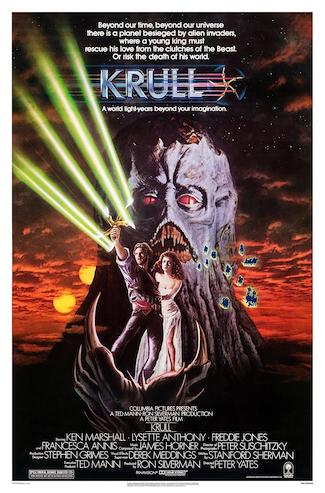 The narrator also notifies us about the prophecy "that a girl of ancient name shall become Queen, that she shall choose a King, and that together they shall rule our world, and that their son shall rule the galaxy."
I'm not clear if they're intentionally trying to fulfill that prophecy (which seems a little presumptuous), but a princess named Lyssa (Lysette Anthony, later in LOOK WHO'S TALKING NOW) plans to marry the prince of an enemy kingdom in order to form an alliance to fight The Beast. It's not an arranged marriage – it's very clear that they want to do it, against the wishes of their monarch fathers. But Lyssa speaks of the marriage only in strategic terms – "it's the only way to guarantee the alliance" – and rationalizes that this guy she's never met is good for her because "Colwyn is a great fighter."
"Heh. Good fighters make bad husbands," says her father (Bernard Archard, VILLAGE OF THE DAMNED).
"Perhaps," she says.
In the age old fairy tale style, she meets Colwyn (Ken Marshall, TILT), they exchange brief pleasantries, then kiss and we are to accept that they have plummeted into undying romantic-as-shit super-love. Anthony does do a good job of looking smitten with him, though it would be hard to have natural chemistry in their scenes together, since the producers thought she sounded too young and had her lines redubbed by Lindsay Crouse (later in HOUSE OF GAMES). No matter – she's kidnapped before the ceremony is completed, the kings are killed, and the movie is about Colwyn having to rescue her from the Black Fortress. She spends most of the movie standing lonely on big stylized sets or backdrops, including one of a giant eye that made me think of that Salvador Dali thing in Hitchock's SPELLBOUND.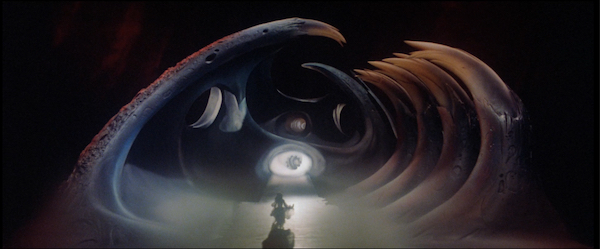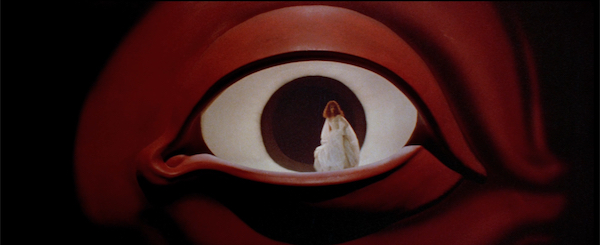 Colwyn is nursed back to health (and shamed for being a cry baby) by an old man named Ynyr (Freddie Jones, FIREFOX), who's also the narrator. Ynyr tells him he can defeat The Beast with The Glaive, a bladed throwing star thing last seen in OCTOPUSSY.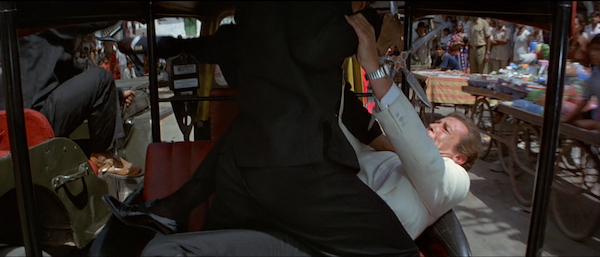 In my experience people who say they like KRULL only talk about The Glaive. Admittedly, it's a cool looking weapon. In the fantasy quest tradition, Colwyn has to climb a mountain and into a cave to find it. Then they have to find the Black Fortress, but it has pretty good security protocol, teleporting to a new location every morning.
They do the WIZARD OF OZ thing, picking up different pals along their journey. First up is a funny-coded character named Ergo (David Battley, WILLY WONKA & THE CHOCOLATE FACTORY). He's a magician or shapeshifter or something so he can turn into a goose, a pig, and later a tiger.
At first Ergo is the only one to notice they're being followed by a cyclops named Rell (Bernard Bresslaw, HAWK THE SLAYER). The second time he sees him he gets so scared he faints.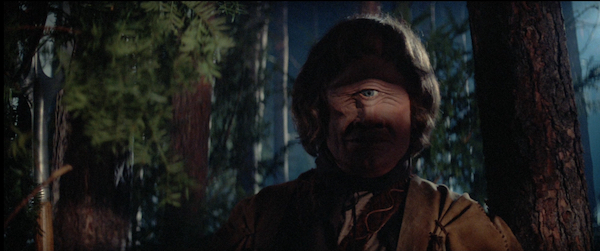 Every time they show Rell it's a pretty good mix of goofy and creepy. They say he's 20 feet tall and try to make it look that way using forced perspective, but then there's a couple scenes where they give up and just have him walking with the others looking more like 6' 3".
They're also joined by a Blind Seer (John Welsh, REVENGE OF FRANKENSTEIN) until an evil changeling kills him and pretends to be him. Rell figures out the scam and kills the doppelganger, and there's a pretty cool shot of him deflating and sinking into the ground. There are also cool effects on the occasions where they kill the Slayers. Little squid things crawl out of their scary black armor and disappear into the ground.
Colwyn exhibits leadership when he meets a group of bandits who escaped from prison and still wear shackles. They're led by Torquil (Alun Armstrong, GET CARTER), who wears a cool spiked collar, and they include ax thrower Kegan (Liam Neeson five years before THE DEAD POOL) and spear wielder Rhun (babyfaced Robbie Coltrane dubbed by Michael Elphick, THE ELEPHANT MAN). At first they laugh at him because he seems like a jackass asking them to follow him into battle against The Beast. "Would you follow a king?" he asks, and I was offended by this monarchist bullshit. Why should they give a shit if he technically has that title? They shouldn't. They should want to follow him even less then the zero amount they wanted to follow him previously. To his credit, he reveals that as king he wears a Glaive-themed necklace that carries one of two existing keys to all of the kingdoms' shackles. So he frees them and they do decide to join him.
It's really not fair for me to complain about this being a different sort of sci-fi fantasy than RETURN OF THE JEDI; if it was closer to the same kind of thing it would be criticized as a wannabe. But since these movies were obviously greenlit in the wake of the massive popularity of Star Wars it's kind of funny how much they lack the same appeal. RETURN OF THE JEDI is exciting because it's so teeming with otherworldly creations: Jabba and his entourage, the Sy Snootles band, the Rancor, Admiral Ackbar, the Ewoks, the speeder bikes, and on and on. KRULL has some cool shit, which I will list in a minute, but most of the time you're just looking at generic earth shit you'd see in any boring movie about knights and castles. Medieval robes and armor, regular earth animals, bland mountains and forests, and though The Beast is a pretty cool giant monster you don't really see him until the end, and then he's deliberately out of focus. How are you gonna keep 'em on Krull when they've already seen Jabba's Palace?
Colwyn does some decent swashbuckler moves, but some of the sword fights even seem stiff compared to the first STAR WARS. Their answer to light sabers is that they add some animated red lightning when the swords hit each other. In the tradition of Tatooine, Krull has "twin suns." I feel like if I lived on a planet with two suns I would probly just refer to them as "the suns" and not "the twin suns," but that's just me. Nobody mentions it, but they also have twin moons. And there's a part with spikes coming out of some walls that's reminiscent of the STAR WARS trash compactor scene (except fatal in this case).
There's nothing to compete with the Sarlacc pit, unless you count the quicksand scene. I've probly said this in another review before, but when we were kids it sure seemed like quicksand was a more common phenomenon than it is. I don't believe I've ever met anyone who's been involved in a quicksand incident. Still, not very exciting in this movie.
But there is occasional cool shit. There's a cave full of spider webs that's home to a giant see-through spider, portrayed with stop motion animation. I don't like spiders, but I like stop motion, so I can respect it. There's a part where they ride horses with flames superimposed over their legs. I mentioned the armor. And the cyclops. And The Beast at the end. And The Glaive. It doesn't make for the most exciting duel, but I'm not gonna shit on The Glaive spinning around like a boomerang, making a funny humming sound. That's worthwhile.
I never saw this movie growing up – I first saw it in 2004 at Cinerama's 70mm festival. (Warning: in that review I make a joke about SILVERADO, which I hadn't seen and assumed was boring for some reason.) I was really excited to have a new '80s fantasy movie in my life, but sadly I found it extremely dull and just about the only thing I remembered by the time of this revisit was that Neeson was in it at some point, doing something. I'm afraid it didn't improve much on the second viewing. I can intellectually get behind some of the individual elements being cool, and there are some nice images at times, but it just doesn't have much momentum or excitement to it.
And it makes me realize that a maybe under-acknowledged part of the George Lucas approach to fantasy was that there wasn't anything stuffy about it, unless you count the uptight bad guys we're rooting against. Han was cool and fun, Leia was sarcastic and take-charge, Luke may have started out dorky, but he was always modern, relatable. KRULL takes the opposite approach, making the leads try to be very formal and mythical. Colwyn may be "a great fighter" (seems like an exaggeration, honestly) and I'm sure he will live up to his potential as a bad husband, but some things he's not are cool, charismatic, fun to watch. It's very hard to be engaged in some guys riding horses through mountains when the main guy is this corny. I actually kinda side with The Beast, come to think of it. Or at least Liam Neeson. Why doesn't he just let Liam Neeson be the leader?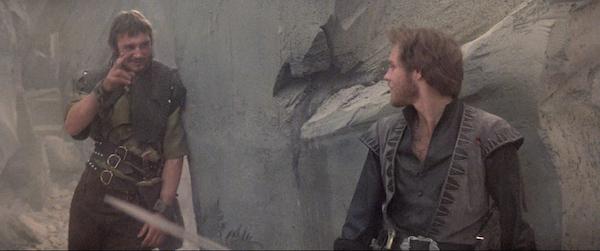 Horner's score is very good at times, but sometimes I think he overdoes it. Like, if you put your "THIS IS THE GREATEST ADVENTURE AN ADVENTURER EVER ADVENTURED!" fanfare over the hero just climbing some rocks you kinda make him look like an asshole. Tone it down, man.
Shoulda kept it subtle and saved that one for the end, when they get married and are gonna rule the planet, I guess. King Colwyn makes Torquil his Lord Marshal, which is loyal of him but man, what a sell out, for Torquil to become a cop. He's probly one of those guys who tries to portray himself as surprisingly cool. "Sure, I'm a cop now, but what if I told you I used to be the leader of a gang of prison escapee bandits? Would that blow your mind?"
The narrator repeats the prophecy from the beginning, so I guess we should be excited to imagine Colwyn and Lyssa having a kid who rules the galaxy, whatever that means for a non-technological civilization. I guess he'll fly around on magic mountains giving orders to the different planets. I'm sure I speak for all of us when I say how happy I am for him.
KRULL opened in 4th place, below NATIONAL LAMPOON'S VACATION, JAWS 3-D (week 2) and RETURN OF THE JEDI (week 10). It did not make back its budget in theaters, though I'm sure cable and video helped. I think that's where most people saw it.
Yates continued directing through 2004. Sherman wrote THE ICE PIRATES. Marshall guest starred on many TV shows (Baywatch, Hunter, Quantum Leap) and had a character who appeared in 9 episodes of Star Trek: Deep Space Nine. Anthony was in a bunch of Bryan Adams videos and DRACULA: DEAD AND LOVING IT. Coltrane had a long and prolific career (using his own voice) but was best known for playing a two-eyed giant in the Millennial Star Wars, PETER POTTER AND THE SORCERER'S MAGIC. Neeson later appeared in a real Star Wars, and his character was in the vicinity of RETURN OF THE JEDI breakout star Jabba the Hutt.
tie-ins: Marvel did a comic book adaptation of KRULL, and Alan Dean Foster wrote a novelization. I happen to know there was also a board game, because I once bought it at a Goodwill and then gave it to the first person I ever met who liked KRULL. There was also a Krull card game, an arcade game and separate Atari 2600 game.
P.S. I thought I had reviewed VACATION, but it turns out I've only reviewed EUROPEAN VACATION and VEGAS VACATION. Sorry. Maybe some other time.