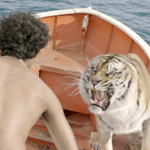 LIFE OF PI is the story of an Indian guy (Irrfan Khan) who for some reason has a white author guy (Rafe Spall) he doesn't know come over to his house to interview him about his life. It's kind of unclear what the situation is here, but apparently the writer guy is not in the book the movie is based on, so I guess this is a dramatization of what the making of the book would've been like if it was a true story that a a real guy told to the author instead of something that he made up and wrote using his imagination and talents. I don't get it, but it kind of reminds me of BIG FISH. Sophomore year imagination class. That's at least a huge step forward for screenwriter David Magee, considering he wrote FINDING NEVERLAND.
[UPDATE: Okay, never mind, I'm told the writer is in the book. It would be cooler if in the book it was Ang Lee that comes over to his house.]

At first this guy talks about his childhood and his name (Pi for short), and the music tells us this is some adorable AMELIE type shit going down, and I'm not sure how long I'd be willing to stick with it. Luckily he soon goes into a story about his family getting shipwrecked while transporting zoo animals to Canada (you know how that can be) and that's what most of the movie is about. Young Pi (now played by rookie actor Suraj Sharma) ends up on a lifeboat with some animals, most notably a Bengal tiger named Richard Parker.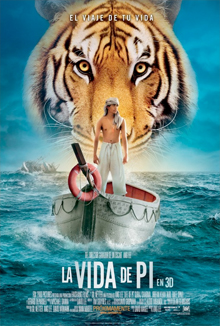 Now, I don't know how aware of this you guys are, but the Walt Disney company, in addition to American cultural behemoths like STAR WARS, Pixar, The Muppets, Marvel Comics, ESPN and The Wuzzles also owns the hugely popular BUDDIES franchise. It started with the film AIR BUD in 1997, which of course is the sports drama that took advantage of the real life loophole that there ain't no rule says a dog can't play basketball. In a continually evolving series of DTV sequels the Air Bud character went on to master American football, American soccer, baseball and volleyball before fathering a pack of talking puppies called Air Buddies, who have sorely disappointed him by not following in his athletic pawsteps, but have still had their own adventures including SPACE BUDDIES, SPOOKY BUDDIES, TREASURE BUDDIES, SANTA PAWS 2: THE SANTA PUPS, etc. There's a total of 13 films as of this writing and one of them, SNOW BUDDIES, I believe crosses over with the Cuba Gooding Jr. picture SNOW DOGS, because it had a fantasy sequence where his sled dogs could talk.
What I am suggesting to you my friends is that Disney should buy this LIFE OF PI property so that we can see Richard Parker's offspring in SPOOKY BUDDIES 2: PARATIGER CUBTIVITY or perhaps some sort of MASTER AND COMMANDER parody where the tiger is a sailor, because of boats and everything. I might be getting a little off track here. Only time will tell. But just in case I will write more stuff about LIFE OF PI.
On a technical level the movie is undeniable. I'll be surprised if it doesn't win the visual FX Oscar. The CGI animals (which may sometimes be real, or puppets, I have no idea) are about as real as they've done so far, and they just act like animals, no shuckin and jivin for human sensibilities. During the movie I never thought about the logistics of one actor on a boat pretending to be chased by an invisible tiger, but it must've been hard to film. And it must've been hard to script too, keeping this simple situation interesting, making sure there's a feeling of momentum even though the character's literally adrift at sea. He finds different survival gear stashed on the boat, comes up with different plans and schemes to stay safe. Sometimes a shark swims by.
This is yet more proof that Ang Lee can make any god damn movie he pleases and you might as well just shut up and get out of the way you assholes. Other people had a hell of a time making this book into a movie. I know M. Night Shyamalan, Alfonso Cuaron and Jean-Pierre Jeunet all wasted a bunch of their life trying to do it. To be fair, the studio might've had cold feet because SNAKES ON A PLANE didn't do that well. Still, they all shoulda known that the director of HULK and RACCOON HAMLET was the only one that could pull it off. I wonder if he wore the mo-cap suit and created the movements for all the animals like he did for the Hulk. I can see him crawling around that boat growling and shit. I bet he did.
It was shot in 3D and is getting some HUGO type hype as one of the good 3Ds. I don't know. I thought a couple parts looked great, but then I would forget it was 3D for long stretches. (There's an ad where James Cameron points that out as being how you know it's good 3D, which is of course a ridiculous and embarrassing thing for somebody to say and have quoted on an ad. I only forgive him because ALIENS, T2, etc.) I wasn't sure if the weakness was in the movie or because of the 3D system. This place used Dolby 3D, battery powered goggles with regular screen, all the other Seattle theaters I've been to use Real D, plastic glasses with silver screen.
But some parts look great and there are some harrowing scenes such as the shipwreck and some gorgeous, stylized landscapes, sometimes some magical painterly views of the water or reflections on said water or whatever.
The best 3D scene is actually the one they showed before PROMETHEUS with the flying fish. I noticed that the aspect ratio changed to a wider screen and when the fish were flying out of the screen their image would cross over the letterboxed area. Interesting technique.
I loved that scene out of context. Some people said they didn't understand it as an advertisement, because why would you draw somebody in with a really intriguing and original scene when you could instead just show clips explaining everything that happens in the movie and have that transformers distorted electronic BONG! BONG! sound to show how dramatic it is. And then at the end Pi is looking up to the sky and it's the theme from DRAGON: THE BRUCE LEE STORY.
I disagreed with that so I was almost disappointed when I started seeing the TV ads where they explain that his family owns a zoo and there's a shipwreck and etc. I kinda preferred it when it was some mysterious parable without a grounding in logic. And all the problems I have with the movie – which are not major, really – have to do with that grounding in logic. Everything about the creamy center of the movie, about a dude and some animals on a boat, works for me. But I realize this is based on a book and it wouldn't really be fair to hack off the beginning and end and main theme of the book. But I might've liked it better that way.
This is a movie that is about something and will be meaningful to some people. It has a clever way of getting the idea across which I thought was teetering on blowing it HIGH TENSION style but I thought managed to just barely stay on its feet. Still it comes across as kind of a pandering new agey type of spirituality. This Pi is a guy who grows up trying out different religions at the same time and in the end it seems to be saying that it's best to believe the story that is most meaningful and right to you whether or not it's literally true. It's very convenient because it sort of applies to anybody's religious beliefs but also I think it's a good idea, it's saying forget about sticking to the confines of one ancient tradition, why not learn from everyone and take what wisdom you can from wherever you can. It's the same idea as Bruce Lee, or Ghost Dog, or mixed martial arts, or Wu-Tang. So I agree with it.
But still, the way it comes across, it's a little on the corny side. Very pleasing to the audience I watched it with, who laughed at the cuteness of any god damn animal that ever appeared on screen, as well as at a scene I thought was very powerful where Pi, a life long vegetarian, has to kill a fish to survive, and he apologizes to it and thanks Vishnu. And they laughed like it was cute. Ha ha, what if somebody really had to violate their deeply held beliefs? It's so cute! Kinda condescending in my opinion.
But I'm not really complaining, I didn't have a big problem with it, I'm just saying that what I liked about the movie was not so much the substance of it, it was really just the main story of this young guy trapped on a life boat with some animals. It takes this simple situation and turns it into a whole story full of tension and humor and occasional beauty and what not, some horror, some triumph, etc.
The wrap-up sort of gives you direction on how to interpret the meaning of the whole thing, but I kinda liked it better before that when it seemed to be not as specifically about religious belief but just about people getting along despite their differences. Richard Parker is a fucking tiger, he's not gonna completely give up on eating Pi, but Pi doesn't spear him and in fact goes out of his way to rescue the tiger and is sad when he separates from him. I like thinking this is about finding solutions to difficult problems, co-existing even with people who mean you harm. To me it's about how dangerous and impossible the world can be but how worth it it is to put in the effort.
But then it's about something else. Oh well. That's okay. I just like the middle part the best. That's the story I pick.
This entry was posted on Tuesday, November 27th, 2012 at 2:23 am and is filed under
Fantasy/Swords
,
Reviews
. You can follow any responses to this entry through the
RSS 2.0
feed. You can skip to the end and leave a response. Pinging is currently not allowed.