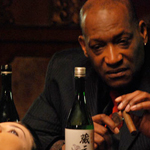 I know they say you can't judge a book by its cover, but a movie is not a book and a cover is not always the same art as a poster so I sometimes feel okay writing off a movie because of its poster. And these days when a movie has kind of a quasi-retro poster with a sort-of-old-school-ish illustration and attempted '70s font, I assume it's just some bullshit by somebody who liked GRINDHOUSE like I did and thinks if they know about old movies they can make a movie like that even if they don't have the chops. But some of you said I had to watch SUSHI GIRL, so I gave it a shot. I forgive you.

This one is by feature-directing-freshman Kern Saxton and co-writer Destin Pfaff (also an actor in the movie) and I feel like an asshole writing this but this movie is a perfect example of what I'm talking about when I say that Tarantino's skills as a director are proven by all the other directors failing so horribly at trying to bite his style. These guys are clearly intent on creating a variation on a Tarantino-type movie, and they don't come anywhere near matching his storytelling, his humor, his performances, his music, nothing. For example, they play the entire Isaac Hayes version of "Walk On By" for the last scene and end credits. Great song, I love it too, but Tarantino would've found a deeper cut. He wouldn't hinge the entire end of the movie on a song everybody knows and that was already on the DEAD PRESIDENTS soundtrack.
It's not like they're incompetent. It looks pretty good, and not like a Tarantino movie. I'm sure if they did a total cleanse and came up with something of their own they could make something that I would like better. But this one hurts me.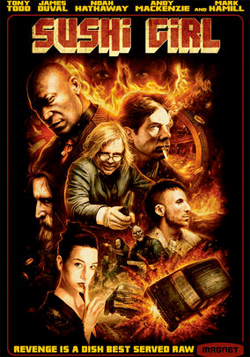 It's mostly modeled after RESERVOIR DOGS. It takes place primarily at one location, where a group of thieves gather and flash back to glimpses of a diamond robbery. They argue, a guy gets taped to a chair and tortured, a random motorist gets shot, they don't like the masks they have to wear (see, TOTALLY different from not liking their code names), there's a Mexican standoff where they shoot each other. Come to think of it this is more ammo for my arguments in that Village Voice piece because it shows you can make a movie that's based on RESERVOIR DOGS but not necessarily CITY ON FIRE.
The cast includes Tarantino vet Sonny Chiba and Rodriguez vets Jeff Fahey, Michael Biehn and Danny Trejo (holding a machete – get it, because Machete), but all in tiny, mostly worthless cameos so the cast list looks great on IMDb. The most impressive get is Luke Skywalker himself (I mean Mark Hamill, not the guy from 2 Live Crew) who actually is a main character, hamming it up as a long-haired, bitchy, gum-chewing asshole guy. Tony Todd is sort of the main villain who has gathered everybody there. And the occasion for the gathering is this younger guy Fish getting out of prison and Todd thinks he knows what happened to the diamonds. I didn't recognize him but it turns out Fish is played by Noah Hathaway, Atreyu from THE NEVERENDING STORY. (I'm surprised neither Sid Haig or Bill Moseley is in here, it seems like one of them is in every movie like this, but maybe this director is anti-Rob Zombie).
The number one problem with this movie is also the main thing filmatists seem to have a problem copping from Tarantino: all of the characters just seem like phonies. They talk tough but there is no feeling of authenticity to their criminality and no originality to make up for it. They just speak cliches like "I just did six years and never gave you up!" and all that shit. They all seem so sure that they are cool tough guys, but they're just not pulling it off. Delusions of Mr. Blonde. I especially hated this asshole character, played by Andy Mackenzie: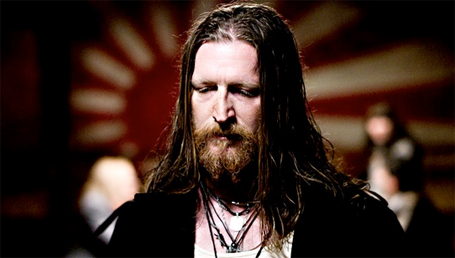 He's dressed up like Donal Logue from BLADE except without any humor, and he's supposed to be awesome. Tip for co-diamond thieves squabbling with this guy: just shut his hair in a door.
The one thing I liked in the movie is the titleogical girl, played by Introducing Cortney Palm, who previously played a naked girl chased from a softcore porn shoot to a cemetery and horribly murdered in SILENT NIGHT. Here she is also naked the whole time but she's laying on a table so the criminals can eat sushi off her. You know, that thing where they put sushi on a naked girl. Tony Todd is obsessed with Yakuza traditions (they looked them up somewhere and just gave him a bunch of speeches about it – a pretend criminal pretending to be a different kind of criminal) so he does that thing where they eat the blowfish that might kill them.
I kept wondering how long this poor girl had to actually lay there naked on the table. It would suck if she had to be there the whole time while the men keep blowing their lines. Obviously she wasn't always there, but there are a bunch of shots where she's just in the foreground, and she'll blink every once in a while so I don't think it's a dummy and it doesn't look green-screened. A few times there's a close up of her face wincing at something happening in the room, but those clearly seem cut in, possibly even the same shot more than once.
Well, she's the title character so I think you can guess that she finally gets to do something at the end, and she's pretty good doing actual dialogue. Not everybody looks this good naked, not everybody's willing to do it and it's nice that when she gets to act at the end she can do that too.
I'm sorry guys, I didn't dig this one but I know more than one of you recommened it so please let me know what I'm missing in the comments.