POLICE STORY PART II (as the opening credits call it) begins with a montage of all the highlights of part 1, set to the theme song, sung by star/director Jackie Chan.
The sequel directly follows part 1. Chan's character Chan Ka-Kui, in the great tradition of movie hero cops, is demoted to traffic patrol for being so awesome and busting the drug lord. His boss and uncle return, and although they develop a stronger friendship over the movie it starts out with him being chewed out for all the property damage his famous part 1 stunts caused, including driving over the shantytown and sliding down the weird Christmas tree looking thing in the shopping mall: "Why didn't you use the stairs? Did you have to destroy the chandelier?"
Even without the secretary from part 1 around to cause misunderstandings, Ka-Kui's girlfriend (Maggie Cheung) is always getting mad at him because he works too much and his job is dangerous and all that shit. She still rides the scooter, and there's a callback (with flashback) to the part where he grabbed her bag and accidentally pulled her off. This time he doesn't do it but she crashes into a car.
Things get even worse because of a terminal disease. No, Ka-Kui doesn't get one – the drug lord does, so he gets out of the joint on a compassionate discharge, and he and his right hand man start stalking Ka-Kui and his girl, showing up at their homes, spying on them, etc. There's a running joke that the one guy keeps getting his glasses broken. If I were him I would get contacts.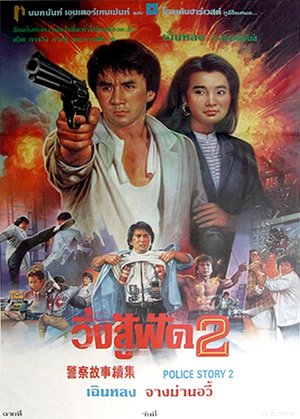 These guys are jerks, so they beat up his girlfriend, even though she's a girl and not Michelle Yeoh or Cynthia Rothrock. The conflict escalates. To me the highlight of the movie is when he sees the druglord in the window of a restaurant in the distance, and has to run across a freeway into the establishment to beat everybody up.
After that he tries to quit the force, but this isn't EX-POLICE STORY, so he gets drawn back in due to a series of bombings that have been going on. He's introduced to the squad of special agents, young people with different types of hip, suave or nerdy fashion, no uniforms. They almost seem like 21 Jump Street except instead of going undercover in schools they go overboard in interrogation rooms, beating up suspects and threatening them and stuff.
Ka-Kui starts doing a little more special ops type police work, like sneaking into a corporate board room to plant a bug. To go undercover to meet with an explosives dealer he wears a mustache and wire rimmed glasses, he looks like he could be one of the background employees at Blue Moon Detective Agency on Moonlighting. He gets into character and is meaner and tougher than regular Ka-Kui. The guy reports him to 21 Jump Street (who don't know he's there in disguise), he gets out of it and busts into the guy's house to beat him up as punishment.
The bombers are a circle of interesting creeps. One of them puts bombs on radio controlled cars. I wonder if that inspired the toy car bombs in THE DEAD POOL, but if so it's okay because they don't take it as far in this one.
It's a solid movie with plenty of Jackie moments. There's the "10 Man Park Brawl" (according to a newspaper headline) which has him doing his trademark complex fight choreography on various playground equipment, tossing people through monkeybars, against the side of the swing set and that kind of stuff. There's a part where he gets onto the top of a bus and his to leap over or duck under some signs. He leads a car down a dead end alley, jumps up the wall to avoid getting hit, lands on the hood and then kicks through the windshield. He gets to be set on fire and run away from an exploding fireworks factory.
I think there's less of the out-of-place groaner humor, except for a scene about Ka-Kui's uncle farting on a crowded elevator. There's also a part with uncle on a toilet, but that part was pretty funny I thought.
I guess it's a bigger budget than the first one, so they have more of the explosion stuff. There's a big scene at a mall with some pyrotechnics that I guess were a big deal at the time, and it's cool, but is it as when he jumped down that chandelier thing? Not at all. That's Part 2's weakness – it spends alot of time connecting to the flimsy plot of the first one but, at least speaking for myself, that's not really what I care about. It can bring back the story of his girlfriend's moped but it isn't really able to top the insane stunts that made that movie unforgettable.
In '85 Jackie was hungry to do a movie his way because he was so disappointed in his experience making THE PROTECTOR in the US. 3 years later, after the success of part 1 (plus ARMOUR OF GOD, PROJECT A 2 and DRAGONS FOREVER), there wasn't as much urgency to go for broke, I bet.
Then again, you watch this trailer here and you can see there's more great shit than in your average movie, or even some of your above average movies. And there's alot of blood in the outtakes. I can't dismiss that. They may not have destroyed a shantytown, but they're still risking themselves on this one. Thank you, Jackie Chan Stunt Team. I appreciate your sacrifice.
This entry was posted on Wednesday, May 2nd, 2012 at 10:34 am and is filed under
Action
,
Martial Arts
,
Reviews
. You can follow any responses to this entry through the
RSS 2.0
feed. You can skip to the end and leave a response. Pinging is currently not allowed.