POLICE STORY, directed by and starring circa-1985 Jackie Chan, starts out seeming more serious than most of his movies. Jackie and a bunch of other cops have to raid a huge shantytown looking for drug dealers, and it leads to a chaotic shootout through narrow paths and rickety structures. One of the cops is so scared he actually pisses his pants, and it's played for humiliation, not for laughs. These guys know that alot of people are about to be killed, including some of them.

It's a bleak, moody opening about the hellish pressure of being a cop… but don't take it too seriously, it's all just setup for some incredible footage of vehicles driving down the hill, over and through the shantytown. Jackie had just gone to the U.S. and made THE PROTECTOR in English, but it didn't turn him into an American movie star and he wasn't happy with the movie. So he came back home and made his own version of that type of cop movie, and his version has all the most ridiculous and dangerous stunts he could think of.
It's like some of the Thai movies now, you watch it and think they couldn't have possibly known if that was safe or not. They must've just crossed their fingers and went for it.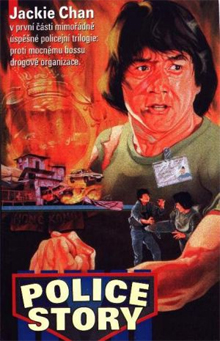 The story is pretty stupid, with a complete failure to balance different tones. Sometimes it goes for the DIRTY HARRY cliche, he's a cop that's fed up with all those pesky regulations preventing him from stopping the bad guys. Other times he's a buffoonish clown, upsetting his girlfriend (Maggie Cheung) so she smashes a cake in his face (this after a long series of events where nobody mentioned it was his birthday), getting tangled up in phone cords because he tries to take six calls at the same time, that kind of thing. The main story is about protecting a kingpin's secretary (Brigitte Lin) so she can be a witness at a trial, but also it's got all this Three's Company shit about his girlfriend thinking he's cheating and getting in trouble with his boss and stuff. Not the greatest.
But it's easy to forgive all that because there's such a high level of crazy action sequences and stunts. There's the part where he chases after a bus on foot, then hangs off the side of it using an umbrella handle. There's alot of jumping over and onto moving cars, or fighting on top of non-moving ones, slamming people against the doors, through the windows. There's a fight in a mall that uses the location to full advantage, with store windows, jewelry counters, garbage cans, mannequins and suit racks sustaining damage or being used as weapons. Of course there are escalator stunts. There are many jumps from high places, including off a building into a swimming pool and a legendary one from the top floor of the mall, sliding down a pole breaking real lights and causing real electric sparks – Jackie wasn't sure he would survive that one but for some reason he did it anyway.
Of course most of these things you rarely see in Hollywood movies, but there's a couple cases where these scenes were directly copied. TANGO AND CASH re-created Jackie in the street with the gun forcing the bus to slam on the breaks and send three dudes through the windshield (holy shit I can't believe they did that!). BAD BOYS II did the driving-over-the-shantytown scene, but there's a meaningful change in the way the filmatists justify this reckless endangerment of the lives of poor people. In POLICE STORY the officers are repeatedly warned to be careful about hurting civilians (but they don't do a very good job). In BAD BOYS II they say it's okay because everyone who lives in the shantytown manufactures drugs.
Not that POLICE STORY is much more morally sound. Jackie's a bumbling goofball but then every once in a while he gets upset about the justice system and goes way overboard. Even Dirty Harry never took his superintendent hostage. At the end he catches the kingpin and has a chance to take the high road and allow him his civil rights. Instead he beats the shit out of him and his lawyer! Pretty good ending, actually, even if it's in the same movie that played breakdancing music while he moonwalked to scrape dog shit off his shoe.
This entry was posted on Tuesday, May 17th, 2011 at 1:03 am and is filed under
Action
,
Crime
,
Martial Arts
,
Reviews
. You can follow any responses to this entry through the
RSS 2.0
feed. You can skip to the end and leave a response. Pinging is currently not allowed.