Daft Punk are those two French guys who played the robotic club DJs in TRON'S LEGACY, and as long as they were on set Disney must've figured they oughta get them to record the score that for me at least made that stupid movie sort of awesome. They are better known as musicians and makers of cool music videos than as actors or filmatists, but this here was their feature film directational debut.
ELECTROMA is a movie with no dialogue, no human characters, and no Daft Punk music. It does star the two robot-masked Daft Punk characters (with their band logo studded into the back of their leather jackets), but apparently they're not even played by the actual guys.
It has little moments that remind me of other movies that I happen to love: a drop of THEY LIVE, a slight whiff of HOLY MOUNTAIN. But mostly it reminds me of BROWN BUNNY remade with robots and no blowjob. There's about 10 minutes of plot stretched into 74 minutes of movie. It's not for everybody, or most, or very many. I thought it was great though.

The movie (or "movie"?) begins with a bunch of long shots of rocks. Then a car sitting in the desert for just a little bit longer than you would normally want to show something like that in a movie that you were planning for people to sit and watch. Then the two robots get into the car. Then they drive around on roads for quite some time.
It's out in the desert, there are no other cars or people/robots seen anywhere, just this one car driving and driving and driving. Alot of different shots. Inside the car, outside the car, helicopter shots, etc. If you were hoping to get a good look at this car driving around, this is your lucky day. You are gonna see it pretty good.
By the way, the license plate on the car says HUMAN. But it looks like they're not humans, I'm pretty sure they're robots. Write that down, it's gonna come up later.
Eventually they come to a small town and you finally see other lifeforms. It's all the type of people you would see in a picturesque town: kids playing, old men watering their lawns, businessmen on their lunchbreaks, cops on the beat. But they're all robots, wearing the same masks as the Daft Punks. That's the part that reminded me of THEY LIVE.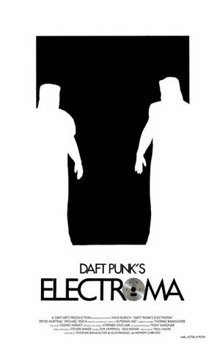 (I wonder – since this is a world of robots, does that mean it's in the future? I hope so because it would mean Daft Punk survived that explosion in the Tron movie.)
But the Daft Punks think they're cool with their leather jackets and their love of humans, so they strut on through, they're too big for this town. And they go to some weird laboratory or something. It's just them and two chairs and two machines in an otherwise entirely white room. A room of negative space. They sit down and are approached by technicians who are completely white silhouettes, and are invisible except when parts of them pass in front of the machines or the Daft Punks. They cover the robots' bodies with aprons and begin to pour latex on top of their helmets.
Up until this point it's been very dry and intentionally uneventful, but the next scene, where the Daft Punks return to town now made into "humans," gave me the biggest laugh I've had in a while. Definitely a weird visual joke for the record books, hilarious and kind of sweet and kind of sad, and quickly it turns more sad.
And since it's a movie where nobody's yammering and not alot's happening you get plenty of time for the images to float around in your brain and soak in the thought fluids and with its simple themes I think there's alot of poetical type ways to read it. I think these two robots are endearing because of the way they strut around together, they have a sort of kneejerk rebellious and individualistic spirit, but one that they enjoy the comfort of backing each other up on. I don't fit in here, and neither does my friend. I am a loner, and so is my friend. They dress the same and walk almost in rhythm together and they seem to be on the same page about what they want in life, where they want to go, where they want to drive or walk.
I mean, alot of this movie is just these two walking through the salt flats for a long god damn time. And they don't have to think about it, they just walk, confident in their agreed destination, or lack thereof. And when one of them gets sad and slows down walking the other one senses it and stops to wait.
In their dream of being human I see reflections of some of us white people who become fascinated with black culture. This interpretation is underscored by the use of Curtis Mayfield's "Billy Jack" for their triumphant walk through town. And by the suspicious looks they get from the robots on the sidewalks and sitting on their porches. These two love this idea of humans and they create their own ridiculous caricature of it. And it's kind of pathetic but also you root for them because fuck those townrobots giving them the stink eye. Or stink visor or whatever. You could argue that they're not being themselves by wearing those faces, but you could also argue that they are being themselves. They don't want to be like everybody in town. And they should be able to be who they want to be.
"Human" doesn't have to represent a race or a culture. It also could be a symbol for anybody that dreams of being something, anything, that other people might not want them to be, or tell them they can't be. They are like Icarus flying too close to the sun, or at least Darkman wearing his artificial skin outside for more than 99 minutes. Destined to fail but god damn it I give them credit for trying. Because they want it and they go for it.
ELECTROMA is a strange little experimental arthouse robot movie, but if you can succumb to its slow hypnotism it's pretty great. It's funny, it's sad, it's about the human condition, it's about robots.
This entry was posted on Monday, January 3rd, 2011 at 1:58 pm and is filed under
Reviews
,
Science Fiction and Space Shit
. You can follow any responses to this entry through the
RSS 2.0
feed. You can skip to the end and leave a response. Pinging is currently not allowed.