(aka MAKO: THE JAWS OF DEATH – but I got no clue who Mako is)
I rented JAWS OF DEATH because the cover and the title made it seem like a JAWS rip-off. But actually it's more in the tradition of the weirdo-with-attachment-to-unpleasant-animal movies like WILLARD. The director, William Grefe, also did STANLEY, about a guy who uses rattlesnakes to get revenge. In this one it's sharks.
Richard Jaeckel (THE DIRTY DOZEN, also the crappy TV sequel to THE DIRTY DOZEN) plays Sonny, a guy who lives alone on an island and his only friends are the sharks, who he talks to, feeds every day, and even swims with. They won't harm him because he wears one of those magical medallions that give you a psychic connection to all sharks. Like many of us, he got his during the war from a dude sitting in a throne shaped like a shark (there's a flashback).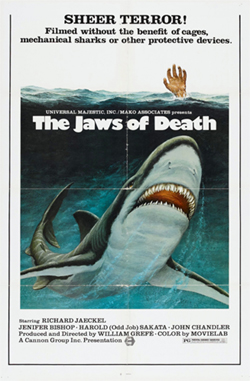 The locals are always trying to hurt sharks, and Sonny's always trying to protect them, so he gains a shameful reputation as a "shark boy" and "shark lover." In this neighborhood there's alot of prejudice toward the shark-medallion community.
Then one night (although it looks suspiciously like daylight, but they keep saying it's night) Sonny comes across some local yahoos trying to rape a woman. He fights them off and offers her a ride home… but then he has to stop and take his boat to the island "to feed my friends." He should probly just drop her off and swing back over here, but he doesn't want to miss the shark's appointed feeding time. He also doesn't mention that his "friends" are sharks and for some reason she thinks he's talking about humans. Which brings up the question: would it be weirder to say "I have to feed my friends" and be talking about humans, or sharks? I'm not sure what the answer is.
She gets all pissed off and yells at him, which seems ungrateful. But admittedly he is acting pretty creepy. Not one of the better rapist-fender-offers, in my opinion. He could be more sensitive to how scared she is, I think.
She ends up coming with him to the island and he shows her the sharks, even demonstrates swimming with them. Since her job happens to be swimming in a tank at her obese husband's bar this gives her an idea. She convinces Sonny to let her borrow one of the sharks for her act. Also he gives one to the aquarium to study, for some reason.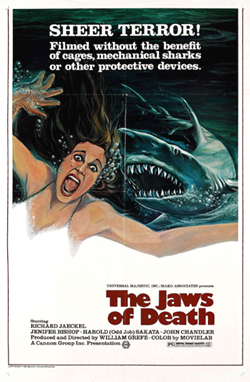 The sexy-lady-swimming-with-sharks-through-window routine goes over okay, but Sonny gets pissed because the fat husband is using some kind of machine (electrical current?) that's mean to the sharks. So Sonny freaks out and the girl gets mad and yells at him to never come back.
So then he's in revenge mode. He makes the sharks attack her. He pushes a guy from the aquarium into the tank to get eaten. He hooks a shark hunter by his sharkhunting hook and drags him behind his own boat.
Jaeckel is the only actor who seems like he's done it before, but I bet this wasn't the one that meant the most to him. His reactions to the sharks being mistreated is sort of along the lines of Nic Cage biting his fist when he sees a snuff movie in 8MM. This is one of those movies that seems like a local independent production, not a professional product. Alot of times it seems like they just set up a camera and stood in front of it as opposed to planning out angles like you would do if you were making a real movie. So poor Jaeckel being in it kind of feels like Bela Lugosi in the Ed Wood movies. But luckily he lived alot longer and got to do much bigger productions alongside Billy Blanks and Jeff Wincott.
Harold Sakata has a bit part as a random thug who doesn't really do anything and barely has any screen time, but they put him on both the credits and the poster as "Harold (Odd Job) Sakata." I'm not sure if I've seen that before, a credit that lists the actor's other credits. But if somebody's gonna do that, this is the kind of movie they're gonna do it on.
To be fair, the shitty quality of the DVD I watched doesn't help. It's dark and muddy with terrible sound and obviously transferred from a VHS tape. If Dark Sky or somebody like that cleaned it up it would probly be more enjoyable as a curiosity.
SPECIAL BONUS: HALF-ASSED REVIEW OF SAM FULLER'S SHARK STARRING BURT REYNOLDS
Another one that suffers from a terrible transfer and that I incorrectly thought was gonna be a JAWS rip-off was this disowned Sam Fuller movie called SHARK. It's actually from '69, before JAWS obviously, and isn't exactly about sharks. Reynolds plays Caine, a weapons smuggler who gets stranded in Mexico and takes a job with an underwater scientific expedition as his way out of there. Also he befriends a little kid.
Well, it turns out this isn't a scientific expedition at all, and these people are sleazy and it turns into a fight over treasure.
I couldn't get myself very involved in this one, but Reynolds is charismatic and there is some pretty good action, some rolling vehicles and explosions, etc. The highlight I think is an epic fist fight. On the shitty DVD put out by Troma the scene is so dark that their faces look like silhouettes, and yet I swear on Christs Holy middle initial of H that I could tell what was going on better than in your average modern fight scene. (I could tell what, just not who.)
I guess the other highlight is when Reynolds is threatening a guy for hurting the little pickpocket kid who he calls "Runt." Then he's asked what the kid's name is, and he realizes he doesn't know and says, "I forgot to ask."
Fuller made this with Mexican producers during a long dry spell when he just couldn't get any movies off the ground. One thing that is good about the Troma DVD is that they have a clip of "the author of Fuller's autobiography" talking about it and reading an excerpt from the book to put it in context. You learn that Fuller immediately regretted trusting the producers, compared the filming to flying an airplane while you're still building it, and tried to get them to take his name off when he saw how they re-edited it into something totally different from what he made.
One thing these two shark movies have in common is that they open with a dedication to the "brave stuntmen" who "risked their lives" to film the shark scenes. JAWS OF DEATH is especially funny about this because the poster and the opening both say "filmed without the benefit of cages, mechanical sharks or other protective devices"… in other words, "the people who made JAWS are a bunch of pussies!"
(I also like the idea of a mechanical shark being a "protective device." Like they used the mechanical shark to scare off the real sharks.)
It's always funny when a dedication is clearly more of a boast or grandstanding than a sincere expression of gratitude. Like how the Paris Hilton porno is dedicated to the heroes of 9-11. But these bragadocious dedications did leave me wondering how exactly they did those scenes. There are shots where people (even what looks to actually be Jaeckel) seem to be sort of wrestling with the sharks, and I'm not sure how they did it. Wikipedia claims that in the case of SHARK they had sharks that were supposed to be sedated, but that one still attacked and killed a stuntman on camera. I'm not sure if it's in the movie. If it's true, I gotta say, I don't think it was worth it.
It also made me realize that I like mechanical sharks better than real sharks. Whenever they cut to the real one in JAWS it feels like stock footage, but when they're showing a fake one (or nothing at all) it always works. Speaking of JAWS, there's a funny extra on the SHARK DVD where Lloyd Kaufman of Troma talks to two teenage film nerds about Sam Fuller, and he seems to have brainwashed them into looking down on JAWS. They keep repeating that the music in JAWS "tells you what to think"… yeah, it tells you to think there's a fucking shark there. Because there's not, there's just a camera moving through water. And it's much more powerful and interesting than the real shark really eating the poor guy.